(This will be updated up to 10 items then a new one, Fraud post 12, will be started. Thank you to ALL who sent in materials for this post and the Daily Reader's Links)
1. Australian news on the fact that Trump has not been certified as anything. Its the media first deciding it should say who won, then saying who won. (This item is also on the non-election post becuase they cover middle eastern consequences of a Biden win as well)
2. NO IDEA if there is any truth in this. I often suspect that the enemy, those who would attack and destroy our entire system, have a lot of phoney news sites and people who push information on us we want to be true but is total malarky. This in order to crush our morale, and make it much harder to tell what is true and not true. So take this with salt. I agree Trump won by a landslide. I also agree that they kept feeding phoney ballots and counting until Biden appears to have 'won'. But I have no idea if the sting this guy talks about is real, or if real if its in play. The FOX Video makes some sense. But the Dr. Charlie Ward video should be treated like disinformation.
Dr Charlie Ward (Currency Broker & Hotel Contractor – Trump Insider) describes the deployment of this Sting Operation to trap those involved in election theft. pic.twitter.com/1t5NUXvtIj

— Tom Graham (@tom2badcat) November 7, 2020
(The other thing is that fake ballots doesn't appear to be the method of cheating as much as ballot harvesting and other methods of cheating the real ballots that were sent to everyone on the voter list, many of whom should not have been on it. The top video seems more realistic)
3. There is a lot of talk about "The Great Reset" which appears to be about communists who are either using Covid measures as an opportunity to destroy freedom and implement communism, or perhaps that they are part of a larger plot to launch Covid, maybe also make HCQ unavailable so we are more desperate for any solution at all.
Here are two videos on what The Great Reset actually is.
Here is another one from The Corbett Report, which I don't know how to embed but is linked here, and which is very good.
4. Marion Le Pen, Marine's niece, reacts to the murders of people in France by muslims for islamic reasons.
5. GREAT sign in Ontario
Signs of opposition are sprouting up around the countryside, this one is near Johnstown. #onpoli pic.twitter.com/Ttq2x1Hv51

— Randy Hillier (@randyhillier) November 5, 2020
6. Fauci is a great source to contradict the stuff Fauci says we all have to do.
Fauci says:

"In all the history of respiratory viruses, asymptomatic transmission has never been the driver of outbreaks. The driver of outbreaks is ALWAYS a symptomatic person!"

NO MORE LOCKDOWNS! @JustinTrudeau @fordnation@JohnTory #cdnpoli #onpoli #topoli pic.twitter.com/kprnIjXaXJ

— NoMoreLockdowns (@NoLockdowns1) November 7, 2020
7. If you think this is just another election and if Biden wins we just work towards another win with another Trump (if there is one) then watch this
Sick. "survivors"

"It's not only that @realDonaldTrump has to lose, his enablers have to lose. We have to collectively burn down the Republican Party. We have to level them. Because if there are survivors….they will do it again." Jennifer Rubinpic.twitter.com/Y4FDIgKFDt

— Independent Women's Voice (@IWV) November 7, 2020
8. Greg Hunter on USA Watchdog on the nature of the voter fraud and updates on what is actually being done about it
9. Interesting little cartoon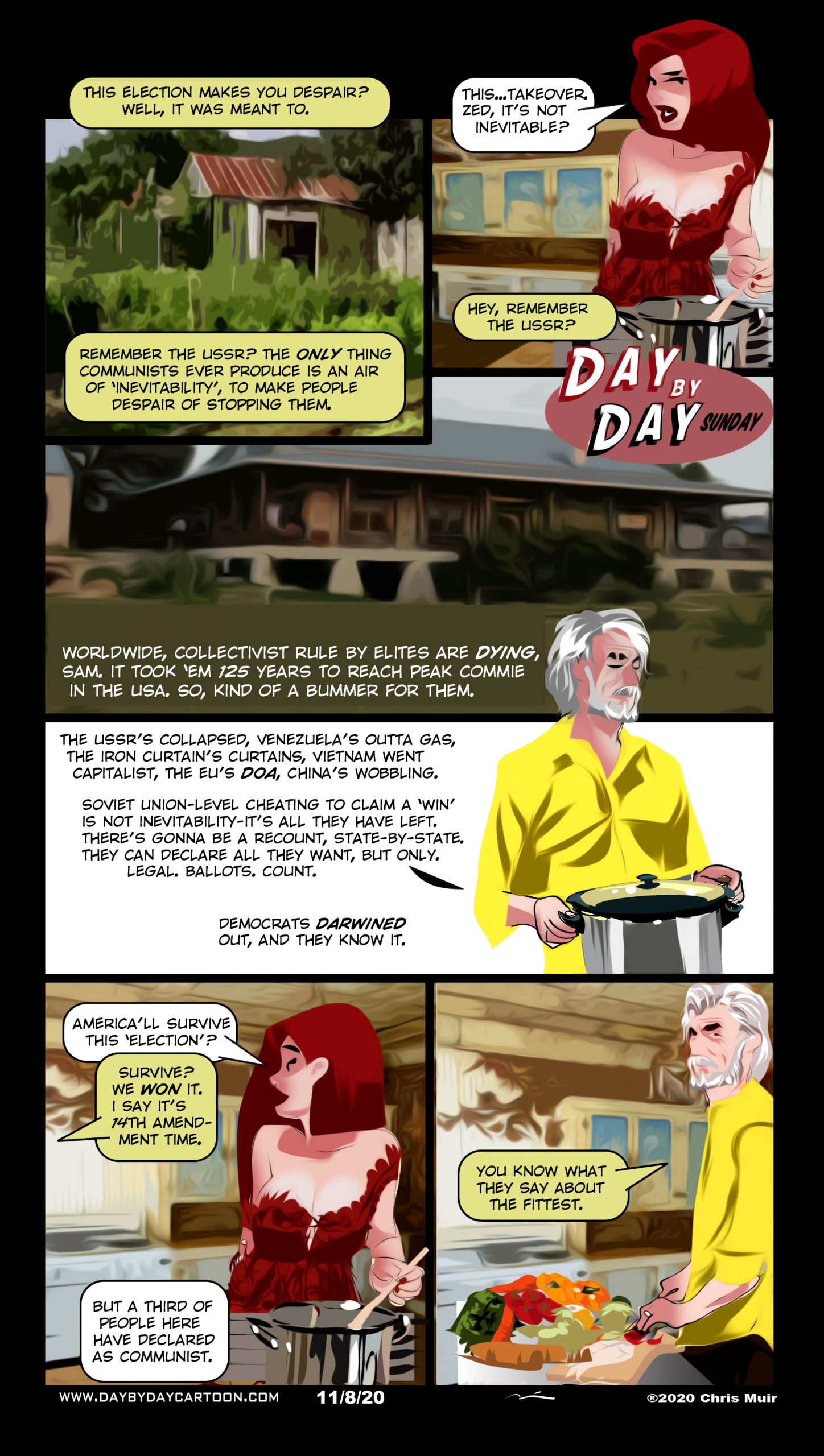 10. Project Veritas on Spoiled Ballots