1. President Trump told, "Socialism is communism doing Halloween"
Link to identity of speaker, who I mistakenly thought was a politician. 
2. Robert Fuller 'lynching' rumors dismissed as probe finds hanging victim heard voices & was hospitalized for suicidal thoughts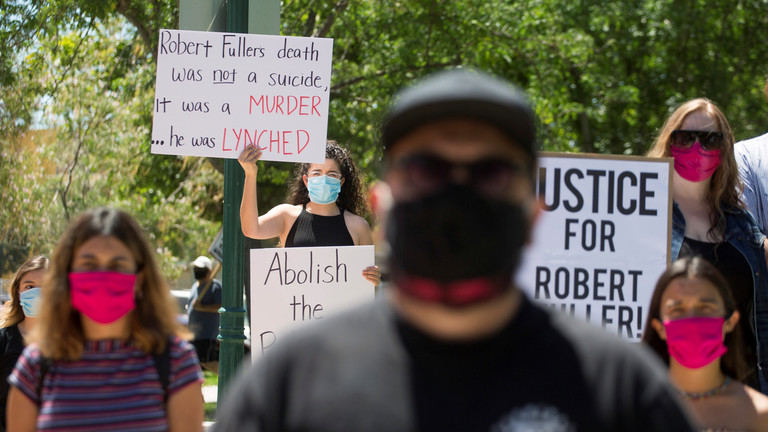 The death of Robert Fuller, declared a lynching by Black Lives Matter activists after he was found hanging from a tree outside Los Angeles, was confirmed as a suicide – but many are hesitant to trust the probe's result.
Fuller, a 24-year-old black man discovered hanging from a tree near City Hall in the Los Angeles suburb of Palmdale, heard voices telling him to kill himself and was repeatedly hospitalized for suicidal ideation before his death, according to the LA County Sheriff's Department, which revealed the results of its investigation at a press conference on Thursday.

While Fuller's death had been ruled a suicide weeks ago after his body was found hanging in a park, with authorities finding no signs of a crime at the scene, his outraged family had demanded a more thorough probe, hiring an independent medical examiner to conduct their own autopsy.
(In true communist/BLM/ANTIFA fashion, they pick the worst cases to agitate for as it foments increasing distrust in the system. Not that the system is that trustworthy as we see in the next item, but that tends to be where the system took a left turn)
3. Is there ANYTHING we have been told about Wuhan Flu that is true?
This is another reason numbers are out of control right now.

We have to be aware how we count cases!

Positive antibodies should NOT count as cases. https://t.co/JysOCbyY2F

— Dr. David Samadi (@drdavidsamadi) July 11, 2020
4. First she plays the victim, then seamlessly moves to the monster. Leftists are about tactics not truth. Truth is anathema.
"I hope someone kills your whole f—ng family," a protester tells Portland Police with a smile at the antifa/BLM riot in downtown. pic.twitter.com/U7XHUnNa62

— Andy Ngô (@MrAndyNgo) July 12, 2020
5. How dishonest is the US media? As dishonest as they can be by plotting dishonesty in boardrooms with multiple high IQ people thinking about how to weaponize information so that they can maximize the effect of that dishonesty. For example, this:
Worth noting?

It's our national symbol you shameless hacks https://t.co/A5LVwXDVnC

— Jim Hanson ?? (@JimHansonDC) July 12, 2020
A president they don't like wears an American Eagle logo and suddenly its proof of Nazi allegiance, even though the US had it first, the US defeated the Nazis under this sign (In hoc signo vince?) and every other president has been seen wearing, in, at or near this symbol. But for Trump…
A longtime @BarackObama symbol, too pic.twitter.com/77jvvYVWPk

— Kieran Eleison (@KieranEleison) July 12, 2020
The claim: Trump campaign shirts feature imperial eagle, a Nazi symbol

Our ruling: True https://t.co/3eCiYdgQvK

— USA TODAY (@USATODAY) July 12, 2020
Thank you M., Wrath of Khan, PC., Johnny U., Richard, Xanthippa and all who helped in any way this weekend. More to come shortly.