1. Call to Prayer that can be heard over a whole neighbourhood in Hamburg Germany
???? #Germany: The whole asylum insanity in the left-wing #Hamburg. An entire district and residential areas only for so-called (economic-) refugees. by blocked @OnlineMagazin pic.twitter.com/uDAQADqP1W

— The Backup of OnlineMagazin (@Fake_Ljaschko) April 21, 2019
2. Sri Lanka: Jihadi Suicide Bombers Hit Churches on Easter. World must be united against Radical Islam.
(Hindu blog in English that is typically quite good. They created a decent graphic for this event as well, that won't post here for some reason)
3.  Man in France stabs neighbor 15 times, says he 'wanted to kill a Jew'
4. Avi Yemeni exposes the connections behind the people who deported him from the USA:
5. Geert Wilders presents bill to legislature to BAN ISLAMIC MANIFESTATIONS.
(Seems like a rather splendid idea really)
6. Macron forbids the architects of N.-D. to speak, proof that it is not an accident!
(This is a partial machine translation from Riposte Laique. One of the very few excellent sites in France that has been long-time, chronicling the government-media complex collusion with the far left and Islam in its war against the West.)
The Ministry of Culture would prohibit architects of historical monuments from answering interviews about Notre Dame
Article 2, this series of remarks and common sense questions by Yves-Marie Laulan, economist and director of the Institute of Geopolitics.
Without falling in the slightest of the world through "conspiracy", the fire of N.-D. Paris does not fail to raise a number of intriguing questions:
1 ° How huge oak beams that are centuries old, which, as we know, become over time, dry and hard like concrete, can they burn like matches? By what means is it possible to set it on fire?

2. The fire is from the base of the arrow of N.-D. On which support did she rest? How was it anchored in the underlying structure?

(3) How could this enormous piece of metal and frame be ignited without the aid of a highly combustible material disposed at or near its base (chips, leaves, various vegetable debris, or … flammable liquid? ?).
(We are working on a video right now which will demonstrate using the (anathema to leftists) scientific method to show how difficult it is to light up antique oak. I hope to post that today)
7. Omar tells another WHOPPER:
@IlhanMN Slammed U.S. Soldiers Involved in 'Black Hawk Down' Incident https://t.co/EwlSjX7971

— John Rossomando (@jrossman12) April 22, 2019
The responses in the thread are encouraging though. "Thousands". Yeah.
8. Toulouse on Saturday
(And yet the suicide rate among police is spiking to the point where there may be a strike, I haven't heard of such a spike among the protestors. It appears that the police wish to be loved by the people they are blinding, amputating hands and more or less arbitrarily knocking down with hybrid weapons of war. More on that soon.)
Thank you M., Wrath of Khan, C., EB., GB.,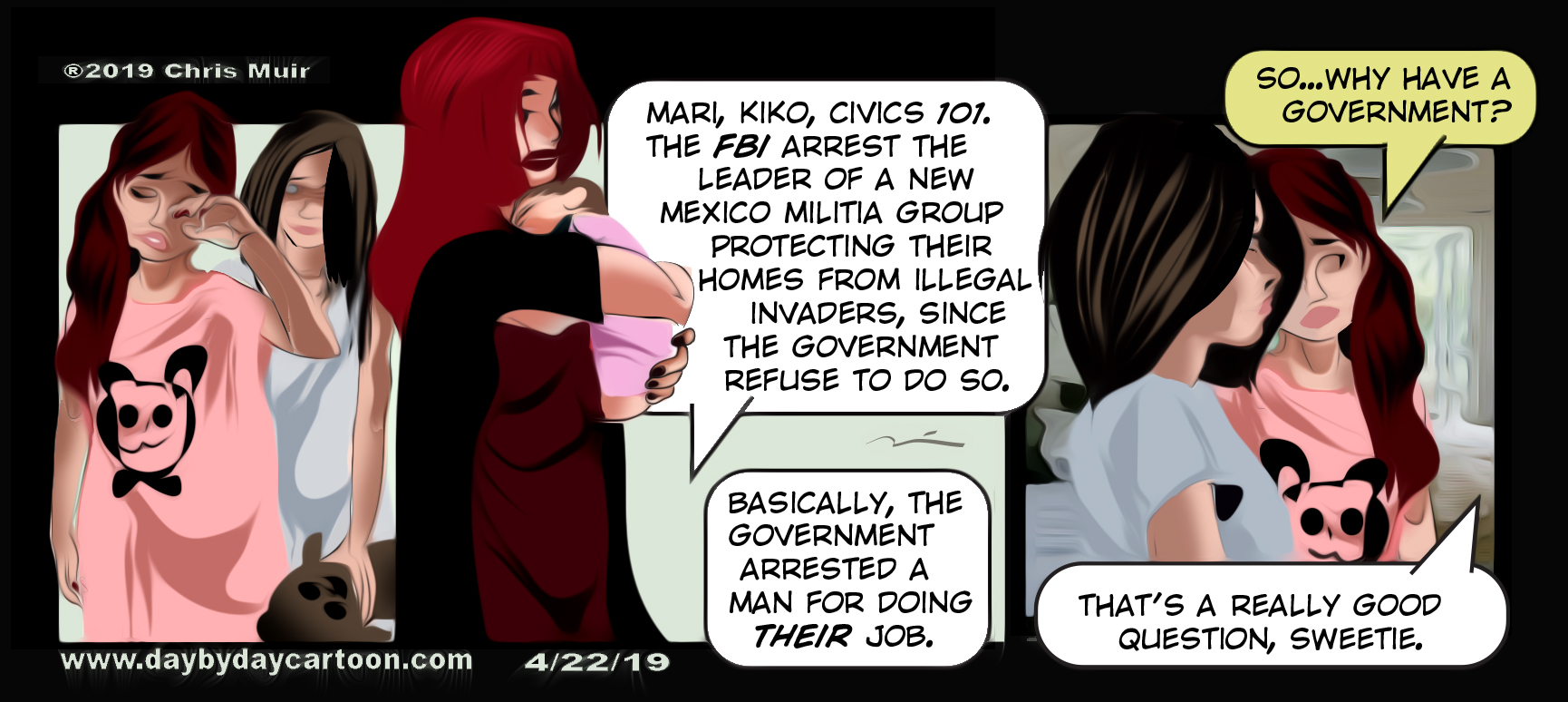 The above cartoon would be even more true in Canada. Anyone attempting to do the government's job in enforcing the law would be jailed as a "vigilante" and a dozen other charges.