1. Italian violent left-wing extremists attack legal authorities at Austrian border with rocks and other 'objet d'émeute'
2. Hundreds go to Parliament Hill to commemorate the Turkish Muslim genocide of the Christian Armenians. Many Turks seem to be there as a counter protest as well.
3. Pathetic ISIS fighters beg doctors for SICK NOTES – as they're SCARED of going to battle
(This does show us one thing. If you actually fight back against Muslims, you can win)
The murderous fighters are reportedly demoralised and unwilling to fight on the front line, according to a report.

The report was published by the Centre for Combating Terrorism, a US anti-terror think tank.

It said: "This was reflected on a wider level when the Islamic State issued a general amnesty for deserters at the beginning of October 2015.
"The personnel shortages were also evidenced by an Islamic State document that emerged last year.
Pathetic ISIS jihadis are reportedly too scared to fight on the front lines
"Issued in Deir ez-Zor province in eastern Syria, the document indicates that a number of Islamic State members had been seeking false medical reports from doctors in order to avoid frontline duty."
4. Another muslim military training video.
5. Defence minister blasts Barack Obama for being IGNORANT over EU judges and free movement and claims they hurt Britain's security as the President flies out of the UK
(Nice to see someone finally standing up for themselves and against that Communist Manchurian candidate. Or is that redundant)
A British defence ministers today accused Barack Obama of 'woeful ignorance' after he claimed Britain should stay in the EU because it boosts security.

Armed Forces Minister Penny Mordaunt, a Vote Leave spokeswoman, said EU judges and the free movement rules make national security harder to maintain.

The US President flew out of Britain today after a three day visit in which he hammered away at a call for Britons to back EU membership at the referendum on June 23.

Mr Obama infuriated Brexit campaigners by claiming Britain would be at the 'back of the queue' for a bilateral trade deal with the US, insisting Britain's influence in the world was 'magnified' by EU membership.
6. Austrian Classical-liberal party wins first round of voting!
Norbert Hofer of the Freedom party takes 36.7% of the vote as candidates from the two governing parties fail to make runoff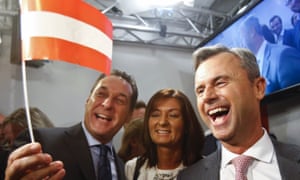 Austria's government was licking its wounds Monday after an historic vote that saw the opposition anti-immigrant far-right triumph in a presidential ballot.

The Freedom Party won more than a third of the vote in the presidential election on Sunday and will face an independent in next month's run-off, dumping out the country's two main parties from the post for the first time.

It was the far right's best result in a national election after a campaign that focused on the impact of the crisis caused by the arrival of approximately 100,000 asylum seekers in Austria since last summer.

Norbert Hofer, who ran on an anti-immigrant and anti-Europe platform, won 36.4% of the vote to become head of state. He will face Alexander Van der Bellen, a former Green party figurehead, who won 20.4%, according to official preliminary results.
(They hammer the "far right wing" meme as hard and often as they can with, as usual, no evidence of that whatsoever)
7. US Army general: Next time Russian jets buzz US ships, it may not end well for them
Russia should be warned that its dangerous flybys of US ships and planes could be met by force, President Barack Obama's nominee as the next NATO and US European Command commander said Thursday.

"Sir, I believe that should be known — yes," Army Gen. Curtis M. "Mike" Scaparrotti said when asked by Sen. John McCain whether Russia should be told that the US would take action if American lives were endangered.
8. Sudanese Refugee, 29, May Have Posed as High School Hoops Star in Canada
On the court, a South Sudanese refugee playing for his Canadian high school basketball team was a towering talent — so skilled, in fact, his coach boasted to a local newspaper that "this kid" has a shot at the NBA.

But Jonathan Nicola was no kid, according to officials: Documents suggest he was a 29-year-old man masquerading as a 17-year-old high school hoops phenom.
The alleged ruse led the Immigration and Refugee Board of Canada to arrest Nicola on April 15. He is viewed as a flight risk, and remains detained in Ontario at least until his next review Tuesday, a board spokeswoman told NBC News on Friday.

Nicola may have violated the country's Immigration and Refugee Protection Act alleging that he is "inadmissible to Canada on grounds of misrepresentation," the board said. He likely faces deportation.
Thank you Wrath of Khan, M., Xanthippa, and many more. Some interesting updates coming tomorrow.