1. Turks build megamosque in Amsterdam and call it, The Hagia Sophia
(So just for a sense of scale, the Germans are considering jailing a TV comic for a sketch he did where he read what is tantamount to a limerick about Erdogan for five years for insulting a foreign leader while being muslim, meanwhile that same foreign leader can erect a monument to Islamic conquest over the most significant Christian landmarks in the history of the world and that deserves Western government financing. At least in part. The Dutch locals should overrun it, take it over and make it into a cathedral)
With outrageous activityTurks are advancing in the building and opening of a mosque called "Hagia Sophia" in Amsterdam, which is an exact replica of the sacred symbol of Orthodoxy in Constantinople, reports Romfea.

By these actions Turkey wants to prepare the global community for the realization of the dream of Recep Tayyip Erdogan who promised that he would turn "Hagia Sophia" in Constantinople into a mosque.

The Turks are paying excessive attention to the opening of the new large mosque in Amsterdam (the Netherlands) with the stolen name of "Hagia Sophia."
2. Another excellent datapoint showing that indeed, there is no such thing as multiculturalism.
3. CJN columnist: Asking Muslims to denounce ISIS "violates the delicate multicultural balance"
(Translation: We are afraid to ask as the answer may interfere with the image we wish to portray)
Mira Sucharov, an Ameinu board member, is associate professor of political science at Carleton University in Ottawa and a regular columnist at Haaretz, The Globe and Mail and the Canadian Jewish News.

In an op-ed article "Democracy Means Individuals Can Choose" (CJN, December 22, 2015), Sucharov criticized the "recent call for Muslims in Canada and the United States to publicly denounce acts of terrorism" because such a call "violates the delicate multicultural balance."

The following are excerpts from her article:

"Which is why the recent call for Muslims in Canada and the United States to publicly denounce acts of terrorism committed by the Islamic State (ISIS) and others inspired by them, is understandable – but ultimately wrong…

"Demanding that sort of stand taking by others in a civic forum violates the delicate multicultural balance that is intrinsic to a liberal democracy where the individual is the only meaningful object and subject of political action."

Sucharov did not reply to CIJnews' request to provide references to the "recent call for Muslims in Canada" to denounce terrorism she mentioned in her article.
4. Danes arrest 4 Islamic State operatives for planning terror and possessing the materials for it.
(As this is a Euronews clip, chances are it is far more serious than this clip lets on)
5. Migration crisis: Hungarian government says EU cities have 900 no-go zones
Viktor Orbán's rightwing administration claims London, Paris, Stockholm and Berlin contain 'neighbourhoods not under control'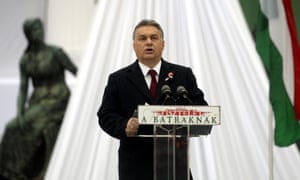 The Hungarian prime minister, Viktor Orbán, has refused to participate in the EU's quota plan to relocate 160,000 migrants across the continent, calling it an abuse of power. In typically robust style, last year he said: "In three years we might not know whether we are in London, Paris or Budapest."

A referendum to be held in the autumn will ask: "Do you want the EU to prescribe the mandatory relocation of non-Hungarian citizens to Hungary without the approval of the Hungarian parliament?"
6. "Recruitments for IS", Prosecution demands 152 years of imprisonment for 9 Albanian imams
(That's weird. Imams are clerics for the religion of peace. Yet NINE of them have been accused of serious incitement to terrorism and promoting the Islamic State. Double hmmm)
Tirana, 6 April 2016/ Independent Balkan News Agency
Albanian Prosecution for Serious Crimes has demanded 152 years of imprisonment for nine people who are accused of preparing to send Albanian nationals in the military bases of the Islamic State in Syria.

43 court sessions were held in the Court of Serious Crimes and yesterday, the prosecution made its request in relation to the sentencing of the group which according to the prosecution, recruited and sent Albanian nationals to participate in the fights in the Middle East.
(Videos out for translation now)
7. Canada: Cars set alight during Montreal police brutality protest
Gee who sets cars on fire in major cities?
Also in Montreal, a police station was attacked
Thank you M, Richard, Wrath of Khan, Chris Jones and a lot of thoughtful people who sent in links and comments to the feed today. There is a lot more to come as well.