Here are a few of the statements made by the protestors against the open borders people on Montana USA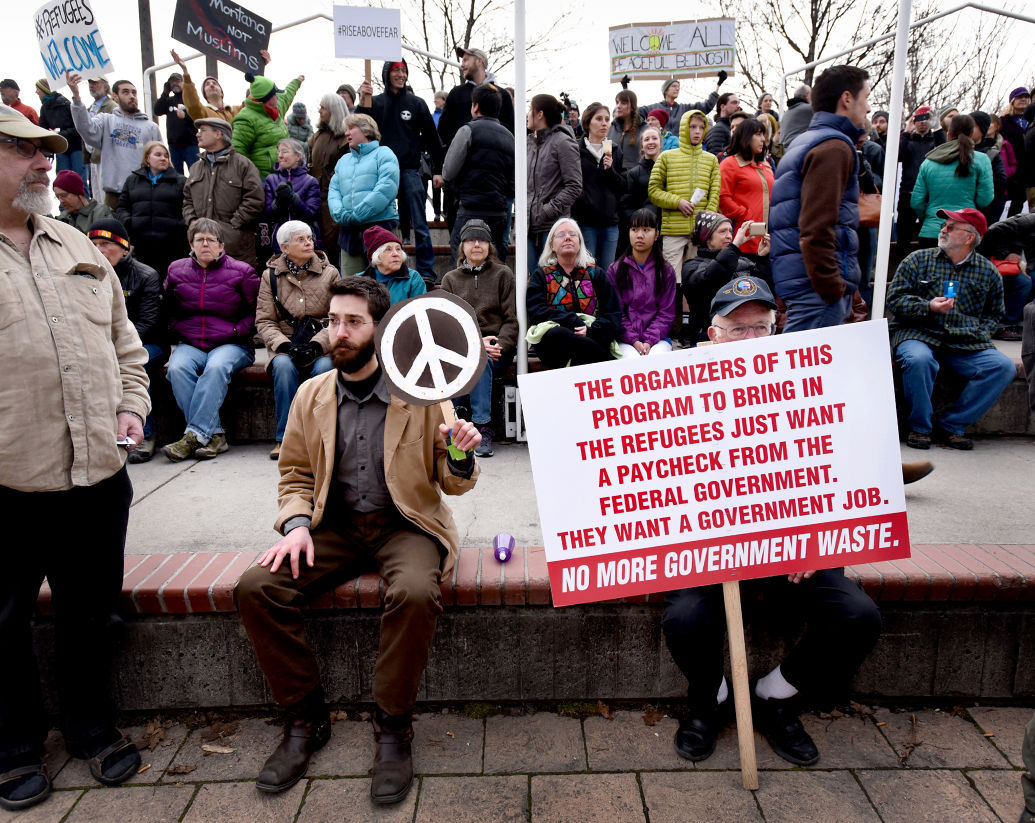 – "This is not a humanitarian issue, If it was a humanitarian issue, countries in the Middle East would take care of their own rather than putting the burden on us."
– "These people are not willing to fight for their country, and based on that they are not going to fight for our country."
– "I think the people in that room have mixed up the victims and the perpetrators of what's happening in countries like Syria."
– "We are very disappointed that the Flathead County commissioners have been misled to believe it is impossible to adequately investigate refugees coming to the United States."
– "I was told that if there is enough unease about refugees, the government will not place them in the area. … Let's make them see and hear the unease."
– "I believe it is not in the best interests of Montana and the United States to allow refugees or immigrants to come to the United States who do not agree with our Constitution, our values and the separation of church and state."
– "Islam is not just a religion, it is a theocracy that controls every part of a person's life and requires its followers to put Sharia law in place wherever they go."
– "They have Sharia law in Dearborn, we do not want that here."
– "The potential impact of receiving a contingent of individuals from an unknown origin, without credible documentation, is frightening to say the least. But we also realize we must ensure the safety of our families and the sanctity of our communities."
– "The entire refugee resettlement agenda is a (United Nations)-inspired plan to erase borders and dilute Western culture through mass immigration."
A year earlier:
The Mayor of Montana township of Great Falls blasts CAIR for Koran Mailings right before September 11 2014
The mayor of Great Falls, Montana, wrote a blistering editorial that condemns the Council on American-Islamic Relations for a recent public relations campaign that apparently brought a Quran to his door right before Sept. 11.

"Last week, I received a copy of the Quran," Mayor Michael J. Winters wrote in a Friday article for the Great Falls Tribune. "During a heightened period of instability in the Middle East, beheadings of Americans by Islamic terrorists, and ongoing national security threats, the Council on American-Islamic Relations sent me a copy of the Quran for my reference library.
CAIR reacts to Mayor's statements about koran mailings:
These two events, the protest and the koran mailings are not directly connected as an event. But one likely informed the feelings of those that attended the other. The good people of Montana appear to be ready to do what we all have to do. Actually go out and defend our own way of life, our culture etc. No one seems to begrudge Saudi Arabia for living thier way even if its horrific and barbaric and bereft of reason. No one seems to think it was wrong of South Africa or Zimbabwe to resort to ethnic nationalism and treat the whites as people with no rights whatsoever. Then why can the people of Montana not defend that which they built, and their laws and protections.