1. Ezra exposes a PM Janissary Trudeau top-aide remark on the recent stabbing of 2 soldiers
(Their is so much right with this video I wouldn;t know where to start. But thank God almighty someone who is listened to, points out that 'Allah' is the MUSLIM God, distinct from any other)
2. There is a very important update to the video of Folip Dewinter posted at this site yesterday. He now lives under constant police protection which just started yesterday apparently and not at his request. Please read this article at Gates for more information.
3. Here is a list of speakers who were denied access to speak their thoughts to those who wished to listen. 
4. Syria conflict: Kurds declare federal system
Kurdish parties have declared the establishment of a federal system in areas they control in northern Syria.

The Kurds already operate "autonomous administrations" in three enclaves bordering Turkey: Afrin and Kobane in Aleppo province and Jazira in Hassakeh.

The new federal region will also include mainly Arab and Turkmen areas captured from so-called Islamic State.
(Wow! A basically secular Kurdish state in opposition to the Islamic State and the Turks! Something we all would like. I wonder how the Americans feel about that?)
5. USA: US won't recognise Kurdish autonomous zone in Syria – State Dept
6. Bearded wierdie message to the Pope
(Evil santa)
7. Cologne Had Just 80 Police Officers On Duty During New Year's Eve Sex Attacks
The scandal over the small number of police officers on duty during the New Year's Eve migrant crime wave in Cologne is to intensify after is transpires there were fewer on the beat than initially reported.
New figures made public just days before tomorrow's opening of the parliamentary inquiry into the public order and policing failure have shown far from the 140 officers initially reported to have been available on New Year's Eve, there were actually just 80.

Where the Cologne force found an extra 60 imaginary police officers on the night has not yet been explained, but a force spokesman blamed "misinformation in the early stage of reporting" for the misunderstanding. Over a week after the attacks and as they were reaching a global prominence though exposure in the new media, Police Chief Superintendent Michael Temme — a spokesman for the force — claimed that from 2,100 on New Year's Eve "143 police officers were in use at the station", reports the Cologne Express.
8. EU struggles to create illusion of a deal on mass muslim migration in order to actually keep it going without indigenous Europeans getting too upset.
9. Soros planning 10-day anti-Trump protests
The same anti-Donald Trump protesters who scheduled violent demonstrations in Chicago are plotting their most ambitious plan yet.

Funded by billionaire liberal George Soros and big union thugs, they're organizing a mob of thousands of radicals into "one of the largest civil disobedience actions" in American history.

Their goal: march across the East Coast in the thousands and spark a "fire that transforms the political climate in America" by taking over the U.S. Capitol Building.

The new left-wing group is calling itself Democracy Spring, is receiving help for their plan of "action on a historic scale" from the usual suspects. Leading the charge is noted liberal group MoveOn.org, an organization funded by Soros that recently played a key role in shutting down the Trump rally at the University of Illinois.
(Excellent! This should give Trump not just the nomination but the presidency itself. It seems with all of Soros' genius he can't see what the GOP, the Democrats and the media also can't see. That its this bullying and thuggish irrational buffoonery as well as press unfairness to Trump that is making people who normally would hate him stand fully with him. It would of course be fun to watch any of them answer the question on how such a fascist action can call itself "democracy spring" but probably no one will ask)
10.  'Westernised' Migrant Girl Publicly Executed For Refusing To Marry Cousin
A second-generation Kurdish migrant living in Germany has been publicly executed after refusing to marry her cousin. The westernised young woman was the victim of a "treacherous tradition", her father said.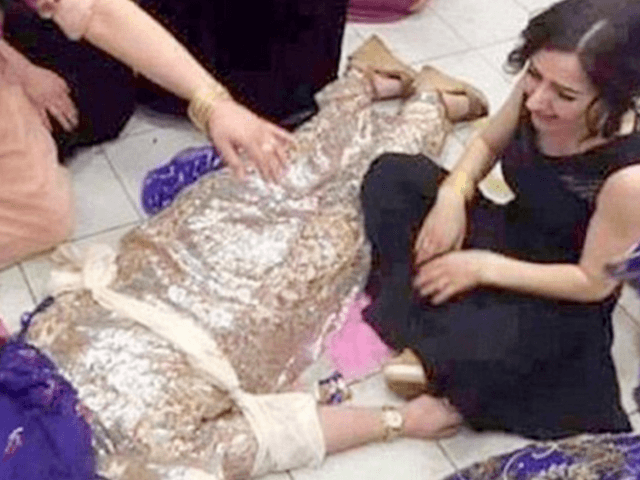 The girl's cousin is currently on the run, and police have obtained a warrant for his arrest.

The 21-year-old was shot dead at a wedding in Hanover in Germany this week. Her father posted a shocking image (above) of her lying in a pool of blood surrounded by distraught guests on Facebook.

Alongside the photo, he demanded justice for his daughter, and explained that family had fled Iraq when his daughter was just three.

She had subsequently grown up as an independent, westernised young woman with German citizenship, and studying property management at college in Hanover.
(A lesson to the Muslims who escape Islam to the west. The rest of the Muslims will hurt you badly)
11. Geert Wilders Endorses Donald Trump, Also Demands No More Muslims
Geert Wilders, the right-wing firebrand and founding leader of the anti mass-migration Dutch Party for Freedom (PVV), has thrown his weight behind Donald Trump's policy proposal to temporarily halt Muslim immigration into America.
Mr. Wilders made similar comments this November, demanding Europe close its borders to Muslims, which increased his popularity in the Netherlands.

"I hope [Donald Trump] will be the next US President. Good for America, good for Europe. We need brave leaders", he tweeted on the 7th of December, the day Trump announced the policy.
Thank you Outlaw Mike, Gates of Vienna, M., Wrath of Khan, Richard, Buck, Nash and many more. More to come tonight for sure.