1. Paris arrests: Four held over 'attack plan'
Four people have been arrested in the Paris area on suspicion of planning a terror attack, French media report.

Three men and a woman were detained at dawn in the 18th arrondissement of Paris and the nearby northern suburb of Seine-Saint-Denis, TF1 and BFMTV say.

They are reported to have been known to anti-terrorism officials who feared they were becoming a serious threat.
2. Brussels raid over Paris attacks: Dead gunman was Algerian national
A terrorism suspect shot dead in a raid in a Brussels suburb on Tuesday has been identified as Algerian national Mohamed Belkaid, officials say.

He was killed by snipers while trying to fire at police from an apartment window in the suburb of Forest.

Four officers were wounded in the raid. Police are still hunting two suspects who were in the apartment.

The raid was linked to an investigation into the jihadist attacks in Paris that killed 130 people last November.
(Mohamed … Islamic State flag. Well then. May as well give up. The only thing we know is, this has nothing to do with Islam)
3. Argentina sinks Chinese fishing boat Lu Yan Yuan Yu 010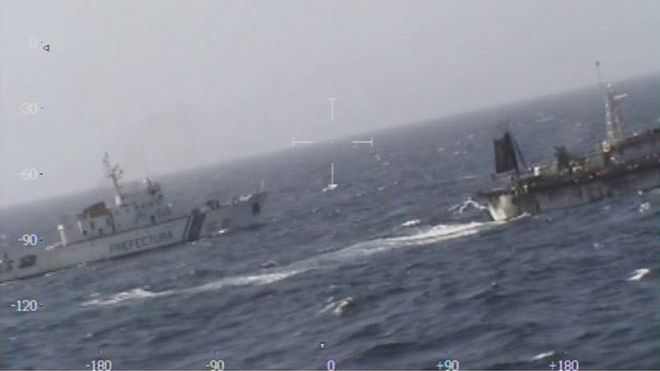 Argentina's coastguard says it has chased and sunk a Chinese vessel that was fishing illegally in Argentine waters on Monday.

In a statement, the coastguard said one of its vessels had fired warning shots at the Lu Yan Yuan Yu 010 as it headed for international waters.

The coastguard said it had first tried to raise a response by radio. All 32 crew members were rescued, it said.

China has expressed "serious concern" over the sinking.

Chinese foreign ministry spokesman Lu Kang said in a statement that Beijing "has made urgent representations" to Argentina, demanding a thorough investigation of the incident.
4. Anti-Trump Groups Threaten 'Largest Civil Disobedience Action of the Century'

With little fanfare and almost no news media attention, some of the same radical groups involved in shutting down Donald Trump's Chicago rally last week are plotting a mass civil disobedience movement to begin next month.
They intend to march across the East Coast in order to spark a "fire that transforms the political climate in America."

The operation, calling itself Democracy Spring, is threatening "drama in Washington" with the "largest civil disobedience action of the century." The radicals believe this will result in the arrest of thousands of their own activists.
5. IS claims shooting down of Iraqi army plane near Kirkuk
Officials say the light aircraft came down due to a 'technical problem', with five crew members reported dead
An Iraqi army plane crashed during a reconnaissance flight near the city of Kirkuk on Wednesday and its three crew went missing, a high-ranking military source said, blaming a "technical problem".

Islamic State militants claimed they had shot down an Iraqi military plane in the area, killing five crew members.
(Video of crash CAUTION GRAPHIC IMAGES)
6. White house obfuscates and stammers around the issue of Islamic State and Islamic genocide of minorities in the area to the point of absurdity and more
(The constant use of the word 'ISIL' is as insulting as it is stupid. And not one of the reporters could even ask WHO was doing the killing and WHY)
And now it seems that Sec State Kerry will miss the deadline on the genocide question.
Secretary of State John Kerry will miss this week's congressional deadline for deciding whether atrocities by the Islamic State against Christians and other minorities in Iraq and Syria should be designated genocide.
State Department spokesman Mark Toner said Wednesday that Kerry is taking a "measured" approach and while his decision will come soon it will not meet Thursday's deadline.

"He recognizes the seriousness of the atrocities committed by this terrorist group as well as the importance of this issue to its victims and survivors," Toner told reporters. "Given the scope and the breadth of the analysis he's contemplating, he will not have a final decision completed by the congressionally-mandated deadline tomorrow. However, this issue is clearly of the utmost importance to him as well as Congress, and we expect him to reach a decision very soon."

"We don't take lightly the issue of a delay like this. However, more critically, neither do we take lightly the gravity of the brutality perpetrated by (the Islamic State) on innocent people," Toner said.
(The fact that this article has "Islamic State" in parenthesis likely means it was never actually said)
7. O'Reilly interviews Clarion Project spokesman
Thank you Wrath of Khan, M., Richard, Oz-Rita, Gates of Vienna and many more who have contributed in various ways in the past couple of days, from links to comments to helping me gather information for posts. Much thanks to all of you!
More to come tonight including, if all goes well. more from Paul Weston when he was in Canada