1. Ben Carson in hot water for saying the painfully and childishly obvious truth
(The CVE/16-18 in action)
2. Oxford Labour Leader Quits Due To 'Poisonous' Anti-Semitic Hamas Supporting Students
The Co-Chair of the Oxford University Labour Club (OULC) has quit, claiming anti-Semitism and support of Islamist terror among left wing students is becoming routine.
In a Facebook announcement, Alex Chalmers slammed "senior members of the club expressing their 'solidarity' with Hamas and explicitly defending their tactics of indiscriminately murdering civilians", and said that concerns about anti-Semitism were dismissed as "just the Zionists crying wolf".
He also said the club's Executive was prone to "throwing around the term 'Zio' (a term for Jews usually confined to websites run by the Ku Klux Klan) with casual abandon", and stated that, "a large proportion of both OULC and the student left in Oxford more generally have some kind of problem with Jews".
(Left wing Jews, like left wing anything else, will fail to understand the significance of this and act accordingly, which is how we got to this place)
3. Trump: "Give Bergdahl back to the Taliban"
(If indeed this deal was what it looks like that would be the right move. As it was engineered to give back muslim jihadis their commanders, and as Bergdahl imagines himself free to go back to work for his muslim brothers on the inside of the US the deal accomplished everything it was designed to do. Unless the court martial jails him. In which case it accomplished nearly everything)
4. U.S. Removed Cuba from Terrorist List After Hezbollah Opened Base on Island
A few years before the Obama administration removed Cuba from the U.S. list of nations that sponsor terrorism Hezbollah established an operational base on the communist island, according to intelligence received by Hillary Clinton when she was Secretary of State.

The information comes straight from electronic mail released by the State Department over the weekend as part of ongoing litigation from several groups, including Judicial Watch, and media outlets surrounding Clinton's use of a private server to send and receive classified information as Secretary of State. This alarming information has been ignored by the mainstream media, which served as the president's most vocal cheerleader when he established diplomatic ties with Cuba last summer. After appearing for decades on the U.S. government's list of nations that sponsor terrorism, the Obama administration officially removed it to lay the groundwork for a full renewal of diplomatic ties.
5. Danish video blogger, often referred to as 'The Danish Ezra Levant' video report for Feb. 2016. (We may start to title some of his older ones if they are all as good as this and I am told they are)
6. Teen locked up for gay man 'snake murder'
Gothenburg disctrict court on Wednesday sentenced the 16-year-old to four years in a detention centre for juvenile offenders and to pay damages to the relatives of the victim.

After he has served his time the boy, who is understood to be of north African origin and had been sleeping rough in the streets of Sweden, will be deported from the Nordic country, said the court.

The gruesome killing took place in June, with a trial getting under way at the end of last year.

The boy, who court documents said broke down in tears during police interrogations, told the court it had been carried out in self-defence.
(So the life of a law abiding, tax paying, gay Swede is worth at the end of it all, probably 18 months in a juvi center with an ASBO attached and then temporary deportation. Homosexual groups however, will still back the muslims everytime)
7. Terror attack on military service bus in central Ankara leaves 18 dead, 61 wounded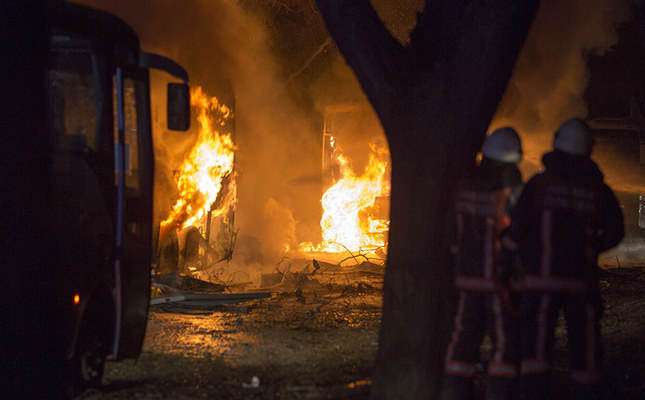 A suspected car bomb detonated while military service vehicles were passing by killed at least 18 civilians and military personnel and injured 61 others in central Ankara on Wednesday evening.

The terror attack, believed to be carried out by a car bomb, left five dead and 10 injured, Ankara Governor Mehmet K?l?çlar stated right after the attack. The death toll was later revised by the governorate to 18.

Minister of Health Mehmet Müezzino?lu announced 20 or 21 people were killed at the scene of explosion, and three people later died in hospitals. He added that 61 wounded were currently being treated at 14 hospitals. The Ministry of Health announced that 32 ambulances were dispatched to the scene of explosion.
8. Saudis have nuclear weapons?
9.  Breitbart: Muslim Prayers Take Over UN General Assembly Area
Muslim prayers on Fridays at the United Nations headquarters in New York have begun taking up a large area next to the General Assembly Hall, shunning a designated ecumenical prayer area.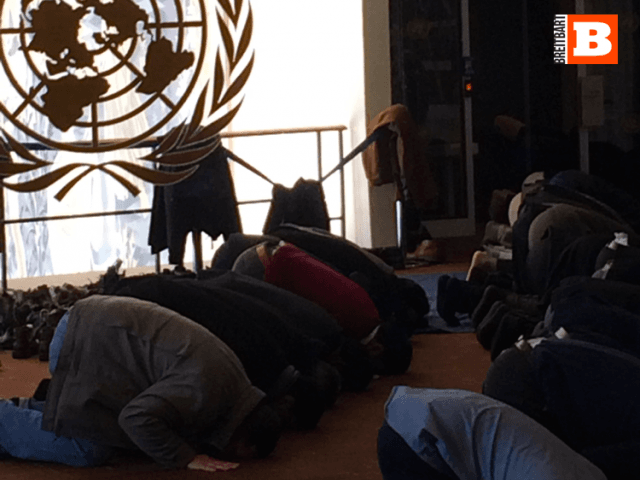 There was no formal decision by the UN to host Muslim prayers.  The space has simply been booked without further explanation.

Muslim prayers at the UN have been operating for some time, though UN staffers are tight-lipped about when they began and who started them.

There is an ecumenical "meditation room" – without religious markings – that is continually open to the public and adherents of any faith. A plaque outside explains that the room was "personally planned and supervised in every detail" by former UN Secretary-General Dag Hammarskjold in 1957. Hammarskjold's aim was to create "a place where the doors may be open to the infinite lands of thought and prayer. People of many faiths will meet here…[I]t is dedicated to the God whom man worships under many names and in many forms."
10. Erdogan vows not to allow a Kurdish enclave to exist in neighboring Syria
Thank you Richard, M., Maria J., Gates of Vienna, Nash Montana and many more. And more to come. Sadly, and assuredly.