1. Ted Cruz, no stranger to the truth either. On Libya and on Supreme Court at least.
2. EXCLUSIVE: 'Forget decency, fight the sex jihad!' The moment the most powerful woman in far-Right Pegida launches vicious attack on Muslim migrants, telling the public to 'grab your pitchforks and protect Europe'
(I guess its official now. The "far Right" are the people fighting for equality under the law, and safety and freedom for women, homosexuals and Jewish people. The Earth's poles can reverse now I think we can all get used to it fast)
The most powerful woman in far-Right Germany has made an extraordinary call for the public to 'forget about decency' and fight the 'sex-jihad' she claims is being waged against Western women.

In an exclusive interview with MailOnline, Tatjana Festerling, 51, the second-in-command of the anti-Islam group Pegida, said 'political correctness' was putting women and gay men at risk of assault.

In a vicious attack on Muslim migrants and the political elite, she said: 'Germany is like an open-air psychiatric ward with the mental illness of political correctness.

'We don't have time for decency any more. If we don't grab our pitchforks and fight the Islamisation of Europe, we are lost.'

Her comments, in a video for MailOnline, will cause concern that a resurgent far-Right is exploiting migration to whip up racist hatred.
(The video at the Daily mail is highly selectively edited. Will put out feelers to see if she thinks that interview was fair, and if not, will re do it properly)
3.  Odd video by Britain First. The alleged charges are also odd. Wearing a political uniform. If that is a criminal offense in the UK every muslim in a Wee-Willie-Winkie outfit should be raided tonight. There is simply zero deniability that the bearded muslims in pajamas screaming for sharia and an end to British democracy are wearing  apolitical uniform. None are arrested for that it seems. That is reserved for the indigenous people of the UK.
4. Edmonton store owner not allowed to refuse service to people in face cloths.
(These signs or similar ones used to be common. Why not make them again and add, 'No Face')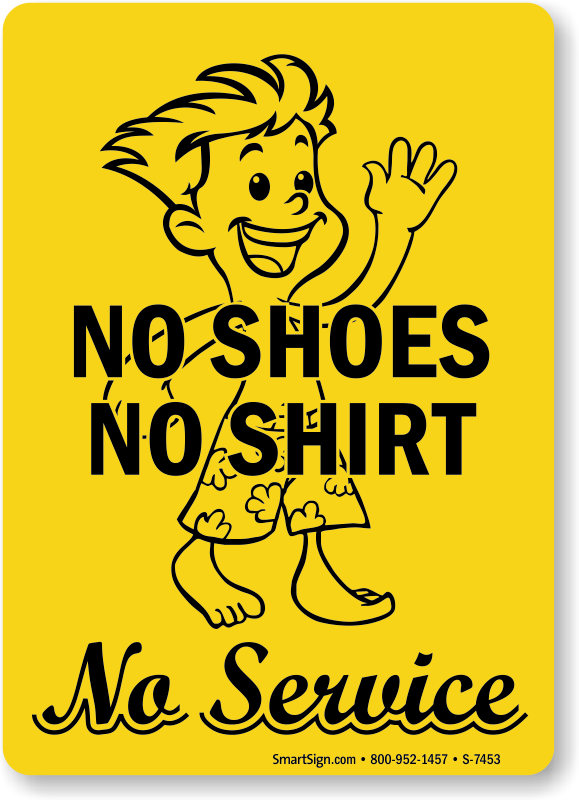 5. Salafi preacher calls on Cairo University students to disobey face veil ban
(Actually if that guy wanted to wear a cloth over his face I think I would be OK with it)
A prominent Salafi preacher called Monday on Cairo University's female medical students and staffs to disobey a recent decision made by the university's head to ban them from wearing face veils in all of its hospitals and clinics starting this week.

"The decision is in opposition to the rules of Sharia, the judiciary and the constitution," Yasser Borhami, the deputy leader of ultra-orthodox movement Salafist Call (Al-Da'waa Al-Salafiyyai) said in a press statement.

"If any of you were prohibited from working for not implementing the decision, go file a lawsuit," Borhami added.

Head of Cairo University Gaber Nassar issued the decision on Sunday, citing "the protection of the rights of the patients and work interests."

The decision will be applied to doctors, nurses, hospital technical assistants and all other staff in Qasr Al-Aini Hospital as well as other medical facilities owned by the state-owned university.

In October 2015, Nasser issued a decree banning the university's academic staff from wearing face veils, also known as the niqab, inside classrooms.
6. Exclusive: Samples confirm Islamic State used mustard gas in Iraq – diplomat
AMSTERDAM (Reuters) – Islamic State militants attacked Kurdish forces in Iraq with mustard gas last year, in the first known use of chemical weapons in Iraq since the fall of Saddam Hussein, a diplomat said, after tests by the global chemical arms watchdog.

A source at the Organization for the Prohibition of Chemical Weapons (OPCW) confirmed that laboratory tests had come back positive for the sulfur mustard, after around 35 Kurdish troops were sickened on the battlefield last August.

The OPCW will not identify who used the chemical agent. But the diplomat, speaking on condition of anonymity because the findings have not yet been released, said the result confirmed that chemical weapons had been used by Islamic State fighters.
7. Tommy Robinson Hospitalised After Being Attacked Outside Essex Nightclub, Days After Pegida Rally
Tommy Robinson is recovering in hospital after being found unconscious following a night out with his wife at an Essex nightclub – just days after he led a Pegida march in Birmingham.
A spokesperson for Robinson, Helen Lel Gower, wrote on Facebook on Sunday that the former leader of the English Defence League "has had his head glued up, yet again". According to reports the 33-year-old was hit over the head from behind early on Sunday morning, in an incident being investigated by police as an assault.
Robinson, whose real name is Stephen Yaxley-Lennon, had undergone an X-ray and CT scan, Gower said, and was suffering from concussion. He was discharged on Sunday, but was said to have returned to hospital on Monday because he was feeling unwell.
8. Turkey Violates Greek Airspace 22 Times in 24 Hours – Greek General Staff
Turkish Air Force violated Greek airspace 22 times on Monday, the Greek General Staff said.
ATHENS (Sputnik) — The violations took place over the islands of Samos and Chios in the eastern Aegean Sea and over Lemnos and Lesbos in the northern part of the sea, the General Staff said, adding that two "virtual dogfights" between Greek and Turkish aircraft took place.
© AFP 2016/ MUSTAFA OZER
On Wednesday, Greek media reported that at least six Turkish fighter jets, flying in a single formation, violated Greek airspace.
9. 'Soldiers of Odin' anti-immigrant group spreads from Finland to Norway as one of its 'patrols' operates in the country for the first time
The extreme right-wing vigilante group Soldiers of Odin have spread across Scandinavia from Finland to Norway, according to reports.

The anti-immigrant group was formed last autumn and have been patrolling streets in several Finnish towns 'to protect the Finns from the threat of asylum seekers'.

This week, a group of Soldiers of Odin have been seen on a vigilante walk through the town of Tønsberg in southern Norway.
10-. Army probe amid shock claims of migrant attacks on UK troops and families in Germany
GETTY

Heightened fears about the influx of refugees has prompted women living on the barracks to speak out
The attacks aimed at those in military bases comes as the central European country is facing growing unrest about the migrant crisis after gangs of refugees carried out New Year's Eve sex attacks in Cologne.

Military police confirmed a number of incidents involving migrants who had been settled in and around the small city of Paderborn, which has been used as a base by the British Army since the Second World War.

Captain Alistair Kay, from the 1st Regiment Royal Military Police, sought to quell fears of attacks by migrants on UK forces but acknowledged investigations had been launched.

Paderborn, like many others Germany cities, has received an influx of refugees due to the on-going crisis in the Middle East, with around 6,000 new arrivals settling in in the immediate vicinity of the base in recent months.
11. Migrants attack police, ambulance in the Netherlands
12. Amsterdam: Arab looking men attack elderly couple
13. Moroccan Cologne sex attack suspect is arrested after bragging on TV about leading a gang of migrant pickpockets who target women – and a 'victim' recognises him
An asylum seeker who allegedly sexually assaulted a teenager during the mob-like attacks in Cologne on New Years Eve has been arrested after his 'victim' spotted him on TV.

The Moroccan man, only identified as Taoufik M., 33, appeared on a program about his Fagin-style life heading a gang of pickpockets.

His alleged teenage victim saw him on television and recognised him as the man she claims molested her in the west German city.
Caught out: The Moroccan man, only identified as Taoufik M., 33,  appeared in a TV report titled 'King of the pickpockets' when he was recognised by his alleged victim
More than 5 million people in Germany watched the exclusive Spiegel TV report entitled 'King of the pickpockets'.

One of them, a teenager from Cologne, later said it had left her speechless – after she claims she recognised him as the man who had put his hand under her skirt on New Year's Eve.
Thank you Wrath of Khan, M., RS., Maria J., Richard and all who took the time and trouble to call in. More soon and some interesting things as well.
*** Johnny U posted the following comment:
On Hungarian TV this morning the government spokesman warned that migrant pressures are becoming so great at the southern border that the army has been put on notice, and that fortifications will be increased until no migrants get through. Yesterday 200 were arrested. 150 the day before. The fence has been repaired and stronger fence building continues. Hungary told Brussels that it will not accept any quota system even if ordered to do so.
My question is why are migrants breaking into hostile territory? This doesn't seem like typical "refugee" behavior from poor downtrodden souls. Rather,  appears to be more of a military strategy to break into, then break down this resisting country.
[Anyone want to answer that one?]