1. Australian protest against Islamic immigration
2. The French police have indeed arrested the retired General, General Santos, who is in police custody in Calais Police station, for marching with PEGIDA  at 15 Place de Lorraine, Calais France. Apparently he does not as yet have a lawyer.
This is something that needs to be publicized indeed. Thank you Oz-Rita for the heads up on this. No link as of yet, but the source on this is unimpeachable.
3. PEGIDA Dresden
4. BBC report on the arrest of the French Foreign Legion chief in Calais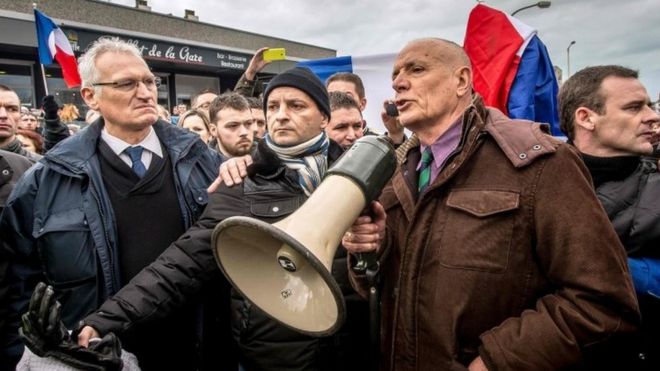 5. Tommy Robinson captures a dishonest video he did with Al Jizz on his cell phone
(Try to make it to the end, or start in the middle)
6. CIVIL UNREST: Obama Dumps Muslim "Refugees" Into Texas Town
(Conservative Tribune) – The crime crisis born of the influx of Muslim refugees may no longer be limited to Europe. According to a former resident of Amarillo, Texas, it has already started in America.

Karen Sherman, formerly of Amarillo, now of Missoula, Montana, stood in front of the local courthouse on Monday to warn citizens of just that. Should Obama's plans to plant foreign migrants in Missoula succeed, those citizens could they could well be facing the kind of "civil unrest" Europe is dealing with now.

In front of the courthouse, 120 residents gathered to listen to her tale, according to WND.

"Amarillo is overrun with refugees," Sherman said. She claimed the refugees have previously been given preferential treatment ahead of citizens in receiving benefits. "Now they're expecting us to give them cars."
7. Soldiers of the Former Yugoslavian Republic of Macedonia have begun erecting a second, bigger wall just five metres from the border fence with Greece it rushed to put up last November.
Thank you M., Wrath of Khan, Tundra T., ML., Oz-Rita and many more. Gonna be another busy day today.
Please read this article and send the information to any and all friends you may have in Europe. Send the link, or the contents by email, howsoever you can.
What you can do to stop the blocking of jihad news on Facebook
Also last week, I posted in haste, a National Post article on a man who coaches men on how to meet women and increase their chances of reproductive success. What caught my attention was how he was said to have been hiding out in a mosque. I was soundly spanked by a reader, who's comment I added to the post.
Now this man speaks out and calls out journalists who misrepresent him directly in a press conference.
This video of the arrest of the General shows the arrest with great clarity. What he said in the interview is posted already but here is the link to our translation.
Also it looks like wearing cloth on your head doesn't protect women from abuse after all.