1. France to recognise Palestinian state if deadlock with Israel not broken
(So, all the Palestinians have to do, is not agree to anything or answer the phone and they get statehood without having to meet any of the standards of same. Ok then that should work out well. Perhaps we should start a letter writing campaign to encourage Israel to recognize the Basque region as an independent country. Perhaps let them set up an embassy in Jerusalem?)
France will recognise a Palestinian state if its efforts in coming weeks to try to break the deadlock between Israelis and Palestinians fail, Foreign Minister Laurent Fabius said on Friday.

"France will engage in the coming weeks in the preparation of an international conference bringing together the parties and their main partners, American, European, Arab, notably to preserve and make happen the solution of two states," he said.
2. EXCLUSIVE -The city destroyed by migration: Inside the Swedish town where armed gangs patrol the streets, crime has exploded and a beautiful social worker's murder has shocked Europe
Standing on a street corner in the pitch black night, a youth brandishes a broken walking stick like a weapon.

Wrapped up warm in a thick parka coat Mohammed jokes with his friends as passers-by watch the gang of unruly youths hanging around one of the few shops still open with suspicion.

As I approach, the 16-year-old drops the baton, his friend kicks it away, trying to hide it.

Ruined: The Gothenburg suburb of Mölndal is in the spotlight this week after the young, beautiful social worker Alexandra Mezher, 22, was stabbed to death in a frenzied attack at the child migrant centre where she worked
Menacing: Miss Mezher's killing is the latest in a long line of migrant related crime in the town which took 4,000 unaccompanied child refugees last year – more than any other town or city in Sweden
(Much more at the DM linked above)
3. Care home deputy manager 'raped a severely disabled female resident in her bedroom twice' 
The deputy manager of a care home raped a severely disabled resident after she blurted out that he had a bigger penis than her boyfriend, a jury heard today.
Amzad Hosein, 62, is accused of raping the woman, who cannot be identified for legal reasons, on two occasions at the care home near Leatherhead, Surrey.
The allegations only came to light when the woman, who has a severe mental disability, mentioned in passing to one of his colleagues that she had seen his penis when he came into her bedroom.
She went on to claim that Hosein had gone on to have sex with her, Guildford Crown Court heard.
She then repeated the allegations when approached by another member of staff – after the care home's manager did not take any action when the claim was first reported to her, jurors heard.
Hosein – who was known as Toy to staff and residents at the care home – is accused of having sex with the woman twice, which he denies.
His alleged victim told police that she had had sex with her boyfriend before but did not enjoy her experience with Hosein as it hurt her.
4. South Carolina House Passes Bill Excluding Sharia Law From State Courts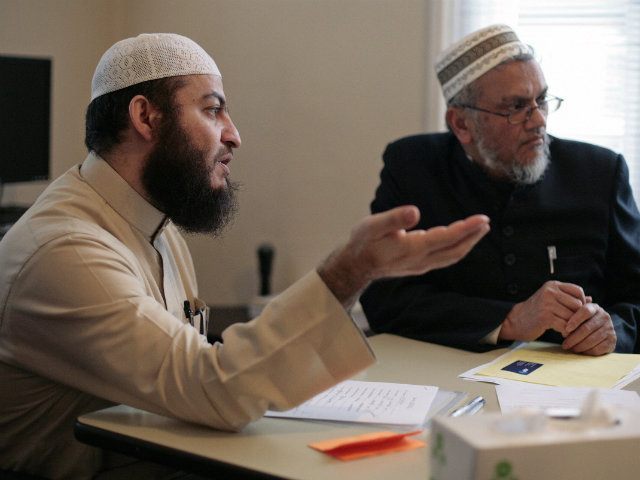 The South Carolina House has passed a bill blocking Islamic sharia law from being recognized or approved in the state, after years of debate over similar legislation.

The legislation voted upon was explained as "A bill to amend the code of laws of South Carolina … so as to prevent a court or other enforcement authority from enforcing foreign law including, but not limited to, Sharia Law in this state from a forum outside of the United States or its territories under certain circumstances."

On Thursday, the legislation passed with 68 for the bill and 42 opposed. […] Underground sharia courts operate in Muslim communities throughout Europe and also in the United States. Last year, Breitbart Texas reported that a "voluntary" sharia court had already been established in Texas.
(It would be interesting to hear some of the better arguments of those opposed)
5. Obama Joins Israel Boycott, Labels West Bank Goods
(This seems like the right moment to mention something that felt just odd when I observed it during Obama's speech at the Holocaust memorial ceremony. He opened by quoting the section of the Jerusalem Talmud that is nearly universally quoted by muslims practicing kitman or taqiyya. The thing is, Obama I believe has also quoted it attributing it to the "holy Koran". But as all muslims do, failing to include the first part of the quote, "It was ordained to the children of Israel", or the last part which goes on to describe how all who foster disbelief in Islam must be punished with near fatal, or fatal punishments, utterly negating the misperception given by the quote of the one fragment. This time however Obama quoted from the right source. Why? Most likely because the rest of his Holocaust speech was really promoting his policy of brining hundreds of thousands of muslims into the US and using that quote, and correctly attributing it the the Talmud, would add a lot of guilt points to getting Jews to support it. But when, if I remember correctly, he quotes the same thing but out of context from koran, its to try and distance islam from islamic jihad. Obama really is perfectly consistent when you accept that all his actions are to advantage islam in any and all circumstances)
In a step towards joining an Israel boycott, the U.S. is now requiring goods originating from the West Bank (also known as Judea and Samaria) to be labeled separately from products from the rest of Israel, following the European Union's crackdown on products from the disputed territories.
The U.S. Customs and Border Protection service, which falls under the Department of Homeland Security (DHS), has issued new mandates requiring that West Bank products not be marked "Israel," citing a notice from the year 1997 that offers such instructions.

The memo from DHS, titled, "West Bank Country of Origin Marking Requirements," reads:  (Continue at BBUK)
6. Muhammad Afzal told Muslim women's group that 'men more likely to be domestic violence victims'
Complaints made after under-fire Lord Mayor elect also allegedly said forced marriages were no longer a problem
Lord Mayor elect Muhammad Afzal faces a new political storm after allegedly telling a leading Muslim women's group that men were more often domestic violence victims – and that forced marriages were no longer a problem.

The under-fire Central Mosque Chairman is said to have made the controversial comments at a meeting with Shaista Gohir, MBE, and her organisation, the Muslim Women's Network UK. […]"He then went on to state that 'domestic violence was happening mainly in the Christian community because they get drunk'.[…]
(Think feminist and other cultural Marxist groups will 'de-platform' this guy the way they did Richard Dawkins?)
7.  Christian ex-prisoner of the Islamic State recognized the guard as a mock-refugee in Europe
(Watch it to the end. The overheard conversation the former captive describes is worth the price of admission)
8. Swedish police file 5,000 migrant incidents
The Dagens Nyheter newspaper recently revealed that the police have designated a special code, R291, for incidents involving asylum seekers and refugees, allowing them to keep tabs on how last autumn's record influx of asylum seekers into the country has affected their work.

According to

SvD's collation of all R291 cases

, police have been called out to no fewer than 559 registered assaults, 450 fights, 194 cases of violent threats, 58 fires, two bomb threats, nine robberies and four rapes, all involving recently arrived asylum seekers.
(Add to that the Swedish police probably have a lower standard of acceptable behaviour for migrants. Specifically, things that would get a white Christian or secular Swede arrested and charged for, they would not bother with at all for a migrant doing the same. So we can likely multiply this number by more than 5X)
9. Hamas Gaza chief: we're ready for a "confrontation" with Israel
(What the islamic speaker said in this video is in fact orthodox islamic thought and views on 'truces' and peaceful periods. You have peace when you are weak, you make ready, and attack when you are strong. Treaty of Hudebiya)
10.  There appears to have been another bombing in another mosque somewhere recntly. The video looks familiar. But then again, a video of post bombing debris and dead muslims in an islamic house of worship is hardly rare and as they all pick similar designs, its hard to tell if this is a re-cropped video or a new event. But its safe to say its a new event. Its not like it doesn't happen a lot.
Thank you M., Xanthippa, Maria J., Richard, and many more. Much more to come as well. Its early yet.
Here is an editorial video on the Dawkins dis-invitation to a science conference and other twitter attacks on him