1. Leftist activists hand out flowers to muslim migrants. Yes, this is after the rape, rob, and grope fest on Silvester [NYE] in Cologne.
2. Uber driver arrested after 'yanking pregnant passenger's service dog out of her lap by its leash before viciously slamming it to the ground'
(MC=100%)
A New York Uber driver has been arrested after he allegedly yanked a passenger's service dog by its leash out of the owner's lap before slamming it to the ground.

The Silky Terrier was left with a dislocated hip and an injured right leg following the incident, which occurred after driver Muhammad Qayyum told the passenger she could not have the dog in his car, police said.

Qayyum, 23, of Queens has denied harming the animal according to an Uber spokeswoman, who said that all Uber drivers are required to accommodate service animals, DNAinfo reported.
New York Uber driver Muhammad Qayyum was arrested after he allegedly yanked passenger Mojeh Adams Schaniel's service dog by its leash out of the owner's lap before slamming it to the ground (the owner and dog pictured above)
(Apparently just saying no is too much for the religious muslim)
3. CIJ News has quite a few disturbing stories today. Here are a few of the links.
3a. U.S. Homeland Security hearing to question Canada's ability to screen Syrian refugees
On February 3, the U.S. Senate's Homeland Security committee will hold a hearing called: "Canada's Fast-Track Refugee Plan: Unanswered Questions and Implications for U.S. National Security." The purpose of the hearing is to ascertain what, if any, risks bringing Syrian refugees to Canada poses to the United States.

The Liberals campaigned on the promise to bring 25,000 Syrian refugees to Canada by December 31, 2015, or roughly 10 weeks after winning the election on October 19, 2015. The deadline has now been extended by two months due to the inability of immigration officials to effectively process tens of thousands of refugees.

Trudeau's plan isn't sitting well with some U.S. lawmakers and experts who wonder if the Liberal government is downplaying the risks associated with letting in thousands of refugees from war-torn Syria.
3b. PM Trudeau's statement on the Holocaust doesn't mention Jews
On the 71st anniversary of the liberation of the world's most notorious extermination camps, Prime Minister Trudeau issued the following statement:
"On this day, we pay tribute to the memory of the millions of victims murdered during the Holocaust. We honour those who survived atrocities at the hands of the Nazi regime, and welcome their courageous stories of hope and perseverance.

"The Holocaust is a stark reminder of the dangers and risks of allowing hate, prejudice, and discrimination to spread unchallenged. It also reminds us that silence must never be an option when humanity is threatened.

"As we pause to educate ourselves and our families on the bitter lessons of the Holocaust, we also strengthen our resolve to work with domestic and international partners to continue defending human rights and condemning intolerance."
(Feels a little like he is leveraging Holocaust inertia to protect the people who want to engineer a new one)
4. Israeli ambassador to the UN Oren on the utter hypocrisy on terrorism
5. Man on the street in London:
Of these 5 countries which is the worst Human RIghts abuser? (Vox Populi Answer is obvious. Jewish people need to arm up)
6. Sweden to expel up to 80,000 rejected asylum seekers
Interior minister Anders Ygeman tells Swedish media of plan to use charter flights to repatriate thousands amid toughening of immigration rules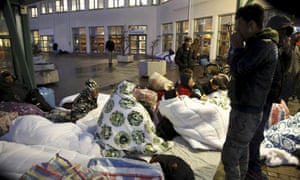 Sweden intends to expel up to 80,000 asylum seekers who arrived in 2015 and whose applications had been rejected, interior minister Anders Ygeman said on Wednesday.

"We are talking about 60,000 people but the number could climb to 80,000," the minister was quoted as saying by Swedish media, adding that the government had asked the police and authorities in charge of migrants to organise their expulsion.
(Does Sweden have a survival instinct or is this just chain-stoking?)
7. Pakistan: Army chief vows to make Karachi terror free
Following a review meeting on the ongoing operation in the city, Chief of Army Staff General Raheel Sharif has vowed to go to any length for a secure and terror-free Karachi.

"The COAS vowed to go to any length for a secure and terror free Karachi to ensure a peaceful and fearless routine daily life for people of Karachi," the ISPR said on Wednesday.
8. Chibok: Deadly suicide blasts hit north-eastern Nigerian town
Suicide bombers have hit the north-eastern Nigerian town of Chibok during market day, killing at least 13 people, reports said.

At least three attackers were involved, some of them female, witnesses said. More than 30 people were injured.

It is not yet known who was behind the attack.

But suspicion is likely to fall on militants from the Boko Haram Islamist group, who abducted more than 200 schoolgirls from Chibok in 2014.
9. Migrant crisis: EU threatens Greece over border controls
Greece has "seriously neglected" its obligations to control the external frontier of Europe's passport-free Schengen zone, the European Commission says in a draft report.

The assessment found failures to register, check and fingerprint migrants arriving in November.

Greece is now likely to be given three months to rectify the situation.

If it does not improve, the EU may recommend that other Schengen states reintroduce temporary border controls.
(If the EU is going to blame this all on Greece instead of Merkel's invitations, then its time to start printing Drachmas)
Thank you Oz-Rita, Xanthippa, M., Wrath of Khan, and many more. Long day today.
Any comments from Sci-Fi horror fans on the new X-files episode welcome. I would like to know if my feelings about it are unique or if it really was a hangover from an MSNBC broadcast during the 2nd GW Bush election)