1. France: The worrying profile of Jew's machete attacker
(The only thing that is worrying here, is the facts lead to a contradiction in the narrative The Local and other official state media promote)
Rather than having a criminal past and a history of being radicalized, the teenager who attacked a Jewish teacher with a machete was a good student, from a normal family, who showed no signs of being psychologically disturbed.
(There goes that usual dodge)
[…] He had been attacked by his teenage assailant from behind but managed to fight him off using everything he could including a copy of the Jewish Holy book the Torah. […]

But it has since emerged that the teen appeared to be entirely in control of his premeditated violent act. He later claimed to have been acting in the name of Daesh, the Arabic acronym for the Islamic State group.

"He said several times he was acting in the name of Isis, because Muslims in France were dishonouring Islam and French soldiers were protecting Jews," said Marseille prosecutor Brice Robin.

The youth even admitted to investigators that he planned to arm himself and kill police as soon as he is released.
2. Squaddie had face slashed by gang led by Muslim convict in UK prison 'terror attack'
(It seems governments, who are also rapidly politicizing their various branches like police, taxation etc., now have a new convenient way to execute people who it doesn't like. Put them in jail with muslims. No trial, no publicity and a full degree of separation)
A GANG of thugs "led by a Muslim convert" savagely attacked an ex-soldier in an alleged prison "terror attack".

Eight men, reportedly led by a Muslim serving 10 years for causing a soldier's death by dangerous driving, assaulted former paratrooper Craig Jones in his cell at Hewell Prison, West Midlands.

Jones, who is on remand in prison, is said to have suffered a fractured eye socket and sliced face in the brutal attack.

A source told The Times they "beat him to within an inch of his life" in the "major incident".

It is thought the ex-soldier was targeted by the thugs because of his military background.

The Muslim inmate was jailed in October for jumping a red light at nearly 70mph, ploughing into the back of the soldier's car and killing him instantly. […] It comes a month after Nick Hardwick, outgoing chief inspector of prisons, raised concerns about radicalisation from Muslim gangs in jails.
(I'm not saying this is the case in the above instance. But it almost certainly was in the attack on Tommy Robinson in jail)
3. Teenager is arrested for sexual assault at Swedish music festival where police covered up attacks by migrant gangs as it is revealed two third of the victims were under 15
A 15-year-old boy has been arrested for sexually assaulting two 14-year-old girls a music festival in Stockholm last summer, as Swedish police scrambles to amend the shocking cover-up of attacks.

Yesterday, Swedish police was accused of 'playing down' dozens of sexual assaults on teenage girls at the annual We Are Sthlm festival – because a majority of the suspects were underage refugees.

It has now emerged that 63 per cent of the victims were under 15, and all but three of the reported sexual assaults and rapes involved girls under 18.
4. 'We told you so', Eastern Europe tells Germany
Influential politicians across Eastern Europe have pointed to the Cologne attacks, in which men of Middle eastern appearance sexually assaulted over a hundred women, as proof that Germany's open-door refugee policy has been a mistake.

As Chancellor Angela Merkel seeks to reach a consensus on a quota system, whereby refugees would be divided up among European countries, the mood in eastern Europe has now hardened against such proposals, with some governments saying they will refuse to take in young men.

The strongest criticism has come from Slovakia's Prime Minister Robert Fico, who said in a television discussion that Migrants have become a 'protected species' in Germany, Spiegel Online reports.
(We actually need a new term for what they are. Indeed they are protected by the law as the EDL have been pointing out for years. Muslims in Europe honour the law more in the breach than in the observance, and seem nearly immune to it, now with revelations that governments actually destroy evidence of muslim attacks on women etc, and who knows what else, it is a kind of super-citizenship. Anyone with a suggestion better than 'protected species' please leave a comment)
5. Blast in central Istanbul tourist area leaves several killed
ANKARA – There is a high probability that Islamic State militants were responsible for an explosion in the heart of Istanbul's historic Sultanahmet tourist district which killed at least ten people on Tuesday, two senior Turkish security officials told Reuters.

Meanwhile, Turkish President Tayyip Erdogan said a Syrian suicide bomber is thought to have been responsible for the explosion.

"I condemn the terror incident in Istanbul assessed to be an attack by a suicide bomber with Syrian origin. Unfortunately we have 10 dead including foreigners and Turkish nationals… There are also 15 wounded," Erdogan told a lunch for Turkish ambassadors in Ankara, in a speech broadcast live on television.
(In this clip, Euronews deflects from the fact that this was Islamic Jihad)
6. US Congress 'stalls' sale of F-16 fighter jets to Pakistan
(Wadaya know. Some parts of the US government are still acting with reason and in American interests)
The US Congress has "stalled" Obama administration's planned sale of eight new F-16 fighter jets to Pakistan.

In October, the Obama administration said it is preparing to sell eight new F-16 fighter jets to Pakistan, an overture intended to bolster a tenuous partnership despite persistent concerns about Islamabad's ties to elements of the Taliban and quickly expanding nuclear arsenal.

However, the move has now been stalled as lawmakers raised questions about the end use of the combat aircraft and the relationship between the two countries itself.
7. Now even Merkel admits European refugee crisis is 'out of control': Thousands take to the streets of Germany shouting 'take your Muslims with you' after mob sex attacks
(Merkel must now feel the police are close to changing sides and is making the appropriate noises to stop that)
Many chanted 'We are the people', 'Resistance!' and 'Deport them!'.

Others vented their anger and frustration at Chancellor Merkel, who they accused of destroying Germany by letting in 1.1 million asylum seekers in 2015.

'Refugees not welcome!' read one sign, showing a silhouette of three men armed with knives pursuing a woman, while another declared 'Islam = terror'.

A heavy police presence, with water canon at the ready, kept watch over the crowd and separated them from a group of counter-demonstrators.

Waving a sign which said 'State of injustice', 44-year-old demonstrator Lukas Richter said: 'Merkel is breaching the constitution and must go,' and that 'the government must close the borders and return all illegal migrants'.
(I like the slogan, 'Merkel, get out and take your muslims with you'. I wonder if somehow a clever poet or author could adapt that to Canada and the US)
8. Anti-Semitic attack by Syrian and Afghan men in Germany
A Syrian and an Afghan were arrested in northern Germany on Sunday on suspicion of attacking and robbing a French man who was wearing a kappa.

Police said the 49-year-old was in a waiting room at Puttgarden ferry port on Saturday when the two men, saying "Jew" in Arabic, pushed him to the floor. They stole a bag containing cash, a bank card, a train ticket and a mobile phone.

The two men had been denied entry to Denmark the previous day because they lacked the correct papers and were waiting for a train to a refugee centre.
(If we go by precedent then chances are they won't be charged with a hate crime. You have to walk past a mosque with a salad containing bacon bits for that)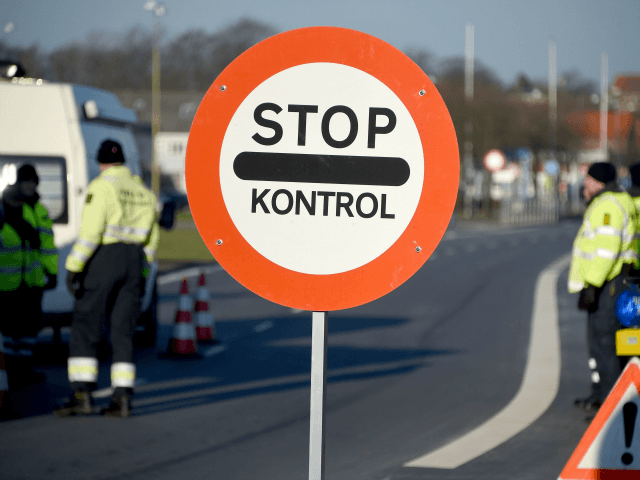 "A growing body of evidence suggests German police are hobbled at every possibly opportunity by the Federal government from dealing with the criminal migrant problem, with one officer complaining they have even been banned from preventing suspects escaping custody."
In a brief interview with German mainstream-tabloid Bild, an anonymised member of the state-wide Federal police identified only as 22 year old 'Bernd' reveals the extraordinary nature of police work in modern Europe. Deployed to Passau, a small city in south-east Germany on the Austrian border where thousands of migrants come by train and road every month Bernd revealed "95 percent of refugees are single men".

The officer told the paper the public do not get an accurate idea of what is really happening in the migrant crime wave, because events are mis-reported by police to prevent outrage. He said: "should an asylum seeker cut another's throat. In the report we would state it was grievous bodily harm rather than attempted murder. It looks better in the statistics".
10. PEGIDA and 'AntiFa' clash in Munich:
(This is what happens when you put astroturf and grass roots on the same field)
11. Muslim 'rape game' imported into Europe
(Even if this assessment is correct, and I remain skeptical, it still makes anyone who talks about multiculturalism like a good thing, or even possible at all, look like a total idiot)
12. Sister of new, 'Jihadi John' speaks, brief analysis on the change he underwent when he converted to islam.
Thank you WTD., Maria J., M., Wrath of Khan, Johnny U.,Pym Purnell, and all who sent in links and comments. More to come today indeed.
There is a video clip that has been sent to me by a number of people ranging from close friends to great contributors to this site from Hungarian TV. All in all I would have to guess its been sent to me no less than 6 times, maybe more. It was tweeted out by significant people and even posted by some great Counter-Jihad blogs. Up to now I have ignored it because I know for a fact that none of the people who sent it saw in it what I do. They noticed the significant nature of the guests, and much of what they said was dead on track in terms of the nature of events in Europe and around the world today. From the point of view of most people, it is an exciting clip, much like the Polish one in the post directly below this one.
In it however, two of the three people discussing the issue use what I consider to be coded words for an antisemitic approach to Jewish people. One of them says something like, 'Those who cannot be named' etc. Had it been a specific group, like a George Soros foundation, they certainly can be named and often are on TV all over the world. The Czech president I believe even named them as have others although not nearly enough have cast aspersions that way and more certainly should. There were one or two other hidden pot shots at the Jewish people it seemed to me in this clip. After watching it, I did some research on who these people were. All three have or had positions of influence with the Hungarian leadership today, but the one of the three who seemed disdainful of the other two is the one who today has the closest relationship with Hungarian prime Minister, Viktor Orbán, if memory served me, as I researched this days ago when the first links to this clip came in. The clip is below. Others may and have interpreted it differently. But it is my belief that at least one and probably two of them are promoting the classical libel that it is the Jews who are responsible for the mass immigration of muslims into Western Civilization as an attack on the Christians or something like that.
For those who took the time to read the page here at Vlad called, 'The Agendas and Views of this Site' written I think in 2008, it is explained that the purpose of this website was to inform average people into action to solve a problem which, if it is not dealt with quickly and by the center to center conservatives, the general public will rely on real 'far right wing extremists' (technically referring of course to far left wing extremists like Nazis) to solve the problem as has happened before. The strong man solution. Personally I see this clip as being an example of that process.
Once again, I need to emphasize that in no way am I saying that those who sent the link to this video in see in it what I describe. I know all the people who sent it and even friends of mine have published this clip on other sites, and none of them share the sentiments I attribute to the speakers in this video. It is also possible that I am the one with the improper interpretation of it. But it stands to reason that if they meant, "Americans', or 'Merkel', they could have said it.
Lastly, and on another note, I think the theme of this week's posts so far should be that it has now been established as fact that various Western governments are covering up massive organized attacks on our populations by muslim 'migrants'. This is meaningful to say the very very least. We know now that we are being lied to about important things by those we elect and pay to protect us and act on and in our interests. Once you know that, you technically know everything you need to know.