1. Peter King on the Kelly File
2. Meanwhile in Germany, muslims protest not the massive rape rob and molestation of locals by thousands muslim migrants and muslim residents across Europe, but of the execution of one convicted terrorist in Saudi Arabia thousands of miles away. And this is how multiculturalism really looks.
3. Tourist describes attack at Egyptian resort
4. French mosques open doors to public to promote unity and solidarity
(Euronews is the among the top 5 purveyors of the CVE and multiculti narrative, islam-appologetics as we have seen in many videos this week alone)
5. Man Who 'Tried to Execute' Philly Officer Charged With Attempted Murder
(Why not terrorism?
A man who investigators say confessed to shooting a Philadelphia police officer multiple times "in the name of Islam" has been charged with attempted murder.

Edward Archer was arraigned on four felonies and four misdemeanor charges Saturday afternoon. He is charged with attempted murder, aggravated assault, assault on a law enforcement officer, recklessly endangering another person, possession of an instrument of crime, violation of uniform firearms act and other related offenses.
(There are a few pics of the perp in this article and it appears as if he has a zebiba, the Islamic 'second anus' or 'tard-chakra' that they get from banging their head on the ground to show overt symbols of religiosity and status, seems as if it has been photoshopped out with a fake light reflection. Look at the upper forehead)
6. Some great German counter-revlutionary propaganda
(It is in fact, countner-revolutionary because these Germans want a return to rule of law and classical liberalism which the cultural Marxists successfully destroyed by revolution that no one seemed to notice)
7. Now migrant gang assault women at Munich nightclub: Merkel forced to act as thousands protest on streets
Migrants were yesterday accused of further sexual assaults in Germany – after Chancellor Angela Merkel proposed stricter laws regulating asylum seekers after a string of New Year's Eve attacks.

A gang of up to 15 'foreign men' were alleged to have 'indecently touched' two women outside a nightclub in Munich – adding to around 150 reports of attacks across five German cities.

Yesterday Mrs Merkel announced plans to tighten up the law on denying the right of asylum for those who have committed crimes.

The news came after she faced renewed criticism for her open-door policy, which saw 1.1 million migrants enter the country in 2015.
8. Paris police attacker lived in German refugee shelter: police
German police have raided a shelter for asylum seekers that they say was occupied by the man killed as he stormed a Paris police station. Authorities did not say whether the man was registered as an asylum seeker.
German police have said the man who attempted to attack a French police station in northern Paris on Thursday had lived in a shelter for asylum seekers in the western German state of North-Rhine Westphalia.

State authorities on Saturday night raided the shelter in Recklinghausen, police said in a statement. However, they did not specify whether the man was indeed registered as an asylum seeker.

The man was shot dead by French police after he tried to storm the station carrying a meat cleaver and wearing a fake suicide vest.

Paris prosecutor Francois Molins said the man was in possession of a flag commonly associated with the "Islamic State" militant group, one also used by other Islamist militant groups.
9. US Navy Releases Video of 'Provocative' Iran Rocket Fire
The U.S. Navy on Saturday released footage it said showed Iranian Revolutionary Guard vessels firing rockets near warships and commercial traffic in the strategic Strait of Hormuz late last month, a move raising tensions between the two nations despite the recent nuclear deal.

The Navy said it released the footage in response to a Freedom of Information Act request, though it also comes as U.S. ally Saudi Arabia has cut ties to the Islamic Republic following attacks on diplomatic posts there after the kingdom's execution of a Shiite cleric.

The 45 seconds of black-and-white Dec. 26 footage, which the Navy said was shot from a Seahawk helicopter, shows what appears to be an oil tanker passing by. A flash appears on the left side of the video and after zooming in, it shows small boats the Navy said were Iranian firing rockets.

The Navy has said the USS Harry S. Truman aircraft carrier, the USS Bulkeley destroyer and a French frigate were nearby at the time, as well as commercial vessels.

There was no immediate reaction in Tehran to the video's release. Previously, Gen. Ramezan Sharif, a Revolutionary Guard spokesman, said his forces didn't carry out any drills there at that time and called the American comments "psychological warfare."
10. Mississippi Town Reverses Itself and Says 'No' to Refugees
The tiny farming community of Louise was an exception in a Deep South where resistance to resettling refugees from the Syrian conflict was ramping up after the attacks in Paris. Those opposed say extremists could be among those who are resettled.

At the same time that this small rural community was welcoming refugees, Mississippi Gov. Phil Bryant said he would do "everything humanly possible" to keep refugees from his state.

Then, last Tuesday, the votes of the month-long referendum in Louise were counted: the tally was 37 against and three in favor of welcoming refugees, according to Mayor Thomas Ruffin Smith. Following the vote count, the board of aldermen rescinded the resolution.

In November — at the height of a national debate over whether Syrian refugees should be welcomed — the Mississippi Delta town's board passed a resolution to welcome refugees, calling it a "Christian duty." The town's decree in November was a rare show of warmth toward refugees.

Smith, the Louise mayor, said he was disappointed by the outcome of referendum.

"This is a fear and ignorance problem, and one leads to the other," the mayor said in a telephone interview. "Me personally, I think it's the right thing to do. There's people out there in the world that are in a hard way."

Louise sits in the heart of the Mississippi Delta and has a population of about 200 people and about half as many registered voters, Smith said. It started as a railroad town and grew to have three grocery stores and two banks, but now there's only a convenience store and one bank, the mayor said.
11. Here is an article on Gates of Vienna called, "The Larger Motive Behind the Groping Jihad". It is garnering a lot of comments.
"Just over a week ago the culture-enrichers of Cologne went out for a wild night on the town. It was Silvester night, what we call New Year's Eve. These energetic young bloods gathered en masse at the Hauptbahnhof, the main train station of Cologne. They made a concerted effort to corner and isolate young women, who were then harassed, robbed, groped, molested, and raped.
The city authorities covered up what had happened for as long as they could. They didn't want to acknowledge that young women had been molested under the eyes of their police, and they especially didn't want to admit that most of the gropers were recently-arrived "refugees" from North Africa and the Middle East. It wasn't until last Sunday that the news of what happened was splashed across the headlines in Germany and the rest of Europe. And it took several more days to learn that Stuttgart, Frankfurt, Hamburg, Dusseldorf, and other German cities had experienced the same sort of incidents on New Year's Eve. Later we found out that the same thing occurred in Helsinki, Vienna, Salzburg, Zurich, Oslo, and Stockholm. I'm certain that we'll eventually hear of incidents in other major European cities that have a significant "refugee" population.
In each city the modus operandi seemed to be the same: a large number of young men, often intoxicated and setting off fireworks, preying on young women in a coordinated fashion, as if the whole thing were planned and organized in advance. Which it may well have been — but in a distributed fashion, not with a central command structure.
Abu Bakr al-Baghdadi did not order his troops to carry out attacks. But he didn't have to — this is Islam, and any good Muslim who has paid attention to what is preached in mosques and instructed in madrassas knows exactly what to do.
When a sheep accidentally falls into the Amazon, the piranhas don't have a central command-and-control system, either. But they can strip the unfortunate animal to a skeleton in a matter of minutes in a coordinated fashion. All it takes is effective and uniform programming in each individual organism of the population."
12. So a muslim woman went to a Trump rally and did a silent protest…
Islamic Protester Booted from Trump Rally Is Anti-Israel Activist, Promotes Radical Imams
Rose Hamid, an Islamic protester who made headlines when she was removed from a Donald Trump rally in South Carolina Friday night and attempted to position herself as a victim of 'Islamophobia' thereafter, has a history rife with extremist advocacy.

In a CNN article titled, "Silently protesting Muslim woman ejected from Trump rally," Hamid, 56, is described as an innocent "flight attendant" who came to the rally in hopes that Trump supporters could better understand Muslims. When the Republican frontrunner started to discuss the refugee situation in Syria and President Obama's policies in the region, a group of protesters alongside Hamid started a "commotion," the Washington Post reports. Then, the group–who were sporting provocative yellow stars reminiscent to those that Jews were forced to wear under the Third Reich–was promptly ejected from the rally.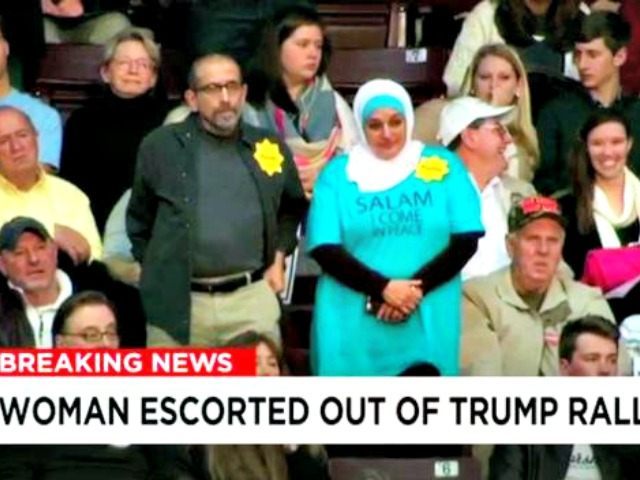 (My question is, did CNN have the woman on who criticized Hillary Clinton for bullying her husband's rape victims into silence and Clinton accused her of being rude and her audience all stood and bood her. Did CNN invite her to tell her point of view? Cause that would be balance)
Thank you Maria J., M., Wrath of Khan, Richard, Nash Montana, and a large number of very busy people today. There is more to come. In fact if the things out for translation are what I think they are, (Thanks Kathy, the Polish clip is in the works) there may be some pretty ugly revelations about German and government complicity with massive muslim rape, rob, and grope gangs.
Lastly I would like to offer a thought to Western Europe and perhaps other nations suffering from what looks like a total post modern deconstruction of classical civilization and the concept of the nation state.
Many people are talking about vigilantism, revolution and so on and so on. Yeah, there may well be violence. Based on what we have seen the past year, escalating muslim violence coupled with government enforcement of politically motivated  agendas against the indigenous people of Europe and North America on top of non enforcement of the law against muslims even for very serious crimes like rape, assault without provocation or race based, and even long term sexual slavery of minors (in one instance the father of a young girl that was being held as a sexual slave to muslim pedophile rape gangs was arrested in the UK when he tried to rescue his daughter)
I think the facts suggest that the view that is needed is a counter-revolution to restore law and order and equality to all citizens and deportation of all who have demonstrated that they cannot or will not obey the law and be productive citizens. Welfare should be limited to 6 months etc. A return to reason and what has been shown to deliver a safe and effective society for thousands of years. The meme should be counter-revolution to restore what is right and wrong, and natural law so that the weak may defend themselves against the strong.
Suggesting that rape victims should ask strangers, themselves probably muslims, to "be a witness to their victimization" is a crime all on its own. One that I think no rational person could have thought would happen, so like many of the horrors we witness weekly now, does not even have a real name yet.
Eeyore for Vlad.