1. Islamic State executes female journalist in Raqqa
The Islamic State executed independent citizen journalist Ruqia Hassan in what is believed to be the group's first capital punishment of a woman for reporting inside its territory, posted citizen journalists from Raqqa on Facebook over the weekend.

Better known by her pseudonym "Nisan Ibrahim," Hassan wrote about life under IS rule on her personal Facebook page and "often reported on airstrikes in Raqqa as they happened," Furat al-Wafaa, an independent citizen journalist formerly with the Raqqa is Being Slaughtered Silently media campaign, tells Syria Direct's Ammar Hammou.

Although the exact date of the execution is unknown, Hassan's social media reporting abruptly stopped on July 21, 2015. At some point between July and December, Hassan disappeared from Raqqa city.

IS informed Hassan's family of her execution on charges of "espionage" only three days ago, reported Syrian opposition Arabic-language media on Monday. 

In one of her last posts, which was a response to an IS decision to ban Wi-Fi hotspots in Raqqa city, Ruqia showed a capacity for joking about the conditions citizen journalists work under in IS-held territories: "Go ahead and cut off the internet, our messenger pigeons won't complain," reads her post from July 20.
(Much to everyone's surprise, the Islamic State seems not to have a very good sense of humour)
2.  India: Only 33% of Muslims work, lowest among all religions
NEW DELHI: Muslims have the lowest share of working people – about 33% – among all religious communities in India. This is lower than the nationwide average work participation rate of 40%.

The figure for Jains and Sikhs stands at 36% each. Buddhists, comprising mostly Dalits who embraced Buddhism in the 20th century, have a high working population share at 43%. For Hindus, the figure is 41%. Drawn from the Census 2011 data, the statistics show a faith-based profile of India's 482 million strong workforce. The figures haven't changed much from the 2001 Census, indicating a stasis in the economic status of communities.
3. Islamic State video suspect thought to be Briton Siddhartha Dhar
(Many times I have written about the phenomenon of purveyors of the narrative, such as the BBC, CBC, CNN and so on, using a convert to islam's original name in order to deflect blame away from the ideology that led that individual to commit a heinous political act of terror. We see this in US media as well in many cases where the suspect's convert name did not come out till days later from alternate media, if ever. But when a muslim is perceived to be the victim, hero or achiever, they use the name he converted to as opposed to his birth name. This is frequent enough to dare call it a policy rather than an act of lazy journalism. Now looking at this story, we have a man who was named after the historical Buddha, Siddhartha, which is analogous to a Latin American being named Jesus, and a classic Buddhist or Hindu last name and we are to believe when he converted to Islam he did not take a name like Muhammed Al-jihad or something? Highly unlikely.)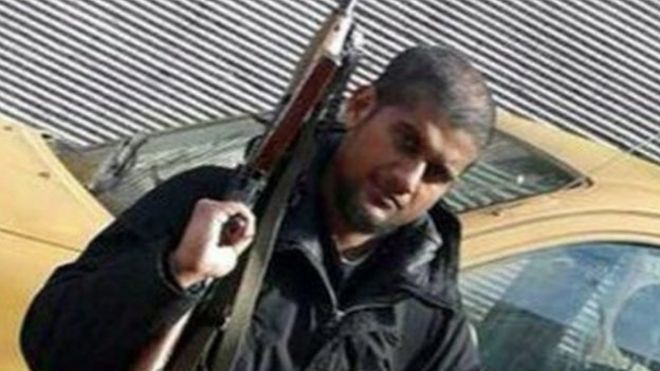 The chief suspect in the latest propaganda video by so-called Islamic State (IS) is thought to be British man Siddhartha Dhar, the BBC understands.

Mr Dhar is the focus for the security services' study of the video, which purports to show the killing of five men who IS says were spying for the UK.

"A lot of people think it is him," a source told the BBC, although there has been no official confirmation.

Mr Dhar – also known as Abu Rumaysah – is a Muslim convert from east London.
(Also known as… Un hunh)
4. UAE, Bahrain cut ties with Iran after attacks on Saudi missions
(Lines are being firmly drawn along sectarian/tribal boundaries showing that democracy cannot work in primitive societies or islamic ones. No one has ventured that the Saudis were justified in any way on the Shiia side and the Sunni side will not concede that perhaps it was imprudent to execute this person. Sykes Picot was clearly the effective solution for this region)
DUBAI:
Bahrain announced on Monday it was cutting diplomatic ties with Iran, state news agency BNA reported, a day after its ally and neighbour Saudi Arabia also severed relations with Tehran.

"Bahrain decided to break off diplomatic relations with the Islamic Republic of Iran and calls upon all members of the mission to leave the kingdom within 48 hours," BNA said.
5. Germany: Syrian refugee wounded after shots fired into refugee house in Dreieich
6. Man fitted with bionic penis will finally lose his virginity aged 43 to £200-an-hour dominatrix
(Just in case you think your tax dollars to the NHS were being wasted)
A man who had his penis ripped off in a horror accident in childhood is to lose his virginity to an "award winning" dominatrix.

Mohammed Abad from Edinburgh is to rendezvous with Charlotte Rose in London after a dinner date this week.

Rose, a sexual freedom campaigner, offered to have sex with Mohammed after learning he had surgery to fit an 8-inch bionic penis which has only just begun working.
7. Photo: Invader Sex Attackers in Cologne
After days of attempted controlled media cover-ups, photographs and reports have finally emerged in German media admitting that the perpetrators of the mass sex attack on German girls in Cologne on New Year's Eve were all nonwhite invaders from North Africa.

The Express newspaper was the first to break ranks and admit that the attackers were nonwhites.

In an article published on January 2, 2016—two days after the attacks took place—that paper reported that a police official had confirmed that the "perpetrators were a group of young North Africans who have already been noticed in the past through their pickpocketing and drug trafficking activities near the main railway station."

Even though the Express admitted the attackers were nonwhite—the only controlled media outlet so far to do so—they continued to deny that the perpetrators were part of the recent "refugee" invasion—as if somehow hundreds of North Africans "appeared" at the station this year by chance.
8. Iraq: Bomb blasts devastate Sunni mosques after Saudis execute Shiite cleric
9. link to video of Philippine jihadis swear fealty to the Islamic State 
10. Islamic State executes 20+ Egyptians in Sinai Peninsula 
The Islamic State of Iraq and Al-Sham (ISIS) has posted another video via social media that contains disturbing footage of several prisoners being executed by their Shari'ah Council in the Sinai Peninsula in northern Egypt. According to the executioner in the ISIS video, the 20+ civilians dressed in orange jumpsuits were government collaborators who were providing information about the terrorist group; these men were then summarily executed.
11. IS suicide op pics for total destruction of Iraqi army camp
12. Denmark institutes controls at German border
Thank you Oz-Rita, M., Wrath of Khan, GB., Nash Montana, Gates of Vienna, Buck and all.
There is still a lot more of worthy and significant news to get through today and its barely even dinner time.