1. Exclusive: San Bernardino shooters buried in quiet funeral following Islamic rituals
(One of the elements of even the criminal justice system is deterrence. I do not see how giving muslims who commit a successful act of jihad and are killed in the process two tickets to Mohamed's bar and brothel in the sky has any of that in terms of how other muslims will view their own potential act of jihad)
Syed Rizwan Farook and Tashfeen Malik, who opened fire on a San Bernardino holiday party earlier this month, were buried Tuesday in a quiet, graveside funeral guarded by FBI agents.

Many of those who attended mosque with the couple refused to attend, two mosque members said.

U.S.-born Farook, 28, and his Pakistani-born wife Malik, 29, killed 14 people and injured 21, in what U.S. officials have called a terrorist attack. They died later that day in a gun battle with police.

The funeral followed traditional Islamic rituals, said an attendee. At a Muslim cemetery hours away from San Bernardino, the bodies were cleansed according to Islamic rules, wrapped in white cloth and buried.
2. Police: A dead snake was placed around the victim's neck
A gay man was found murdered, bound and dressed in women's clothes in his apartment in Bergsjön, reports the Swedish newspaper Expressen.

Around his neck a dead snake was found.

A 16-year-old is now charged with hate-crime murder. Simultaneously a 19-year-old is prosecuted for aiding and abetting a criminal.

According to the prosecutor, the motive for the murder was to violate the victim because of his sexual orientation.

– I am very afraid of snakes, how could I have put it there? asked the 16-year-old during the police interrogation.

The two accused are unaccompanied refugee children from Morocco in North Africa, who went to the gay man's apartment in Bergsjön in June.

The 16-year-old's blood and thus his DNA was found on the dead snake. Otherwise, the main evidence is a film from the murder scene found on the accused's mobile phone. The film was deleted but could be recreated by police technicians and shows the battered, bound and humiliated man lying on the floor in his own apartment. [….] The so-called street children from Morocco and other North African countries are, according to a intelligence report from the Border Police in Stockholm, particularly criminal, writes the newspaper.
3. Sheriff's office confirms tip about possibly suspicious questions regarding Bagnell Dam
The Camden County Sheriff's Office has verified that it received a tip regarding a group of Middle Eastern men asking about Bagnell Dam and have forwarded the report to the FBI and a joint task force on terrorism. That does not mean that there is any reason to be scared or panicked that an attack is planned at the Lake of the Ozarks.
MEMRI republished this video from 2011, probably because it makes it more difficult for the apologists of Islam to disconnect the actions of the Islamic State from the religion and doctrine at its core.
In a lecture, Egyptian cleric Abu Ishaq Al-Heweny explained how the enslavement of people in countries conquered by Jihad is carried out. "In every war there is a winner and a loser," he said. "According to the rules of Islam, all the people in the [conquered] country become booty," and are "divided between the mujahideen," he said. Al-Heweny also talked about the benefits of slave markets, saying that they were useful if you needed a little spare cash. The lecture was posted on the Internet on June 8, 2011.
(And from Episode 1 of Season 5 of Homeland comes this moment:)
4. Indian Cleric Calls for Beheading of Hindu Leader over Blasphemy Allegation
5. Donald Trump: Merkel is destroying Germany
6. 'Members' surprised by Saudi anti-terror coalition plan
(The Saudis appear to be taking a page from the UN's IPCC report and just adding names)
A number of countries have expressed surprise that they were included by Saudi Arabia in a new military alliance to fight terrorism.

Officials in Pakistan, Malaysia and Indonesia all said they had not formally agreed to join the alliance.

Saudi Arabia on Tuesday said 34 mainly Muslim nations would be part of the counter-terrorism grouping.

Prince Mohammed said it would focus on efforts to fight terrorism in Iraq, Syria, Libya, Egypt and Afghanistan.

"Currently, every Muslim country is fighting terrorism individually… so co-ordinating efforts is very important," he told a news conference.
7. Middle Eastern Woman Caught Surveilling U.S. Point of Entry at Mexican Border
When federal officers asked Abdelrazaq why she was drawing sketches of the facilities she "stated because she's never been to the border," according to the CBP report. Abdelrazaq resisted showing officers the sketchbook, citing personal reasons, but subsequently handed it over. "During the inspection of the Abdelrazaq sketching book, CBPOs noticed the book contained writings in English and Arabic language," federal officers write in the document. "There were drawings of what appeared to be vehicle primary inspection area and an additional drawing of pedestrian turn stile gate depicting video surveillance cameras above the gate." The report proceeds to reveal that the drawings were "partial and incomplete."
8. `Polish PM rounds on European parliament head over 'coup' remark
(This story is profoundly revealing of how the European Union views its servant states)
Parliament's German president, MartinSchulz, likens events in Poland to 'coup d'etat' after new rightwing government altered make-up of constitutional court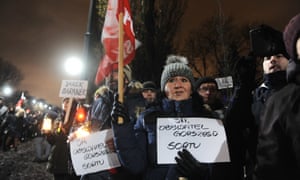 Polish leaders have lashed out at the head of the European parliament for saying political developments under the new rightwing government in Poland are akin to a "coup d'etat."

Martin Schulz, who is German, told Germany's Deutschlandfunk radio on Monday: "What is happening in Poland has the character of a coup d'etat and is dramatic. I assume that this week or in January at the latest we will have to discuss this extensively in the European parliament." […] The foreign minister, Witold Waszczykowski — who has asked Poland's ambassador to the EU to meet with Schulz over the matter — called the coup remark "unfounded and therefore irresponsible".
10. 'Colossal effort' underway to bring 10,000 Syrian refugees to Canada by year's end
More than 500 federal workers on the ground to fast track refugee process.

The federal government is ramping up efforts in a race against time to bring 10,000 Syrian refugees to Canada in just two weeks.

During a briefing on the resettlement plan in Ottawa Wednesday, Immigration, Refugees and Citizenship Minister John McCallum said officials have managed a "massive" increase in capacity for processing of Syrians in Jordan, Turkey and Lebanon, including interviews and security and health screening.
(Meanwhile, the Prime minister, who's policy this is, did a fluff piece for McCleans where he showed off his lack of basic geopolitical knowledge as if it was charming)
Thank you M., Nash Montana, Wrath of Khan, Xanthippa, Richard, Buck and all who sent in links today. It remains very appreciated and of escalating importance.
Xanthippa translates from Czech Independent TV a few items of interest:
This past Saturday, the 12th of December, 2015, 2,000 to 5,000 supporters of opposition parties took to the streets to protest the potential membership of Montenegro in NATO.
"Should the Parliament decide about NATO membership without a referendum, Montenegro will be on the brink of a civil war!" stated 
Andrija Mandic
, the leader of 
New Serb Democracy
 party, at a gathering in the capital, Podgorica, on Saturday evening.
Participants in the rally waved Serbian and Russian flags and chanted slogans like "Putin is a Serb" and "Mother Russia".