1. Teacher at French kindergarten is stabbed in the neck by hooded man shouting 'This is Daesh. This is a warning'
A kindergarten teacher has been stabbed in the neck at a school in Paris by a man claiming to be acting in the name of ISIS.

The 45-year-old teacher was preparing for one of his classes when he was attacked by a masked man armed with a box cutter and scissors.

The attacker claimed he was acting in the name of the brutal jihadi group ISIS and declared the attack was 'a warning'. He fled the scene in Aubervilliers, Seine-Saint-Denis.
2. Swedish pair get life in jail for Syria terror crimes
Hassan al-Mandlawi, 32, and Al-Amin Sultan, 30, both Swedish nationals, were found guilty by Gothenburg District Court on Monday of a series of terror offences, including taking part in the April 2013 decapitation of two people in Syria's second city of Aleppo.

The chief prosecutor in the case, Agnetha Hilding Qvarnström, had told the court that movies in which two men have their heads cut off, proved that the two accused were present when the murders were committed and that they belonged to a terror organization.
3. ISIS Issues Fatwa Calling For Mass Killing Of American Dogs And Puppies
A chilling report issued by the Main Intelligence Directorate General Staff of the Armed Forces (GRU) is warning today that the pet dogs and puppies of American owners have now become "targets for death" after the Islamic State's (ISIS/ISIL/Daesh) top religious scholar, Turki al-Bin'ali, issued a fatwa authorizing the immediate mass slaughter of these beloved animals by their terrorist supporters currently residing in the United States.

According to this report, this Islamic legal pronouncement (fatwa) issued by the Islamic State Caliphates main ideological-religious leader, who currently resides under the protection of the US at their Bahrain naval base (NSAB), was in response to queries from many of their younger American "sympathizers/supporters" wanting to wage jihad but fearful of being captured or killed—or not being of sufficient age to "obtain/purchase" weapons.

Turki al-Bin'ali's response to these American followers, as outlined in his fatwa published earlier today in the Islamic State's online magazine Dabiq, this report continues, was that while although the main duty of jihad was to "kill/destroy/main" as many infidels (non-believers/Christians/Jews, etc.) as possible, no matter what the cost, it is entirely acceptable, also, to strike fear into these Westerners by the mass murdering of their dogs and puppies.
4. British man convicted of Remembrance Day terror plot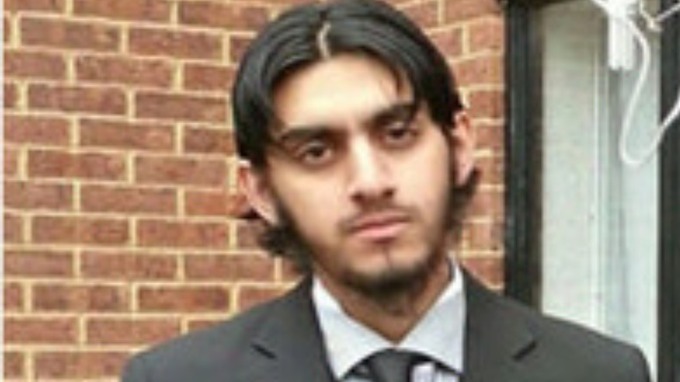 A British man has been convicted of plotting a London knife attack inspired by so-called Islamic State.

Nadir Syed, 22, from Southall, was found guilty at Woolwich Crown Court of the terror plot, intended to coincide with last year's Remembrance Sunday.

The jury was unable to reach verdicts on his cousin Yousaf Syed, 20 or Haseeb Hamayoon, 28, and a retrial has been ordered.
(At least Hitler didn't kill dogs)
ISIS have issued a fatwa which orders children with Down's syndrome and other disabilities to be killed in a chilling echo to the workings of the Nazis, it is claimed.

Sharia judges have apparently ruled that ISIS followers are authorised to 'kill newborn babies with Down's Syndrome or congenital deformities and disabled children' in their latest sickening act.

More than 38 children born with deformities and Down's syndrome, aged between one week and three months, have already been killed by lethal injection or suffocation, according to Iraqi activist group Mosul Eye. 

The organisation, which released the a video report highlighting the depraved acts, said the killings took place in ISIS strongholds in Syria and Mosul, northern Iraq.
6. Turkish troops leave Iraqi camp after Baghdad orders them out -sources
(We shall see)
7. Participant in China Xinjiang attack was brainwashed – report
BEIJING (Reuters) – A participant in a September attack on a coal mine in China's far western region of Xinjiang that killed 16 people said he had been brainwashed to believe he was going to heaven, a state-run paper reported on Monday.

Hundreds of people have been killed in the past few years in the region, which is home to the mainly Muslim Uighur people, in violence blamed by the government on Islamist militants seeking an independent state called East Turkestan.

China only admitted last month the mine attack had happened, when it said its security forces had killed 28 of the "terrorists" involved. Since then it has released further details in dribs and drabs.

In the latest report on the incident and government efforts to hunt down the perpetrators, the official Xinjiang Daily said one of the suspects could not stand life on the run, and gave himself up to his grandfather, a former Communist Party official.
(People should not translate Islam's notion of the afterlife as 'heaven' anymore than they should translate allah as God. There simply is no relationship except at the most superficial level. It is interesting that this paper put "terrorists" in full quotes though. If these people are not terrorists then who is?)
8. Erdogan wants to jail the journalists who broke the story about secret weapons shipments to the Islamic State for 45 years.
(Researching this site will give you the original story in English, as we broke it within 24 hours after the Turkish paper did, as well as a translation of the video of the weapons shipment etc)
9. Russian Navy chases off Turkish vessel impeding drill platform transit in Black Sea
A Russian missile cruiser and a coast guard powerboat had to intervene after a merchant vessel flying the Turkish flag blocked a convoy transporting two drill platforms to a new location in Moscow's territorial waters.
The decision to relocate them closer to Crimea was caused by the complicated international situation, according to a press release from the Russian Chernomorneftegaz state company which owns the platforms.

While the two rigs were being moved to their new location, a vessel under the Turkish flag crossed the convoy's path.

"Acting in violation of regulations for preventing collisions and against the generally-accepted conventions of navigation, the Turkish vessel failed to get out of the way of the convoy. It approached crossways and attempted to stop its course, thus creating potential for a collision," Chernomorneftegaz said in a statement, stressing that the captain of the Turkish vessel operated radio silence despite requests to respond.
10. Russian ship shadowed by sub flying Turkish flag
11. France forced to step up security at schools
(This may be the best example of an insane policy of all time. Bring in millions of people who intend to kill you. Deny they intend to kill you. Subsidize their schools and community centers where they amplify their dogma and then hire them to protect you from them because you don't have enough of your own people to do it and even if you do, they outnumber your security services and don't care if they die in the attacks. Deport the muslims, close the mosques and then send the school guards back to the stations.)
On Monday afternoon, the teacher admitted to making up the entire story about being attacked, according to the prosecutor. However, his claims had sent shockwaves throughout the country, prompting a strong reaction from the French government.

Najat Vallaud-Belkacem, France's minister of education called the alleged attack on the nursery school teacher near Paris "an unacceptable act of immense gravity".

The minister confirmed that security would be stepped up at schools in the country, where measures are already in place following the Paris attacks of November 13th.
12. Chemical agent sarin smuggled from Turkey to ISIS – Turkish MP (EXCLUSIVE)
(Anyone else watching Homeland? See last night's?)
Thank you M., Buck, Richard, Wrath of Khan, Richard, and many more.