Before this series of news links a couple of thoughts about the rapidly evolving US political landscape. Ted Cruz at this time is clearly the most in touch with reality, more based on his actions than his words. The bill he proposed to declare the Muslim Brotherhood a terrorist organization and to reopen the Holy Land Foundation trials would do more good than all the bombs dropped or will be dropped on the Islamic State in terms of defeating islamic terror and infiltration & subversion in the USA. This being said his recent statement about carpet bombing the Islamic State must be an attempt to keep him on par with Donal Trump etc. But it is the belief of this site that the problem is an ideology where geographical locations are symptomatic.
In other words, if Islam is the black plague, bombing the Islamic State is akin to putting skin cream on a boil when what the patient needs is antibiotics. We need to get 1st and 2nd amendment rights fully entrenched again in the culture. We need to teach children about islam honestly as it is. We need to take on political correctness for what it is. A rhetorical weapon meant to make defense against the deconstruction of classical civilization impossible, instead of what it pretends to be, a means to equality and fairness.
1. Married couple accused of plotting catastrophic London terror attack 'watched martyrdom video of 7/7 bomber and husband pledged allegiance to ISIS'
A married couple accused of plotting a suicide bombing in London 'repeatedly' watched the martyrdom video of 7/7 bomber Shehzad Tanweer, a court has heard.

Mohammed Rehman, 27, and wife Sana Ahmed Khan, 24, stockpiled chemicals and bomb-making material for a 'catastrophic attack on London', the Old Bailey heard.

Rehman, using the name 'Silent Bomber' and a picture of 'Jihadi John' killer Mohammed Emwazi, allegedly took to Twitter to ask his followers to choose a target for the planned suicide bombing.

Jurors heard today that Rehman had also hand-written a pledge of allegiance to the barbarous Islamic State and its leader Abu Bakr Al-Baghdadi.
2. I wish I had the words…
3. Zombie nativity scene draws ire and donations in Ohio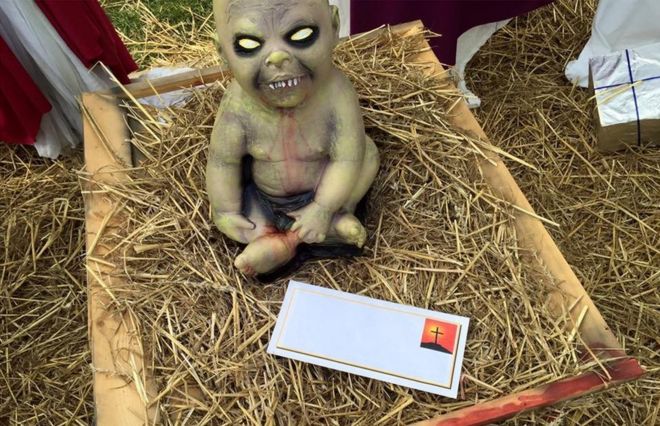 An Ohio couple is defying orders to remove a zombie-themed nativity scene from their front garden.

For a second year in a row, Jasen and Amanda Dixon constructed the scene, which features a spoof version of Silent Night including a demonic baby Jesus and undead wise men.

The local council have said the display violates zoning laws, and local religious groups have denounced it.

The Cincinnati couple is seeking donations to keep the display alive.
(OK Ohio couple. Now lets see a zombie Mohamed display and see how long it takes before you are Lynched one way or another)
3. Turkish troops show no sign of withdrawing from Iraq despite Baghdad's looming deadline today
4. Tennessee GOP Move to Defund Univ. of Tenn Diversity Office
(The take-away from this is the way in which terms like 'inclusion' and 'diversity' now quite obviously are euphemisms for destroying by deconstruction, classical Christian civilization)
After the University of Tennessee's Office of Diversity released its "inclusive holiday celebrations in the workplace" tips that excluded Secret Santa, Tennessee Republican representative Micah Van Huss (R) put forth legislation to defund the University's controversial campus group.

"The Tennessee Republican Party rejects in the strongest terms the efforts of the University of Tennessee Office of Diversity and Inclusion to eliminate Christianity from the observance of the holiday season," the resolution said.

Earlier this year, the University of Tennessee's Office of Diversity suggested that students and professors use gender-neutral pronouns. Huss says that's when he began to look deeper into how this office was spending Tennessee tax payers' money.
5. Iraqi PM urges NATO to use 'authority' to remove Turkish troops from Iraqi soil
(Once again we get another sneak peek into the NATO and US real agenda)
BAGHDAD (Reuters) – Iraqi Prime Minister Haider al-Abadi has asked NATO to "use its authority" to urge alliance member Turkey to withdraw its troops immediately from northern Iraq, according to a statement posted on his website on Tuesday.

"NATO must use its authority to urge Turkey to withdraw immediately from Iraqi territory," Abadi said in the statement, posted after the expiry of a 48-hour deadline for a withdrawal of the troops set by the Baghdad government.

Abadi spoke with NATO Secretary General Jens Stoltenberg by telephone, the statement added.
6. Daniel Greenfield: Migration is the greatest threat to national security
7. 4 female students who went to Syria to join ISIS attended Mississauga (Ontario) school
A girl and three young women left Canada to join ISIS in Syria after studying at the Al-Huda Islamic Institute in Mississauga, Ont. — a school whose sister institution in Pakistan is now connected to the mass shooting in California.

It's unclear exactly when the Canadian students travelled overseas, but sources have confirmed they all left in the last two years after attending the school founded by controversial female Islamic scholar Farhat Hashmi.

Hashmi's ultra-conservative teachings in lectures and online have faced criticism for promoting an extreme wifely subservience to a husband.

The school's founder, however, is not a Canadian resident, despite several media reports to the contrary, sources told CBC News. Hashmi has not been in Canada for three years, those sources said.
8. EXCLUSIVE: Shooting targets, GoPro packaging, hammer and 'vise grips' found by FBI in car belonging to San Bernardino shooter's MOTHER 
FBI agents found an empty GoPro package, shooting targets and tools inside a car belonging to the mother of San Bernardino mass shooter Syed Farook, Daily Mail Online can reveal.

Authorities have repeatedly denied rumors that Farook, 28, and his wife Tashfeen Malik, 27, strapped recording devices to their body armor as they stormed the Inland Regional Center, slaughtering 14 people and wounding 21.

However Daily Mail Online has a discovered that an empty GoPro box was one of dozens of items seized from a black Lexus IS300 in the wake of last Wednesday's massacre.

Documents confirm the car was insured by Farook's 62-year-old mother Rafia, who lived in the same home in Redlands, California, where he and Malik built pipe bombs and stored thousands of rounds of ammunition.
9. HS vice principal: 'Only terrorists we need to fear are domestic white Christian men'
(Quick, someone call Loretta Lynch)
The post has been taken down, and Piet Lammert has apologized for sharing on his personal Facebook page his opinion that "the only terrorists we need to fear are domestic white 'Christian' men with easy access to guns."

And now Maria Libby, the superintendent of the Five Town Community School District in Maine, which employs Lammert, would like to put the matter behind her. But for some reason, the community isn't cooperating.

Parents of children at Camden Hills Regional High School, where Lammert is a vice principal, are perturbed by his "we have met the enemy and it is us" message.
10. Kirsten Powers: John Kerry should recognize Christian genocide
In October, Islamic State militants in Syria demanded that two Christian women and six men convert to Islam. When they refused, the women were publicly raped and then beheaded along with the men. On the same day, militants cut off the fingertips of a 12-year-old boy in an attempt to force his Christian father to convert. When his father refused, they were brutalized and then crucified.

This has become the plight of Christians in the Middle East at the hands of the Islamic State terrorist group, also known as ISIL or ISIS. Beheadings, crucifixions and enslavement are visited on those who won't renounce their religious beliefs. The lucky ones are murdered in more mundane ways or driven from their homes with nothing but the clothes on their backs.
11. Turkish citizens may travel visa-free to Europe by 2016
Draft conclusions of an EU-Turkey summit stated that the European Union aims to seal a visa liberalization agreement with Turkey in October 2016 instead of the originally planned 2018 if Ankara meets the certain criteria specified in an agreed road map.

In exchange, Turkey will help the EU to reduce the influx of refugees reaching Europe. The draft stated that 3 billion euros will be given to Turkey to stem the flow of refugees from Turkey to Europe. It is also said that the amount might be adjusted later depending on developments.
Thank you Buck, M., ML., Sassy, PP., and all.
Here are a couple of lines from the hit first made famous by Frank Sinatra, My Way
Words for our times.