1. US position on Turkish complicity with the Islamic State moves from denial to minimizing the degree
(Pretty loathsome really)
The amount of oil smuggled into Turkey from areas of Syria controlled by ISIS is economically insignificant, the United States said Friday, after Moscow accused Ankara of profiting from the trade.

US officials said coalition air operations have seriously degraded the militants' oil infrastructure, but that in any case most of the crude pumped from its wells was absorbed inside Syria's war zone economy.

Russia and Turkey have in recent days traded allegations that they are involved in the illegal trade, further ratcheting up tensions after Turkish jets downed a Russian bomber on the Syrian border.
2. Russians release video of destruction of "insignificant" convoy of vehicles bringing oil and oil products to Turkey
3. Islamic State now executing Houthi 'rebels' in Yemen.
(If ever the Tundra Tabloids phrase, 'Alien Vs. Predator' applied, this has to be it. Videos at site)
4. Two terror suspects nabbed in Salzburg
Two suspected members of the Isis terror group who were posing as refugees whilst travelling through Austria have been taken into custody in Salzburg, according to a spokesman for the federal prosecutor.
5. This video is allegedly of a convoy of Turkish soldiers and military vehicles entering Mosul
Turkish military camp in Mosul
6. The Blaze does a segment with a bit of Obvious about the San Bernardino jihad attack with a pretty blonde.
7. November 28 2015. FBI press release: "There is no credible threat here (in the USA) of a Paris type attack
8. Germany 'draws up plans to prevent sharing intelligence' with Nato ally Turkey
(Now this is interesting. Obama may succeed in destroying NATO altogether as member nations realize that he does not have the interests of Classical Civilization in his agenda)
German commanders fear Ankara may use intelligence of its flights to target Kurdish forces allied to the West
Germany has reportedly drawn up plans to prevent sharing intelligence with its Nato ally Turkey as it prepares to support international air strikes against Islamic State of Iraq and the Levant (Isil).
German Tornado aircraft are to commence reconnaissance flights over Syria and Iraq after the country's parliament on Friday voted to deploy up to 1,200 military personnel.

Highly unsual measures have been ordered to prevent Turkey getting access to intelligence from the flights, according to Spiegel magazine.
The aircaft are expected to operate from Incirlik airbase in southern Turkey, and as Nato allies, the two countries would normally expect to share intelligence.
9. Turkish leader Erdogan does Muslim Brotherhood hand sign in Qatar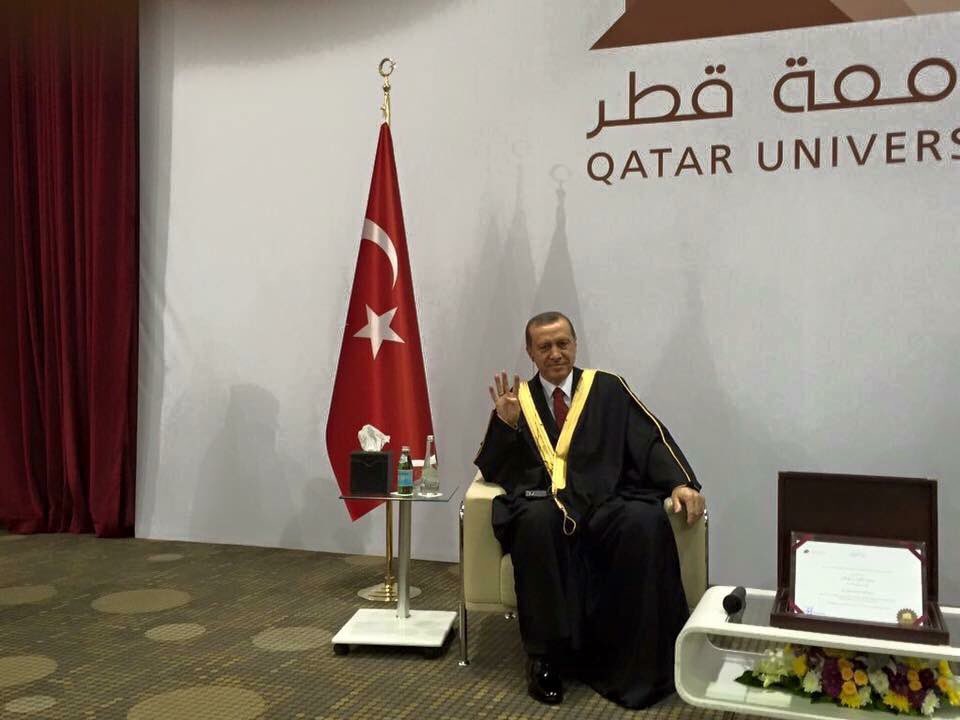 10. Turkish troops in Mosul for training
At least several hundred Turkish soldiers have been deployed to provide training in northern Iraq's Mosul region to the Peshmerga and opposition forces against the Islamic State of Iraq and the Levant (ISIL), a Turkish security source told Reuters on Dec. 4.

"Turkish soldiers have reached the Mosul Bashiqa region. They are there as part of routine training exercises. One battalion has crossed into the region," the source said, declining to say exactly how many soldiers were deployed.

The Turkish soldiers are training Iraqi troops and the members of the U.S.-led anti-ISIL coalition were aware of the deployment, he added.
(Tokenism? What does NATO compensate Turkey altogether for being a NATO member?)
Thank you M., Wrath of Khan, CB Sashenka, Gates of Vienna, Buck, and all
This is a little off topic, but then again it isn't. In fact its spot on. This video is a rebuttal to a message from our self appointed communist language police. It is a much needed one in fact. But make no mistake. Things Marxist flow from the culture up. It starts this way and then it becomes real law. Just like the new US Attorney General explained. If you say things that are true about Islam, but might cause someone to react rationally to it or its institutions or practitioners, then you will be prosecuted despite any residual 1st amendment annoyances. UN resolution 16/18  is now in force.