1. Greece: Macedonian police clash with migrants as journey to EU is blighted
(Won't new immigrants full of hope and ambition like these make wonderful citizens of Western democracies? Look at the respect they show the authorities and the laws of the lands they wish to become a part of. Gladdens the heart, doesn't it?)
2. 800 Shotguns Headed To Belgium From Turkey Seized In Italy
Following the ISIS assault on Paris that left 130 dead prompting Francois Hollande to declare that France is "at war," authorities quickly established a link to the infamous Brussels suburb of Molenbeek.
The working class, immigrant neighborhood – which is separated from the historical district by a canal and is but a 20 minute subway ride from Brussels' European Quarter – has become synonymous with radicalization and terror. As we put it last week, "what Charlestown is to bank robbers, Molenbeek is to European jihadists."
3. Diplomat: Venezuela Sold Immigration Documents to Hezbollah Terrorists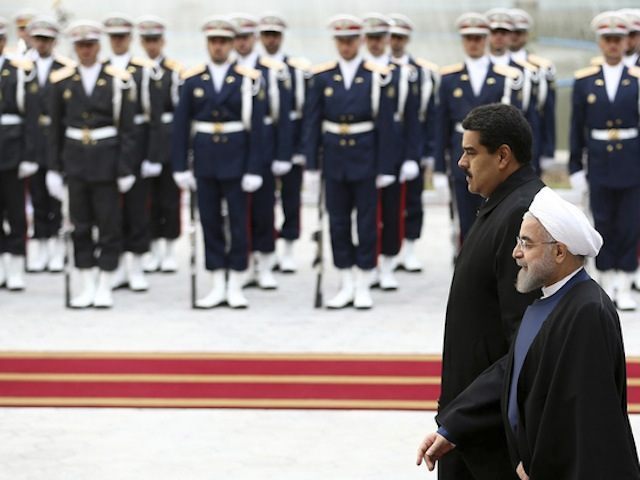 A Venezuelan diplomat in hiding is accusing the socialist government of President Nicolás Maduro of selling visas, passports, and even falsified birth certificates out of its embassy in Baghdad to an estimated thousands of Middle Eastern citizens, including at least one confirmed Hezbollah terrorist.

A man identifying himself as Misael López Soto, advisor working out of the Venezuelan embassy in Baghdad, says in a video uploaded to YouTube Wednesday evening that he has had to flee his official position following multiple death threats, after attempting to alert the government in Caracas that its satellite in Baghdad had become a marketplace for falsified documents.
(Video sent out for translation. I hope to have it up by late tonight if the translator agrees that its worth the effort)
4. Montreal Que: Police neutralize suspicious package outside Lionel-Groulx station
Montreal's morning commuters were faced with delays on Wednesday as police investigated a suspicious package found shortly after 7 a.m. outside the Lionel-Groulx metro station.

Late in the morning, a special tactical team used a bomb-disabling robot to inspect and neutralize the package.

Police have re-opened streets and traffic is gradually returning to normal.

The metro station, which had been evacuated, is now open to the public.
5. Here is a video of a screen capture of the original Turkish story on smuggling arms to the Islamic State from Erdogan followed by the video of the bust of that shipment titled in English
6. Here is what PETA really believes in and does
(For more on PETA watch Penn & Teller's Bullshit program on it. Then watch the one on recycling.)
7. Germany: Two people arrested in Berlin police terror raids
Two men, reportedly of Syrian and Tunisian heritage, were arrested as police undertook raids in two spots areas of Berlin, Thursday. The police had previously received tip-offs about suspected militants believed to present a security threat.
8. Malzberg | Maj. Gen. Paul Vallely discusses the Russian jet that was shot down by Turkey
9. French ban on Muslim headscarves is upheld by human rights court after woman sacked for refusing to remove hers loses appeal
Europe's leading human rights court upheld the France's ban on Islamic headscarves in the case of a Muslim social worker who was sacked because she refused to take hers off.

Christiane Ebrahimian lost her job at a psychiatric department of a hospital in Nanterre because patients complained about her refusal to remove her head covering.

She lost her appeal at the European Court of Human Rights today.
Christiane Ebrahimian was sacked from the psychiatric department of a hospital in Nanterre because patients complained about her refusal to remove hers (file photo of Muslim woman wearing burqa)
The French government bars public employees from displaying their religious beliefs on the job.

In 2004, the country banned the wearing of 'conspicuous religious symbols' including the Muslim face veil, known as the niqab.

The ban was eventually extended to schoolchildren and even parents who wanted to accompany classes on trips.

In 2010, the country banned face coverings of all kinds, including masks, niqabs and the full body dress known as a burqa, in public spaces 'except under specified circumstances'.

Ms Ebrahimian was born in 1951 and lived in the capital Paris at the time of the ruling, according to Dr Georg Neureither who founded the online religious platform, Religion Weltanschaaung Recht.

He said she was recruited to the hospital on a fixed term contract as a social worker. On December 11, 2000, she was told that her contract would be terminated because patients complained she would not take off her headscarf.
Philippine marines killed eight suspected sympathizers of the Islamic State group in a clash in the southern Philippines on Thursday, seizing bomb-making equipment, assault rifles and black flags, military officials said.

The militants were killed in a brief clash at dawn in a hinterland off Palimbang town in Sultan Kudarat province, Brig. Gen. Emmanuel Salamat said. They were mostly Filipinos but one was possibly Indonesian.

Recovered documents show the slain militants belonged to Ansar Al-Khilafa Philippines, a new militant group with about 50 fighters who pledged their allegiance to Islamic State group leader Abu Bakr al-Baghdadi last year.

Marines found two assault rifles, a pistol, bomb-making equipment and materials, two-way radios, documents and five Islamic State group-inspired flags, some of which were displayed at the militants' encampment, according to a military report and Salamat.
11. Afghanistan: Ghani assigns delegation to investigate alleged support by govt to ISIS
President Mohammad Ashraf Ghani has assigned a delegation of high level government officials to launch an investigation regarding the alleged support the Islamic State of Iraq and Syria (ISIS) loyalists receive from the government.

A statement by ARG Presidential Palace said the delegation was assigned after deputy house speaker Mohammad Zahi Qadir claimed that the loyalists of the terror group are supported by the government.

The statement further added that the decree regarding the assignment of a delegation to investigate claims by deputy house speaker was taken considering the sensitivity of the claim and the negative impact it could create on public opinion.

Such claims could also have adverse effect on security forces by weakening their morale besides jeopardizing the national form of the country in national and global fight against terrorism, the statement said.
Thank you M., Johnny U., CB Sashenka, Shabnam, Buck, ML., Wrath of Khan, and many more who have posted great links, observations and analysis in comments. The next post will be on the downing of the Russian jet by Turkey I think and related matters as this story seems to be opening a crack into a view of a much larger problem.