1. Agency won't give GOP internal docs on climate research
2.David Yerushalmi on Lawfare
(This is only a few minutes long but deserves our full attention. I had the privilege of hearing Mr. Yerushalmi speak live in 2009. Stunningly lucid mind. He has also helped many of us preserve our basic rights to free speech in courts pro-bono in the US when they were shut down by activists inside and outside the government)
3. Video on imam in England who had purchased a staggering amount of ordnance for Islamic State terrorists (the BBC refer to as 'militants') while claiming he was in danger if he was shipped back to Libya. He appears to have been involved in a large number of major crimes.
4.Hate preacher Abu Qatada denounces 'filthy' Shia Muslims and vows that Islam will 'dominate every land' in vile propaganda article for Al Qaeda's magazine 
A radical hate preacher who fought a ten-year battle to avoid deportation from Britain claims Islam will rise up to 'dominate every land' and destroy the 'state of the Jews'.

Writing in the latest edition of Al Qaeda's online magazine, Abu Qatada also condemned 'filthy' Shia Muslims – aligning some of his ideology with arch enemies the Islamic State.

The glossy publication, entitled Al Risalah, is produced by Al Qaeda's Syrian branch known as Jabhat Al Nusra and is a clear attempt to mirror the stylised propaganda employed by ISIS.
Hate preacher Abu Qatada has written in the latest edition of Al Qaeda's online magazine to denounce 'filthy' Shia Muslims and claim that Islam will rise up to 'dominate every land' and destroy the 'state of the Jews'
5. UK Muslims Urge Police Boycott, Prompt Grovelling Statement From Cops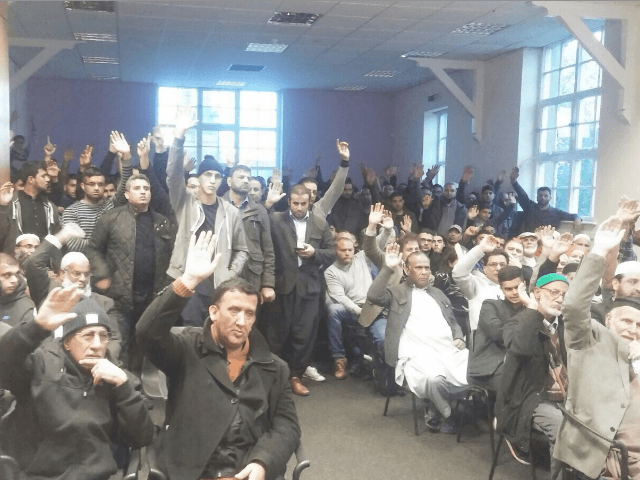 An all-male group (see above) called 'British Muslim Youth' has called for a boycott of a major UK police force, threatening to boycott any Muslim organisation that does not comply with its new edict. "We accept that we have made mistakes," a police spokesman immediately grovelled, before claiming they are working "urgently to resolve this matter."

The group insists that Muslims in Rotherham, North England, have been "demonized" and "scapegoated" and "our women" have been "attacked" since the publication of the Alexis Jay Report last year, which exposed the industrial scale rape of non-Muslim girls in the town.

In August 2014, the Jay Report concluded that 1400 vulnerable, underage girls were groomed, drugged, abducted, assaulted, and violently raped over a period of more that ten years by scores of Muslim men in the town. The scandal had been allowed to go on for so long because of a "culture of fear" and accusations of "racism."
(Not surprisingly, British muslims are working on making themselves the victims of the largest muslim gang rape of underage girls in the history of the UK outside of previous muslim raids on Northern European cities in the last age of islamic jihad)
6. Czech Republic sees PEGIDA like anti-islam demos
7. UK Gov't to Probe Sharia Councils 'Parallel' Legal System
(And the results of that probe will be nothing to see here folks)
The UK government has finally agreed to investigate how sharia councils in Britain represent a parallel legal system, one that particularly discriminates against women and fails to protect them from violent husbands.

Baroness Cox, a member of the House of Lords, has been a leading voice over the years speaking out against the dangers of sharia law. Friday, she led a debate in parliament about quasi-legal systems in Britain, such as sharia councils.

The move comes amid the government's unveiling of its "Counter-Extremism Strategy" released last week. The document states the "overriding principle" of any religious arbitration body is that it must "operate within the rule of law in the UK."

Evidence has emerged that sharia law is "misused and applied in a way which is incompatible with the law," the document states. It notes, "There is only one rule of law in our country, which provides rights and security for every citizen. We will never countenance allowing an alternative, informal system of law, informed by religious principles, to operate in competition with it."
Thank you M., Wrath of Khan, Richard, Perfect Child, Yucki and many many people who contributed great comments and links for the site.