1. Richard Dawkins Tells Those Wanting Universities To Be Safe Spaces To 'Leave, Go Home, Hug Your Teddy And Suck Your Thumb'
(At last. Someone gets that right)
Richard Dawkins has told university students who cannot handle anti-transgender views to "leave, go home, hug your teddy and suck your thumb."

Some activists studying at Cardiff University do not approve of Germaine Greer's views on transgendered women. As such they campaigned to deny one of the major voices of the second-wave feminist movement a platform on which to address their fellow students, as Breitbart London previously reported.

Professor Richard Dawkins, an evolutionary biologist of some repute and no stranger to controversy himself, has taken to Twitter to defend Dr. Greer, academic inquiry and free speech.
(Dr. Dawkins has now strayed so close to reality his time in academia may be very limited)
2. Pastor Investigated After Stating Jesus Did Not Want 'Predatory Migrant Hordes'
(Ah like the commies of old, the narrative must be preserved and merely representing a major institution which has its own ancient system of belief is no excuse for deviating from what all must think, what all must say and what time signature we must all march to in perfect synchronicity)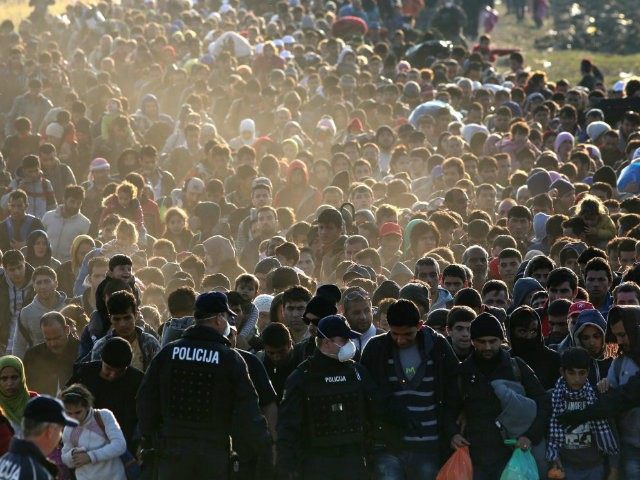 Local prosecutors are investigating a pastor in Germany who referred to migrants as "predatory hordes" and claimed they were creating conditions that could trigger a civil war.

The pastor of the Evangelical Free Church in Riedlingen, southwest Germany, spoke of an "illegal, sometimes even violent invasion" and said that German Chancellor Angela Merkel wanted to control the population through "civil war-like conditions".

The Stuttgarter Zeitungreports that the pastor – who has not been named – said: "Jesus has definitely not said that we should let our land be plundered by invading predatory hordes."
3. Spielfeld Austria
Spielfeld at night. Invasion of the Mylar pod people.
4. Ashton Carter: U.S. to Begin 'Direct Action on the Ground' in Iraq, Syria
Defense Secretary Ashton Carter said Tuesday that the U.S. will begin "direct action on the ground" against ISIS forces in Iraq and Syria, aiming to intensify pressure on the militants as progress against them remains elusive.

"We won't hold back from supporting capable partners in opportunistic attacks against ISIL, or conducting such missions directly whether by strikes from the air or direct action on the ground," Carter said in testimony before the Senate Armed Services committee, using an alternative name for the militant group.

Carter pointed to last week's rescue operation with Kurdish forces in northern Iraq to free hostages held by ISIS.
(Does this mean the US will be fighting Russia as it seems to me the US has been supplying, training and funding the Islamic State)
5. Head of Syrian Refugee Camp says Syrian Refugees are the Worst Refugees Ever
Clearly he hasn't spent enough time dealing with the parasitic Palestinian "refugee camps" that are older than many countries, but it's a sign of how low patience is running even among aid workers.
Kilian Kleinschmidt walks into the camp armed with a 6-inch stainless steel hook. "I hate refugee camps," he says. He is holding the hook in his hand like a dagger.
That might be an understandable sentiment, if he wasn't the guy basically in charge of it.
In March, the UNHCR assigned him to rescue Zaatari from chaos. He was flown in from Kenya, put in a trailer in an area secured with fences, barbed wire and guards, and given a stack of business cards that read "Senior Field Coordinator," indicating that he was in charge at the camp.
Unfortunately dealing with people from a civil war over religion is not nearly as simple.
6. A Hizb'allah commander named Hitler Yusef Bero was killed in Syria recently. Hitler was his first name. So its not like his parents didn't have a choice.
7. Ann Marie Waters delivers great speech at ALA party launch
8. Bavaria tells Merkel: stop refugee flow from Austria
Bavarian leader Horst Seehofer warned Chancellor Angela Merkel on Tuesday that unless she finds a way to limit the number of refugees arriving via Austria by Sunday, he will consider acting alone.

"If I'm not successful [in getting an answer from Berlin] then we will have to consider what options for action we have," Seehofer told the Passauer Neue Presse – implicitly reiterating his threat to bring in undefined "emergency defence" measures if the federal government doesn't help.

Seehofer added that Merkel's top priority ought to be limiting what he said were uncontrolled flows of people from Austria into Germany across the Bavarian border.

"It's the Chancellor's job to speak with Austria," he said, adding that the two national governments had decided to introduce the much criticized 'open-borders' policy together.

Austria's failure to warn Bavaria of large groups of refugees arriving at or being brought to the border was straining relations, Seehofer said.

"This behaviour by Austria burdens our neighbourly relationship. You can't and mustn't treat one another like this," he said.
Thank you Buck, M., Wrath of Khan, Richard, Maria J., Yucki, and many more. There is a great deal more worthy materials as yet unblogged but can be seen in the comments under the daily links posts.
A federal election happened in Canada last week and I have not written 10 words about it. I even got one affectionately angry comment about the lack of commentary on the election at this site actually. To be honest, I have been composing an article in my head ever since the election but never managed to get down to writing anything on it for a few reasons, not the least of which is that this site has been about chronicling crisis after crisis as things get worse everywhere. However today was the last Tuesday of the month which means I guest on the Blog Talk Radio Jihad show with Kel Fritz and there was no way to avoid the issue. So here is the link to the show with the best thinking I have on the Canadian election at this time.
Thank you all for reading and contributing as always.
Post post:
Refugees at border crossing ordering Pizzas
I must say, I have not seen anything quite like that before.