1. Breaking: Muslim Screaming "Allahu Akbar" Stabs Jew, Punches Rabbi in France
The synagogue is located in the center of the southern French city, where there are many hareidi-religious Jews, synagogues and yeshivot.

According to a report posted on the Hebrew-language website Bhadarei Haredim, the attacker was a "young man of Arab appearance."

The rabbi, who spoke with a writer at the website, said the attacker yelled, "Yahud, Allahu Akbar!" The attacker punched the rabbi with his fists, and he shouted again, "Itbah al-Yahud!" ("kill the Jew") as the rabbi fell to the ground.
2  Gunman drives vehicle packed with explosives into Belgian army barracks and exchanges shots before fleeing
A gunman was arrested in Belgium today after an attempted terrorist attack on a military base using a car feared packed with explosives.

The assault happened soon after 9am in the village of Flawinne, east of Charleroi, where a commando unit is stationed.

Shots were fired after a dark blue Ford Escort was driven through a perimeter fence towards the barracks, said a judicial source from nearby Namur.
(Arrested, but not named. Fascinating. A lot more needs to be known about this event. Was this the massive attack planned to be the marker of the end of the OIC 10 year plan to implement blasphemy laws in the West? If this plot worked it would have been a massive event)
In an unusual condemnation, the diplomat denounced leader of the opposition Jeremy Corbyn, accusing him of breaching respect by scuppering the trade deal with Riyadh.

The furious prince also railed against an "alarming change in the way Saudi Arabia is discussed in Britain", warning that the wealthy kingdom would not be "lectured to" and urged respect for its strict system of Sharia law.
GETTY

The prince is concerned with the change in attitude towards Saudi Arabia in Britain
He said: "One recent example of this mutual respect being breached was when Jeremy Corbyn, Leader of the Opposition, claimed that he had convinced Prime Minister David Cameron to cancel a prison consultancy contract with Saudi Arabia worth £5.9 million."
4. Slovenian busses. Full of Japanese tourists? I'm guessing no.
5. When A White Guy Killed In Sweden It Was Terrorism, When An Eritrean Migrant Did, It Wasn't. Why?
(Dear people of the world. It really is time to stop watching TV and find sources of information that is actually information and not pre-digested materials designed to force you to think a certain way. All TV is now Pravda as it was in the Soviet days to a degree and most radio and newspapers are no better. With the exception of the Daily Mail and a few others, you actually know less after you watch the 'news' because you are fed such inaccurate information)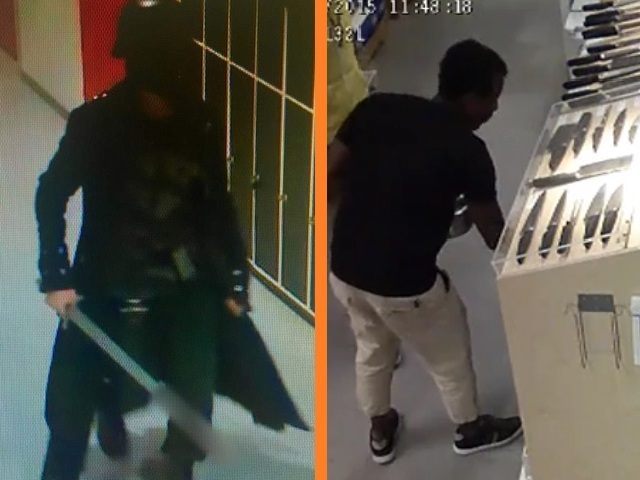 The wave of racial violence presently sweeping Sweden, and the radically different ways the government reacts to these individual events tells us volumes about a nation slowly and fatally overdosing on white guilt.

There have been two reasonably analogous killings in Sweden recently, asides a slew of other violence – grenade attacks, gang rapes, shootings. One has elicited an outpouring of grief that would shame the post-Diana, Princess of Wales British. The other warranted barely an embarrassed shuffling of feet in the corridors of power.

The first of these killings was in August. An Eritrean migrant committed what was, if reports are to be believed, a politically-motivated terror attack. Afton Bladet, Sweden's best-selling daily reported last week the killer's admission that he decided to strike in "revenge" for having his asylum application rejected by the Swedish state.
6. Group of classical liberals object to appointment of Al Azhar imam as army chaplain.
(It's good to know that at least someone in Vienna remembers what the date, Sept. 11 1683 means to Austrian history. It is equally important not to let the extreme left wing cultural-Marxist media name people and groups for us. I do not know if the objectors are "far right wing" or not but I know that the same media exactly refers to Geert Wilders as a "far right wing extremist and I bet you everything I have that had Geert said the exact same things in the 1950s he would have been labelled a commie pinko fag for his support of equal rights for homosexuals and Jews and so on in the streets and institutions of the Netherlands. Calling him a right wing extremist because he opposes the most perverse misogynistic hate-filled ideology on Earth now or ever is a rhetorical trick by the extreme left and we can know this by reading the Rules of Journalists as set out by the union of journalists)
7. Zeman: Most refugees do not deserve compassion
(That, dear Sir, is because most are not refugees)
President claim the refugees are young men iPhones and thousands of dollars
Prague, Oct 25 (?TK) — Most refugees do not deserve compassion because as a rule, they are young, healthy men with good material conditions, Czech President Miloš Zeman said in an interview for the paper blesk.tv today, adding that they only use children as living shields.
Zeman said he was unopposed to the idea of his predecessor, former president Václav Klaus, to stage a referendum on the quotas for the mandatory redistribution of the refugees most EU members want to have passed.

Prime Minister Bohuslav Sobotka (Social Democrats, ?SSD) said in reaction to Zeman that the refugees' motivation must not be disputed.

Sobotka said the referendum on the quotas was useless.

It would be more expedient to give the hundreds of million crowns to the people in Jordan, Turkey and Lebanon, he added.

Zeman said he, too, felt compassion when looking at the children of the refugees coming to Europe.
However, there is the question of why their parents "drag" them along with them, risking their drowning in dinghies.

Zeman said a majority of the refugees were males with "iPads" and "iPhones" who had "thousands of euros and thousands of dollars" in their pockets.

He said with his attitude to the migrants he was only warning of a real danger before which other politicians were closing their eyes.
Last month, it was a Muslim flight attendant who sued her airline after it suspended her for refusing to serve booze. This month it's two Muslim truck drivers, except in this case, handling booze — which is forbidden under Islamic law — was pretty much their entire job description.

The pair, Mahad Abass Mohamed and Abdkiarim Hassan Bulshale, had the backing of the federal government in their religious discrimination lawsuit against their former employer, who rightfully terminated them for refusing to make beer deliveries.

The Washington Examiner notes that the Equal Employment Opportunity Commission won $240,000 in damages to the former drivers, both of Somali heritage, who were fired in 2009.
[…]
"EEOC is proud to support the rights of workers to equal treatment in the workplace without having to sacrifice their religious beliefs or practices," EEOC General Counsel David Lopez announced Thursday. "This is fundamental to the American principles of religious freedom and tolerance."
(Just to be 100% clear. In this case as is true of all similar cases, muslims are not seeking equal rights. They are seeking special rights. Equal rights means they have the same duties and rights as everyone else. They never, ever want that)
9. BREAKING: The man who shot at a Shiia Ashura march in Copenhagen was a 'Palestinian' which likely means he was a Sunni and his shooting could easily have been motivated by the same murderous rampages that the Islamic State do to Shiia muslims and shrines across the Middle East and North Africa. The video more or less says this but I need a better analysis of 'takfiri threats' to be conclusive.
Police in Demark arrested a Palestinian for opening fire at Ashura mourning ceremony in Copenhagen on Saturday, according to Nabaa' News Agency.

An informed source told Shia Waves Agency earlier that an unknown militant opened fire at a mourning ceremony the Danish capital.

It's noteworthy that many European countries witnessed increasing participation in Ashura ceremonies despite takfiri threats.
Thank you very much Buck, M., Wrath of Khan, Richard, Maria J. Babs, and all who sent in material..
Its going to be a busy fall.