1. Explosion at march for peace in Turkey by kurds leaves over 100 dead (FOX reports over 100 fatalities now)
(Which goes to show you that when you march for peace in territory held by the Religion of Peace you get blown to pieces)
Two explosions have ripped through a pro-Kurdish peace rally in the Turkish capital of Ankara, leaving multiple casualties.

Witnesses described how the blast shook the ground at the road junction near the main train station in the centre of the Turkish capital Ankara.

The Ankara prosecutor have confirmed that at least 52 people have been killed and over 100 wounded in the blasts at 10.05am local time.

Video footage has emerged of protesters holding hands and dancing together just as the bomb is detonated in the background.
WARNING: GRAPHIC CONTENT 
(Video at site)
MADRID (AP) — Spain's deputy prime minister says fiber-optic cables crucial for high-speed train safety may have been cut by a saboteur or saboteurs, interrupting train service in the northeastern Catalonia region.

Soraya Saenz de Santamaria told reporters Friday that a judge has opened an investigation into Thursday's incident. Train service was halted for more than three hours, affecting 13,000 passengers. Authorities first accused thieves of cutting cables to steal copper cable. They said later that very little copper cable was stolen but that fiber optic cables alongside the tracks were cut.
3. Saudi government attempts to put new Rushdie translation in Czech 
(The results of this will be important. Will they succeed in telling the Czechs what they can and cannot read?)
Saudi Arabia summoned the Czech ambassador to protest against a new translation of Salman Rushdie's book "Satanic Verses", Saudi state media said on Friday, 27 years after the novel triggered mass demonstrations and a death threat against the author.

The kingdom told the ambassador the book insulted both Islam and Muslims and asked him to try and halt its publication, the SPA agency added, citing a source in the Saudi foreign ministry.

Prague-based literary publisher Paseka told Reuters it had not heard of any complaint, and its 5,000-strong print run of the book, released in April, had already almost sold out.

Company director Filip Mikes said it had now published 11 of Rushdie's titles. "We have been and will continue to publish (Rushdie)," he added. The book's translator used a pseudonym.
4. Two dead in Jerusalem as Palestinian-Israeli violence rages on
By Maayan Lubell
JERUSALEM (Reuters) – Israeli security forces shot dead two Palestinians in East Jerusalem on Saturday, one of whom had stabbed two Israelis, police said, in a further wave of violence that has raised concerns about a new Palestinian uprising.

Police said two ultra-Orthodox Jewish men were wounded in the knife attack by a 16-year-old Palestinian near Jerusalem's walled Old City. Earlier, paramilitary police shot dead a militant who had opened fire at them during late-night clashes at the Palestinian Shuafat refugee camp, police said.

Hamas, the Islamist Palestinian militant group which controls the Gaza Strip, said in a statement that the Shuafat shooter was one of its members. "The hero martyr fought the Israeli occupation with language they understand," Hamas said.
5. UK gave Gitmo inmate $1.5 million; now he has fled to the Islamic State
But for all his celebrated victimhood status and praise from the British intelligentsia as a living sign of the evil of the West, he really was a jihadi, and now he has fled to the Islamic State. His $1.5 million has presumably gone with him and will soon enrich the caliphate coffers with more money for weapons.
6. UN Backs EU Military Action Against Migrant Smugglers
The UN Security Council on Friday approved a European military operation to seize and destroy boats used by migrant smugglers in the Mediterranean after thousands died in dangerous crossings.

The British-drafted resolution authorizing the use of force won UN backing as Europe struggles to mount a response to its worst refugee crisis since World War II.

European warships on Wednesday launched Operation Sophia to seize traffickers' boats in international waters off Libya's coast, in the second of a three-phase campaign to stem the flow of migrants.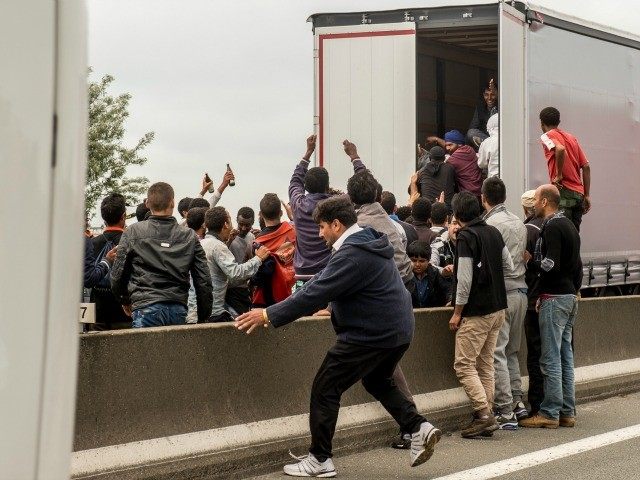 The number of illegal entry attempts to the UK between January and June has doubled since the same period last year and is over four times higher than in 2013.

In the first six months of 2014 there were 12,980 stopped illegal entry attempts to the UK, and just 6,238 in 2013. This year figures obtained by the Daily Express show 27,755 stopped illegal entry attempts in the same timescale, reinforcing those critics who say the European Union's 'open door policy' had resulted in an uncontrolled migrant crisis.

Opponents of EU asylum policies predict that as bad as the situation seems, worse is yet to come. UKIP's spokesman on migration and financial affairs, Steven Woolfe MEP said:
(Our tipster informs us that 'Thorncliffe Park', despite its name, is an area of Toronto which is heavily culturally enriched to the point where it is a sharia compliant area)
According to police, the girl was with her parents when, around 11:15 a.m., a man approached her from behind and sexually assaulted her. The man then fled the scene.
The suspect is described as a brown man between 50 and 60 years old with a moustache. He was wearing a black hat, black button jacket or blazer and blue jeans.
Anyone with information is asked to contact police at (416) 808-5300 or Crime Stoppers anonymously at (416) 222-TIPS (8477).
(pre-pubecent girls being raped by muslims might be too common in Europe to rate as news, but in Canada it still is if they scrub the story of any relevant facts concerning islam)
Thank you Tasha Carr, M., Richard, Kathy, Buck, Lynx, and many more and much more to come.