1: These videos claim to be of brawls between Syrians and non Syrians because free tickets to a country which will pony up for them in a big way was only offered in Croatia to people who might actually be at least in some small way, a refugee. The rest felt that they should be equally entitled to these tickets and started a fight over it.
2. Germany Arrests ISIS Recruiter Posing as Asylum Seeker
A 21-year old from Morocco has been arrested by German authorities at a refugee center near Stuttgart on suspicion of being an Islamic State recruiter. The man was sought under a European arrest warrant issued by Spanish authorities. He used a false identity to pose as an asylum seeker.

According to The New Observer, this is the first time German authorities have arrested a terror suspect masquerading as an asylum seeker.

At the same time it was reported the German government seized 10,000 fake Syrian passports, which are being sold to those seeking to gain entry to the EU for around $1,500 each. Possession of a Syrian passport makes claiming asylum a lot easier
3. Refugees on benefits trash £1.25m home
Neighbours of mother-of-seven Manal Mahmoud, a jobless Palestinian refugee, have been driven to despair after years of antisocial behaviour.
One son has been jailed for drug-dealing, another made offensive gestures at onlookers yesterday and the police have been called regularly since the family moved into the riverside London terraced house three years ago.
The family is one of at least 100 living in homes on state handouts that could fund £1million mortgages.

Mrs Mahmoud gets £20,000 a year in housing benefits to pay her rent. Yet she said: "I don't care if people think I am not grateful. I am entitled to live in a house like this even if I don't pay for it. 

"I deserve to live in a nice house and get benefits because I am human."

She dismissed suggestions she is abusing British hospitality after fleeing here 12 years ago, saying: "In this country, it is our right to live here. It is important for my kids to have space to play."
(At least one of her kids should find the prison yard a good play area)
4. Palestinian police deny local youth a place to practice rioting
(Amnesty International really needs to condemn this breach of the basic human right to practice attacking the infidel)
(How are they ever supposed to get good enough to riot in Israel and at Al Aqsa mosque and for the rare lucky few, good enough to some day riot in London or Madrid if they don't refine their skills at home in Gaza?)
5. PYD: Syrian refugee tripped by Hungarian journalist was member of radical al-Nusra Front
LONDON—The Syrian refugee who was tripped by a Hungarian camerawoman earlier this month was a member of the radical al-Nusra Front and fought the Kurds on many fronts in Syria, the Democratic Union Party (PYD) said Saturday.

The video footage of Osama Abdul Mohsen being kicked by a camerawoman on the Hungary-Serbia border went viral and prompted uproar around the world.

Abdul Mohsen later landed in Spain where he was offered a job and welcomed by Real Madrid football club including famous footballer Cristiano Ronaldo.

However, the Kurdish group PYD alleged in its official media that Abdul Mohsen had fought alongside the Nusra Front before leaving Syria with his family in the spring of 2015.
6. Muslims Beat 8-Months Pregnant Woman and Christian Husband in Germany
A group of Algerian Muslims attacked a pregnant woman and her Christian husband in Germany. The Muslims swore at the Christian man and then attacked him with a broken bottle.
The Press Portal reported, via Religion of Peace:
(translated)
Dispute among asylum seekers escalates.

A 25-year-old Eritrean was out last night with his 24-year, eight months pregnant wife and two other Eritreans (21 and 23 years) in a grocery store on a street in Germany.
7. Antifa square off with PEGIDA in Leipzig
8. Refugee crisis: Hungary's parliament passes law allowing army to use rubber bullets, tear gas grenades and net guns against refugees
(Net guns means the game has changed from Whack-a-Mole to 'Angry Tards)
Hungary's Prime Minister Viktor Orban claims eastern European countries have been forced to protect themselves against the 'brutal threat' posed by refugees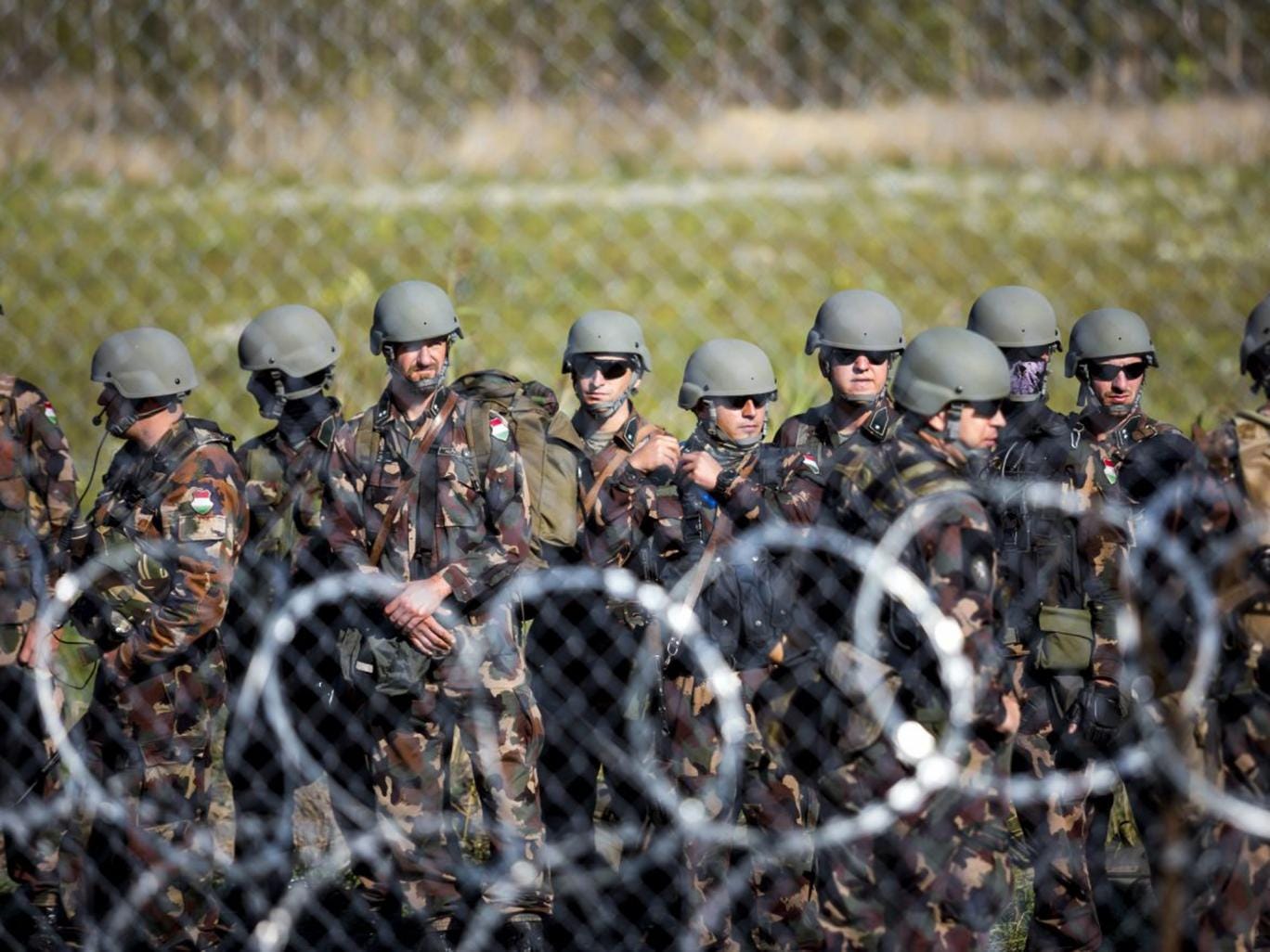 Hungary's parliament has passed a law allowing the government to deploy its army to handle refugees at its borders and the use of non-lethal force such as rubber bullets and tear gas grenades.

Speaking ahead of the vote on Monday Hungary's Prime Minister Viktor Orban claimed that millions of refugees are "laying siege" to the borders of his country and of Europe, and said: "The migrants are not just banging on our door, they're breaking it down," before reiterating his view that most were coming for economic and not safety reasons.
Thank you Golem Bar, M., Richard, WTD, Nash Montana, Oz-Rita  and many more!
As an aside, here is a video on how to invent a clock in 20 seconds
And I have an invention of my own I would like to share with you all