1: French intelligence fears Islamist 'missile strike on airliner' or 9/11-style attack
Army prepares for civil unrest as Islamist threat grows amid fears of September 11-style attack or missile strike on passenger airliner
French security forces are bracing for the eventuality of civil unrest and fear there could be a missile strike on a passenger airliner or a September 11-style attack, according to sources close to French intelligence.
"Airlines have been warned of a possible attack on a plane with an anti-tank missile," a source told The Telegraph. "But pilots are unsure how to take evasive action."
After Friday's thwarted attempt to massacre passengers on an Amsterdam-Paris train and a series of terrorist attacks and attempted killings in France this year, President François Hollande warned the nation to prepare for more violence, considered inevitable as the Islamist threat grows.
[…]
The army has made contingency plans for the "reappropriation of national territory", meaning to win back control of neighbourhoods where the population become hostile to the security forces and where guns are easily obtainable, according to the source.
(Not sure how that can work as I can't see how they will find enough American tourists to staff such an army)
2. Germany 'arson attack' destroys planned asylum shelter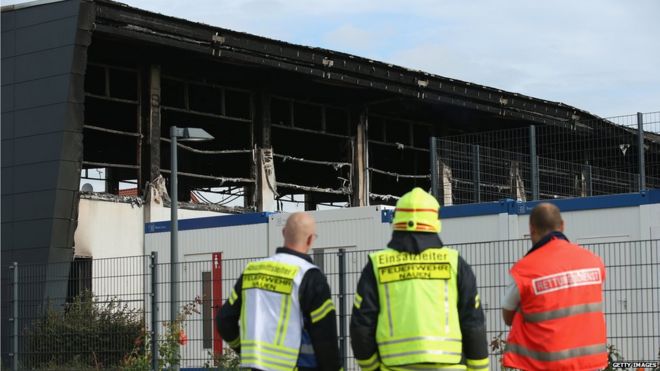 Police in Germany say a school sports hall intended as a temporary shelter for asylum seekers has burned down in a suspected arson attack.

Investigators believe the fire in Nauen, west of Berlin, was started deliberately. No-one was injured.

Far-right protesters have demonstrated against asylum seekers in the area.
(More related videos of fire under daily links post)
3. Ezra covers the muslim only building in Toronto.
WARNING: This video should make you very angry.
4. 190 military officers signed a letter to the Congressional leadership, warning against the Nuclear Iran Deal.
President Obama and fellow supporters of the Nuclear Iran Deal boasted that it must be the right deal because they were able to gather 36 military officers to endorse it.

Well, a group of five volunteers in less than a week were able to gather more than 190 retired officers to sign on to a letter in opposition to the deal.
Thank you M., CB Sashenka, Buck, Richard, Dan F., and all.
I'll truncate this post at 4 items for the moment as the Ezra  video is so good I don't want to dilute it in a sea of horror as is the usual multi-item post here.
As an afterthought, the usual moral inversion rhetorical device of reversing polarity on yesterday's murders in Virginia yields worthy results.
Imagine a straight white man who worked for FOX News as a reporter, had killed two black fellow employees because they were say, black and gay. Now say that he did it because in his own words he wanted to start a race war and was getting revenge for some very real black on white crime like say, the grotesque over proportioned rape of white women by black men. Now also say this reporter had been admonished twice for wearing a Buch button when doing a report covering the election and again at a polling station where it isn't allowed.
It doesn't take much imagination to know how the White House, Obama himself, the vast vast majority of the legacy media, and especially the broadcast media such as TV, would cover it. It would be fractionally about gun control but the agency, the will to commit a crime would be entirely on the killer and the groups with which he identified. Much of it would splash on to Bush and FOX and white straight people and any author who's conservative books might be found on his shelf as Mark Levin pointed out on yesterday's show, and as Fjordman learned first hand when he was the prime target of Norwegian authorities investigations after Breivik did his mass murders in that Scandinavian nation.
It is interesting that in this Telegraph video, if there are any bookshelves in is apartment they were edited out.
As we see already however this time, none of the fall out is going to gay activists, black people, leftists or Obama supporters or Obama. When his bookshelf is looked at, no footage will be broadcast of it most likely. The weapon however, is already being blamed.
When a leftist, black person, homosexual kills people for political reasons, its the fault of the gun. When white or conservative etc. etc. people do, its the fault of the person, the group and the ideology.
Time will tell if that is the case here. But over the past few years the above observation seems to be pretty consistently the case.