To the many people who have written asking about Tundra Tabloids, it is now back online and in its usual fine form. Like many of us recently, we have been tweaking and moving and setting up thinks and its nearly all over and Tundra is now available and faster than ever.
1: EXCLUSIVE: 'The human tape recorder' – how TV murderer was criticized by bosses for appalling journalistic standards and reprimanded for wearing an Obama badge to report on elections
(Good luck spinning this one)
Warped TV reporter Vester Lee Flanagan exasperated bosses with his 'stiff and nervous' delivery, his inability to use a teleprompter – and by wearing a President Obama badge during an election report, Daily Mail Online can reveal.

Management at WDBJ dubbed the failed newsman the 'human tape recorder' because he frequently parroted what interviewees had told him rather than doing his own journalism.

Flanagan, 41, clashed repeatedly with photojournalists, belittling them in public and intimidating them with his violent temper, according to internal reports.
2. 'Barbaric' conditions imposed on former Winnipeg student accused of terrorism: lawyer
A former Winnipeg student currently in a New York City jail awaiting trial on terrorism charges is being held in solitary confinement 23 hours a day under treatment his lawyer calls "barbaric," but the U.S. attorney general calls necessary.

Muhanad Mahmoud Al Farekh, a U.S. citizen who was studying at the University of Manitoba eight years ago, was charged last April with conspiracy to support al-Qaeda efforts to carry out attacks in the United States.
3. Who was the Virginia Shooter?
4. Obama tells Merkel he appreciates her leadership on migrant crisis
(And you know, I am certain he does)
President Barack Obama in a phone call with German Chancellor Angela Merkel on Wednesday voiced appreciation for her leadership in dealing with the migration crisis in Europe, the White House said.

Obama particularly cited Merkel's recent decision to ease the burden on other countries by providing haven to Syrian refugees, the White House statement added.
5. Justin Trudeau fundraiser picketed by Jewish group over Liberals' support for Iran nuclear deal
TORONTO — A Toronto Jewish group made the rare move of protesting one of its own community leaders on Wednesday evening, staging a picket outside billionaire Barry Sherman's house during his cocktail fundraiser for the Liberal party.

About 30 protesters from the Jewish Defence League lined the street out front of Sherman's lavish north Toronto home, holding Israeli and Canadian flags.

"Enjoy the food," a man holding an Israeli flag yelled as guests walked up the driveway, past a line of valets. Tickets for the party and opportunity to meet leader Justin Trudeau reportedly went for $1,500 each.
(Trudeau could raise a lot more money if he charged $1500.00 a person on the promise they would never have to share a meal with him)
6. 'Rivers of Blood Close to Overflowing' – Tensions Mount Over Unwanted, Govt-Backed High Street Mosque
(This may be a very important article to read)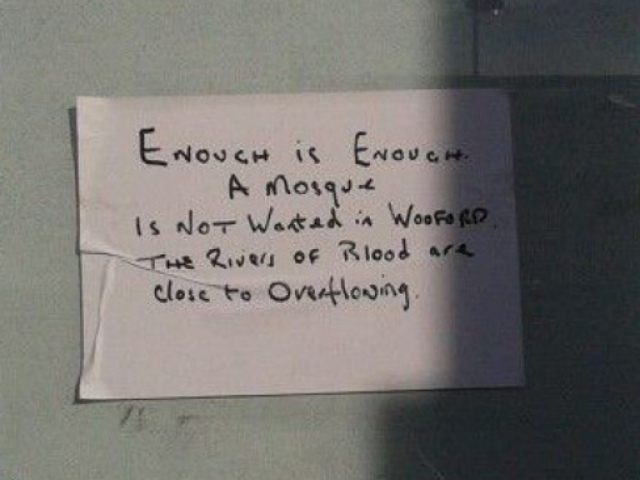 LONDON, United Kingdom – It is a muggy evening in one of London's most "diverse" boroughs – Redbridge. A figure stalks the pavement, ambling past the Coral bookmakers, clutching in his hand a package he so desperately wants to deliver to the shop next door – two conjoined buildings, non-descript on the outside besides a few wooden boards and peeling paintwork.

He walks by the door, missing the postbox, and instead delivers his parcel – a brick with a note – directly through the window of the shop, which is now the Woodford Muslim Cultural Centre. The glass smashes. The sirens wail. And the man hot foots it past the florist to the left, and disappears into the night.
7. Bill Whittle does another magnificent and inspiring video, this time on how to defeat the Islamic State
Thank you CB Sashenka, Buck, Gates of Vienna, M., Wrath of Khan, Richard and all.
Much more to come today.