1: Omaha's Islamic Center vandalized; national group calls for hate crime investigation
(The group of course is CAIR and the guy throwing the rock I would bet is muslim. In any case, the FBI should not be investigating a small act of vandalism in any case. Fortunately they appear not to be)
2. Islamic State photos 'show Palmyra temple destruction'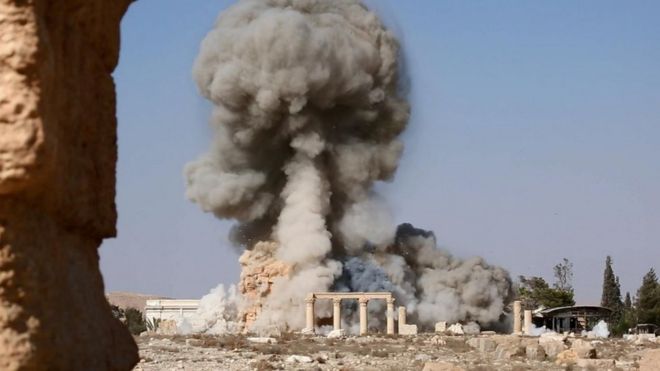 The photos showing militants rigging the temple with explosives and a large explosion were circulated by the jihadist group's supporters.

Syrian officials and activists said on Sunday that it had been blown up.
3. Hungary expresses frustration with the EU and its UMI policy calling the distribution of funds to deal with its own rules on it, "humiliating". I am certain the Hungarians are correct.
4. Here is an accurate and non-confusing description of the jail house beating of the accused terrorist for trying to force a fellow prisoner to convert to Islam.
Terrence Wilson had no intention of converting to Islam and it might have ended there, if accused terrorist Carlos Larmond hadn't threatened to blow up his family, a court heard Monday.

But Larmond's jailhouse proselytization escalated into violent death threats against the Wilson clan, lawyer Paolo Giancaterino told the court. The tensions would eventually prompt CSIS agents to interview Wilson at the Ottawa-Carleton Detention Centre.

And at 11:30 a.m. on March 3, Wilson let Larmond have it in a cellblock beatdown that left the accused terror twin bruised and bloodied.
5. It is curious that these muslim organizations set up a celebratory dinner on Sept. 11th. in Michigan claiming it was for Ramadan when Ramadan ended on July 17th.
(There is really something conspicuously wrong there, Yes, they moved it to the 18th after pressure, but why set up a celebration of islamic values on 9/11 in the US and claim its for a holiday which ended a solid 2 months earlier this year)
6. (Train terrorist had 270 rounds for his AK at 16.3 grams per cartridge which means just under 10 Lbs. of ammo not including the magazines. Seems like a lot of weight and firepower for a robbery)
Ayoub El Khazzani, 25, was also carrying a  Luger pistol and a box-cutter, and had watched a jihadist video on YouTube on his mobile phone before carrying out the attack, prosecutor Francois Molins said.
(Video in French at the moment. If its worth it, we may see if we can title it)
7. UMIs cross the Serbian Hungarian border on foot.
8. USA: Osceola County imam accused of touching underage girl
(News agencies still do not get it whatsoever. Muslims frequently name a daughter 'Aisha' after a 6 year old rape victim of Mohamed's as if it was a good and noble thing. As if they aspire to have their baby daughter forcibly raped by such as he. This imam's actions are part of the set of behaviors that muslims think of as noble)
9. This is very odd. UMIs cross from Serbia into Hungary through a gate in a newly built fence to keep out the UMIs. Why built the fence at all?

Thank you Richard, Wrath of Khan, M., Buck, CB Sashenka and more.
Wormhole in space-time? I do not know what the implications of this are. But potentially, extremely cool. 
Last night we posted a picture of a sticker by anti-Prime Minister Harper people on a dog waste receptacle which suggested he leave Canada. Here is a similar story from NB. but the story is behind a paywall. However the photo is not.
Why is it that those who wish to support a candidate other than insults and criminality? Does this tell us anything about NDP and Liberal supporters?