A couple of technical points before the news links.
Tundra Tabloids is undergoing a few changes and may be offline more than it is on for the next few days to few weeks. KGS certainly deserves a break anyway as he works very hard at this and may take the opportunity to rest up a bit for a while. But fans of his site, don't write him off, it most likely will be back and faster and better than ever sometime between a week to a month from now.
On a similar note, this site will also be undergoing a few changes. When they are done all that should be different is it should load faster and thats really about all. But until we get all those changes made, posting may be slow and ultimately once its back up the most recent posts at that time may be gone along with attendant comments. No idea exactly when that will be but probably within 14 days from now. Maybe much sooner.
1. French National Front expels founder Jean-Marie Le Pen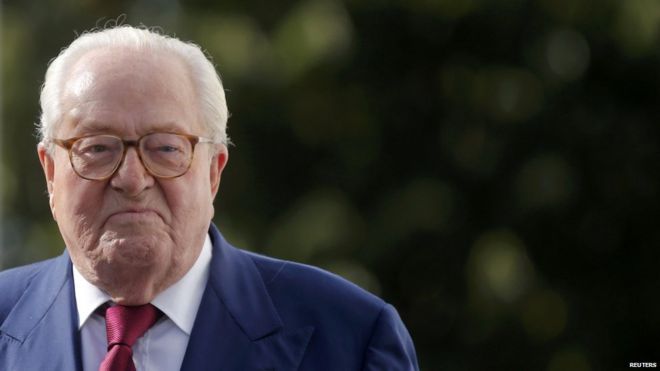 Mr Le Pen, who was honorary president, was dismissed after a three-hour extraordinary party congress.

He was initially suspended back in May, after he repeated his view that the Holocaust was "a detail of history".

Ms Le Pen took over as leader in 2011 and has tried to steer the party away from its racist and anti-Semitic past.

The National Front (FN) was founded by Mr Le Pen in 1972. The 86-year-old still holds a seat in the European Parliament and a post as a regional councillor in the south of France.
(Fantastic news!)
2. Listen carefully on this video to the sweet sounds of grateful refugees in quiet devotional gratitude for allowing them a safe place to stay in Germany away from where they surely would have been killed had they stayed. The gratitude of these splendid new immigrants is so palpable, it appears to have shattered the windows of several police cars.
3. No idea what this was about. But shopping for women in saudi Arabia seems to carry some danger
4. Tommy Robinson was arrested and reincarcerated again. 
5. The google translate on this is a bit obtuse but one gets the idea that the migrant crisis is quite far reaching in Europe
Macedonia's decision has left thousands of refugees blocked the Greek side of the border, and the passage through the country seen as a lifeline. Of that, despite everything, do not give up.
6. Girl dancing in the KSA makes national headlines
(I would just like to add the following observation. How can a nation that kills homosexuals but only allow men to dance, and with each other at that, have any male population left alive?)
Video: Dancing girl spurs public anger in Saudi

A girl caught on camera dancing with men at a shopping festival in Saudi Arabia triggered public anger and some called for punishing its organizers.

A U-Tube film published by Sada daily showed the girl, wearing short-sleeve T-shit and a tight jeans, trotted to folklore music with local men attending the festival in the Southern Saudi province of Asir.

"Viewers of the film expressed anger at what happened at the festival and called on authorities to punish its organizers for allowing a girl to dance with men," the paper said.

Gender-mixing in public places in conservative Saudi Arabia is strictly banned.
7. New Greek Prime Minister resigns after 7 months in office.
(I wonder if it went anything at all like this:
Back to the real story)
Prime Minister Alexis Tsipras resigned on Thursday, hoping to strengthen his hold on power in snap elections after seven months in office in which he fought Greece's creditors for a better bailout deal but had to cave in.

Tsipras submitted his resignation to President Prokopis Pavlopoulos and asked for the earliest possible election date.

Government officials said the aim was to hold the election on Sept. 20, with Tsipras seeking to crush a rebellion in his leftist Syriza party and seal public support for the bailout program, Greece's third since 2010, that he negotiated.

"I will go the president of the republic shortly to submit my resignation, as well as the resignation of my government," Tsipras said in a televised address before he met Pavlopoulos.
8. 'Side Deal' Allows Iran to Inspect Its Own Military Site
(This is everywhere but it still needs to be posted here as it adds clarity to Obama's position on world events)
9. Islamic Jihad attacks on Israel
(Video at site)
10. Britain to reopen embassy in Tehran this weekend, after four years
Thank you M., Wrath of Khan, Richard and many more. Due to a few tech hiccups as part of the process of upgrading, some facts,people and other things meant for this post got lost earlier today. Please bear with us. Things will be better than ever soon!