1. Technical Fault: Social Democracy and Cultural Liberalism Collapsing Under Strain of Migrant Crisis
(Breitbart seems not to know about this one)
Eritrean asylum seekers in Sweden are risking serious backlash after a week of unprovoked, migrant violence towards their native hosts.

Otherwise considered one of the most enthusiastically forgiving and multicultural nations in Europe, Sweden reacted with horror to a double murder in the nation's largest IKEA store last week by an Eritrean immigrant. The store was closed for two days after the killings, re-opening last Wednesday. In a remarkable feat of double-speak, a sign attached to the door apologised for the closure, remarking it was due to a "technical fault".

The attack seems to have reset the national conversation regarding immigration and integration, with even steadfastly establishment newspapers now questioning the conventional wisdom as peddled by the left-wing Social Democrat government.
("Technical errors"? Well we know one thing. The Swedes will tell any lie they can think of to preserve the illusion of a multicultural utopia)
Five men have been arrested for the gang rape of a 22-year-old woman at the weekend in remote small town Ludvika, with at least two, and quite possibly a third all Eritrean asylum seekers, reports the Swedish Free Times.
2. Scandals now erupting from a classic 3rd world style muslim despot's wedding in Australia.
(The story isn't really that intense. It is being posted because it shows a kind of seepage of the way things are done in muslim elitist non-democratic nations by rulers as opposed to politicians. Despots and thugs with power as opposed to what a deputy Mayor actually might do for his wedding. Video at site)
3. An 81 year old archeologist decapitated by Islamic State
4. Facebook Save Islamic State From Ridicule By Taking Down Image Poking Fun At Terrorist Group
(Facebook how dhimmi thou art)
5. Two new suspects for the shrine bombing in Bangkok
6. 'We can't take any Muslims, we haven't got any mosques!' Slovakia agrees to accept 200 Syrian migrants – as long as they're Christian
Slovakia has agreed to take in 200 Syrian migrants to help with the growing crisis – but only if they are Christian.

Bratislava officials claim Muslim refugees wouldn't feel at home because the country has such a tiny Islamic population.

An Interior Ministry spokesman said: 'In Slovakia, we don't have mosques… we only want to choose the Christians.'
Syrian migrants set off in board an inflatable boat from Bodrum, southwest Turkey, in an attempt to reach the Greek island of Kos early on Wednesday. Slovakia has agreed to take in 200 Syrian migrants to help with the growing crisis – but only if they are Christian
Denmark will tell the United Nations it wants to be able to pick and choose the best refugees from the annual UN High Commission for Refugees (UNHCR) programme.
Denmark takes 500 refugees a year from the UNHCR under a quota agreed through international agreement, but in future it wants a better class of refugee from the UN. Although the plan may sound difficult to some, Danish immigration and integration minister Inger Støjberg says it's for the good of the refugee as well as for the country.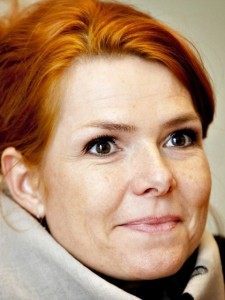 She told Danish newspaper the Jyllands Posten that "You do these people a disservice if they get sent to a country where they can't fit in. It is of course also good for Denmark if the quota refugees we receive also come to contribute". The controversial minister, who took control of the department after a right-wing coalition swept away the old Green-Red leftist power bloc from power earlier this year has proven very unpopular among Danish pro-immigration campaigners.
(At this stage they should just send all the muslims to England and France. Either that will make them revolt and do whats needed, or it will save the rest of Europe at their expense. ((Just kidding to make a point England and France, no letter bombs please!)))
(Must have been a cousin from the mother's side or something. Normally muslims in South Asia force girls to have sex with first cousins and then dump the resulting defect on the NHS)
9. Iraq: Massive fight breaks out at counter-Islamic State conference

Thank you Liberty Dk., M., Dumbstruck, CB Sashenka,  and many more. There is a chance that at some point today, a subtitled version of some or all of Marc Lebuis' brilliant testimony at the Quebec legislature in opposition to the most draconian anti-rational speech bill in the Americas, Bill 59, will be available here at Vlad.