There are many links to additional information and additional stories of geopolitical interest that are not in the main posts but are in the comments under the daily links post (mostly) and under the regular multi-item posts today and yesterday. For those looking to be as fully informed as possible, its worth having a look there as well.
Eeyore
1. Video on large blast in Baghdad today by the Islamic State
(To describe this explosion as "One of the largest blasts in the past year" is a pretty strong condemnation of the state of the peace in Iraq at this time)
2. Kos Greece. Scuffles between invaders and police
3. Chemical weapons used on Peshmurga Kurds. Germany offering assistance.
4. Islamic State video of the murder of two homosexuals. Not advised to watch. But it is advised to be aware of it. Here is the link. Copy paste please as I don't want a direct link to this page. https://isdarat.tv/19762
5. Hamas chief meets Turkish leaders in Ankara
Ankara (AFP) – Hamas chief Khaled Meshaal held closed-door talks with Turkish leaders in Ankara late on Wednesday, officials said.

Meshaal, who often shows up at events hosted by the ruling Justice and Development Party (AKP), met with Turkish President Recep Tayyip Erdogan and Prime Minister Ahmet Davutoglu.

No statement was made to the press after the talks.

The visit came just weeks after Israeli Defence Minister Moshe Yaalon accused Turkey of hosting a senior member of the Islamist movement's exiled leadership who was actively planning attacks.

Attempts to activate cells in the West Bank originate in "Hamas headquarters in Gaza and Istanbul, from where Salah Aruri plans severe attacks against us by proxies in the West Bank and in neighbouring countries," he said.

"Salah Aruri is acting from Turkey — a NATO member, which at the same time allows a terror base on its territory," he charged.

Israeli media subsequently reported that Turkey had bowed to the US pressure and agreed to order Aruri to leave the country.

A Turkish official on Wednesday said that Aruri was not in Turkey.

"He is not in Turkey according to information I have," he said, speaking on condition of anonymity.
6. Greece. Driving gets dangerous
7. Portrait of a classic Narcissistic Personality Disorder. (It seems to run in the family in a marital way as well)
8. New York Times: ISIS Enshrines a Theology of Rape
He said that by raping me, he is drawing closer to God," she said in an interview alongside her family in a refugee camp here, to which she escaped after 11 months of captivity.
(This is interesting indeed)
9. ISIS releases hitlist of British Foreign Office and council officials online 
ISIS (Islamic State) claim to have hacked the personal information of hundreds of military, political and diplomatic personnel and released it online in a reported 'hitlist'.

The list, in the form of a spreadsheet and shared by the so-called 'Islamic State Hacking Division', contains the private details of 1,400 individuals.

In a shocking warning to those named, an accompanying message reads:  'Know that we are in your emails and computer systems, watching and recording your every move, we have your names and addresses, we are in your emails and social media accounts.'

'We are extracting confidential data and passing on your personal information to the soldiers of the khilafah, who soon with the permission of Allah will strike at your necks in your own lands!'
(This may lead square into the awful truth of this administration. This is worth watching)
Hillary Clinton's top aide Huma Abedin is already a person of interest to investigators, thanks to a Freedom of Information Act lawsuit brought by Judicial Watch to learn more about her highly irregular employment arrangements at the State Department, and her possible abuse of paid leave time.

Among the many eyebrow-raising features of the Abedin story is the State Department's assertion that she simply never received multiple requests, sent both electronically and by surface mail, to hand over all of the government documents in her possession.

This is one of the most famous women in Washington – once a celebrated rising star, groomed to be Hillary's Mini-Me, a duchess in the Clinton royal court, subject of a hundred fawning profiles in political and pop-culture magazines – and the Obama Administration claims it could not successfully send her a letter. Furthermore, it's a letter they shouldn't have to send. Why do Clinton and her persons of hench think they can sit on documents belonging to the American people for as long as they please?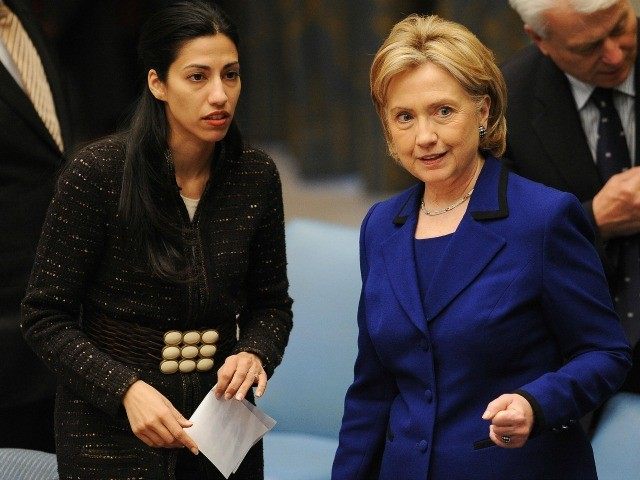 Thank you M., Buck, Johnny U., Wrath of Khan,
A little note to world media.
In WW2, we referred to Nazi Germany as, "Nazi Germany" and their ideology as Nazi. We did so because that is what they called themselves and their ideology etc. In order to fight them, we had to understand them. We also called The Soviet Union the Soviet Union and identified their ideology as Communism. Which is what it was. In WW1. We did the same with the Muslim Ottoman empire etc. In fact in any conflict we hope to win, we first identify the enemy by how they think of themselves and their ideology and act accordingly. Only with the Islamic State do we go to great pains to avoid dealing with reality and the consequences of this policy is we have allowed the creation of a totalitarian insurgency which now holds more land than the United Kingdom and which appears poised to take Iraq and become a serious existential threat to Israel any month now.
By continuing to refer to The Islamic State as ISIS or ISIL, you are not helping to defeat them, nor are you offending them in some brave manner. To do that, you would have to be willing to say, publish the Danish cartoons of Mohamed, something you have shown over and over again your unwillingness to do. You would also have supported Pamela Geller and other activists who have shown defiance to Islamic totalitarianism and show some willingness to fight to preserve the Enlightenment and stop the rapidly deployed new blasphemy laws. Again, something you have actually preferred to show submission to, rather than opposition.
I understand being afraid. Like most people, you hope someone else clears a path for your freedom of speech. You don't want to face bombs or jihadi attacks etc. But do try and remember, by saying ISIL and ISIS etc. and refusing to be honest about the real roots of this slave state where 11 year old girls who are gang raped at will, are used as live reactive armor on Humvee hoods as they are driven through active firefights, you have helped create this. You have made the danger to yourself greater. The Jihadis will not spare you when they have a mind to attack. Their only path to the bar and brothel of the Islamic afterlife is through killing unbelievers. There is no point at which they can say they won and put down arms. They will turn on the insufficiently observant or the 'wrong kind' of observant the second everyone gives up and converts to islam, which is the historical norm when faced with this barbarian jove.
Eeyore for VladTepesBlog