1. Obama changes US pledge of allegiance to make it sharia compliant
(At this late stage, its difficult to call this paranoid or a misinterpretation, when it is 100% consistent with everything else he has done)
The words translated here as "guard" and "precaution" are derived from the Arabic word taqu, from the trilateral root w-q-y—the same root that gives us the word taqiyya, the Islamic doctrine that permits Muslims to deceive non-Muslims whenever under their authority.

Ibn Kathir (d. 1373), author of one of the most authoritative commentaries on the Koran, explains taqiyya in the context of verse 3:28 as follows: "Whoever at any time or place fears … evil [from non-Muslims] may protect himself through outward show."  As proof of this, he quotes Muhammad's close companion Abu Darda, who said, "Let us grin in the face of some people while our hearts curse them."[1]

Muhammad ibn Jarir at-Tabari (d. 923), author of another standard commentary on the Koran, interprets verse 3:28 as follows:

If you [Muslims] are under their [non-Muslims'] authority, fearing for yourselves, behave loyally to them with your tongue while harboring inner animosity for them … [know that] God has forbidden believers from being friendly or on intimate terms with the infidels rather than other believers—except when infidels are above them [in authority]. Should that be the case, let them act friendly towards them while preserving their religion.[2]
2. Tensions boil in Texas town over planned cemetery for Muslims
(They should save their efforts for stopping mosques. Dead muslims, (ones wrapped in explosives not withstanding) are typically the least problematic)
DALLAS (Reuters) – Plans for a cemetery for Muslims on the outskirts of a small North Texas town have sparked a backlash among some local residents who said they fear it will bring radical Islam and terrorism to their doorsteps.

The Islamic Association of Collin County purchased 34 acres to develop a cemetery in the sleepy burg of Farmersville because the closest Muslim burial ground is rapidly running out of space.
3. NC Restaurant Posts "No Guns" Sign and Then Gets Robbed at Gunpoint 
(I guess they should have posted the sign in Spanish and Ebonix. Or maybe they should make the sign out of thick metal and then hit them with it)
At 9pm on Sunday night the "The Pit Authentic Barbecue" in Durham was robbed at gunpoint when 3 masked men entered the restaurant through the back door.
From abc11.com,
DURHAM, N.C. (WTVD) –Police are searching for three suspects involved in an armed robbery at Durham's newly-opened barbecue restaurant, The Pit, at 321 W.

Geer Street

.

Authorities said just before 9 p.m. Sunday, three men wearing hoodies entered the restaurant through the back doors with pistols, and forced several staff members to lie on the floor.

The bandits assaulted two employees during the crime, but they were not seriously injured.
(Video of robbery at site)
4. Lesbian couple torched own home in hate crime hoax
(Life must be rough when you simply cannot get persecuted enough to make your victim politics credible. Mayhaps they should move to the Islamic State?)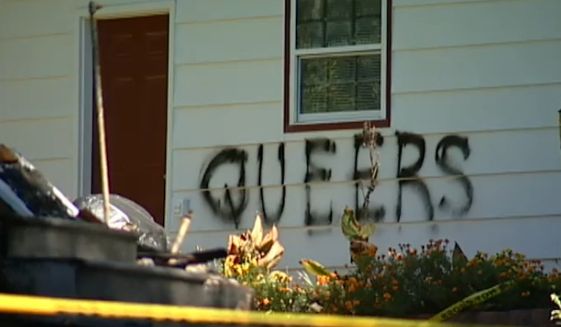 A lesbian couple burned down their Tennessee home and then tried to cover it up as a hate crime in an effort to collect a $276,000 insurance pay out, a federal jury has concluded.

A jury in U.S. District Court on Monday ruled in favor of American National Property and Casualty Company (ANPAC), which provided evidence that Carol Ann Stutte and Laura Jean Stutte torched their home in 2010 in Vonore and covered it up by spray-painting the word "queers" on a detached garage, the Knoxville News Sentinel reported.
5. Surprise inspections catch 3 Planned Parenthood clinics doing illegal abortions
Three of the Florida facilities were found performing illegal 2nd trimester abortions, while the fourth facility was cited for "not keeping proper logs relating to fetal remains."
6. Describing himself as a strict Muslim, he told investigators that his four male victims represented "a life for a life" for "Iraq, Syria, Afghanistan, all these places where innocent lives are being taken every single day," court documents said.
7. Macedonia does crack down on the kinetic side of the muslim jihad
8. Mayor of Palermo says that illegals who are suffering as a consequence of their choices at home and travel, is a "genocide caused by European selfishness". I suggest all these illegals go to his city.
9. Its amazing how much Macedonian one can understand if one pays attention.
Listen for, 'Terrorist', 'Jihad', 'fundamentalist', and more in this informative clip about today's arrests.
Thank you Richard, M., Wrath of Khan, Yucki and many many more. The comments under the daily links post is rife with worthy opinion pieces, news and other links as well.
More to come shortly.