1. HRC in Kingston Whig-Standard: BDS Movement Antisemitic as it "Singles Out Israel"
(Once again, where 'genius' means the ability to point out what should be obvious to everyone but for some reason isn't, this oped is a rare genius indeed. I'm surprised it even got published where increasingly, 2+2 is anything but 4)
2. Ricin trial: Liverpool dad 'plotted to buy enough poison to kill 1,400 people'
(No doubt he was just learning to cook Japanese food in bulk but couldn't spell properly)
A Liverpool man arrested by anti-terror police tried to buy enough deadly poison to kill 1,400 people, a court today heard.

Dad-of-two Mohammed Ammer Ali, 31, allegedly ordered 500mg of the chemical weapon ricin from the darkest recesses of the internet and had it shipped to him disguised as toy car batteries.

Ali, of Prescot Road, Old Swan, used the codename "weirdos 0000" to get hold of the poison, London's Old Bailey heard.

Prosecutors claimed he sent an encrypted message on the dark web asking: "Hi, would you be able to make me some Ricin and send it to the UK?"
3. Expert: High River "gun grab" violated UN Declaration of Human Rights
4. Six members of child sex ring found guilty of abuse of girls aged 12 and 13
Six members of a child sex ring in Aylesbury have been found guilty at the Old Bailey of their part in the horrifying abuse of two schoolgirls which went on for years on a massive scale.

A total of 11 men went on trial for 51 offences between 2006 and 2012 including multiple rape of a child under 13, child prostitution and administering a substance to "stupefy" a girl in order to engage in sexual activity.
Six men found guilty of sexual abuse of schoolgirls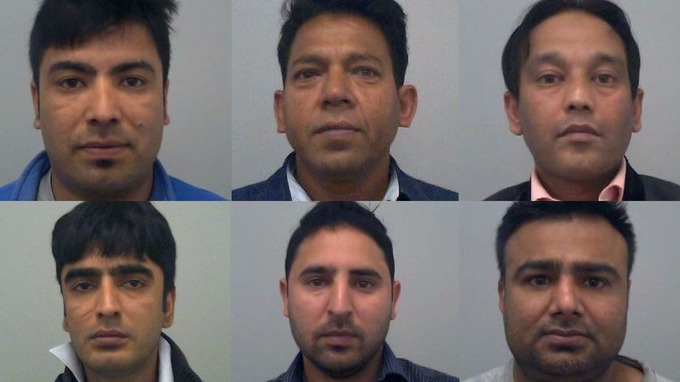 (Updates still coming in on headline link)
5. DHS Secretary Won't Describe ISIS As 'Islamic' Terrorists
(It's almost like the DHS was getting us all used to an idea we may not like initially)
Homeland SecuritySecretary Jeh Johnson says that in order to keep ISIS from radicalizing Americans inside the United States, it is "critical" not to use the word "Islamic" when describing attacks or other actions tied to the terrorist group.

"[ISIS] would like to be referred to as 'Islamic extremism' because it therefore concedes that what they are saying and what they are doing occupies legitimately some form of Islam," Johnson said today at a national security forum in Aspen, Colorado.

"The Muslims I know and that I've spent a lot of time with in this country believe just the opposite," he added.

Rebuffing any suggestion that he's being "politically correct," Johnson said "building trust" with Muslim community leaders across the United States is "fundamental" to the U.S. government's counter-terrorism efforts.
(Here is a 45 min video on the press conference with DHS. I have not seen it. Should anyone decide to invest the time, please place key quotes and your thoughts in the comments. Thank you.)
6. Sudden toddler death in Victoria hotel remains mystery
Frantic 'praying' mother sparked calls to police from mosque, hours before child found

Victoria Mosque-goers say they called police, disturbed by a frantic "praying" woman, the day before her toddler was found dead in a downtown hotel.

Members of the Masjid Al-Iman mosque say they saw a woman who began a frantic, loud recitation of the Quran on Friday.

The woman appeared to be praying with a toddler in her hands. She had a second child with her.

Mosque chairperson Belkacem Chergui says the woman's demeanour changed when police arrived.

"I was shocked how she behaved …. She became a totally different person, very normal, very calm, very quiet." said Chergui.

Chergui says the woman was not a regular member of the Quadra Street mosque, where she was seen praying and chanting.
(Click over and read it all. Its short)
7. Turkish authorities round up both aggressors and victims in spate of police raids. Kurds and IS terrorists both.
Turkey stages first airstrikes on Islamic State in Syria, rounds up Kurds
Turkish warplanes pounded Islamic State targets in Syria for the first time on Friday, with President Tayyip Erdogan promising more decisive action against both the jihadists and Kurdish militants at home.

The air strikes, which followed a phone conversation between Erdogan and U.S. President Barack Obama on Wednesday, were accompanied by a series of police raids across Turkey to detain hundreds of suspected militants, including from Kurdish groups.

Turkey has long been a reluctant partner in the U.S.-led coalition against Islamic State, emphasising instead the need to oust Syrian President Bashar al-Assad and saying Syrian Kurdish forces also pose a grave security threat.
Thank you M., Wrath of Khan, and many more. J., the tipster who sent me the FB link to the hilarious video of a transvestite returning aggression on what appear to be muslims in the UK, tells me its some kind of set up gag as many people figured out from the quality of the audio etc. It certainly is funny anyway but as we said when we posted it, 'we have no idea what this is'. That pretty much remains true.
Much more to come.