1. Isis's dirty bomb: Jihadists have seized 'enough radioactive material to build their first WMD'
(Personally I would not call a dirty bomb a WMD so much as a weapon of terror. It really can't do that much damage. Its the panic it causes by the misinformed that causes the damage)
The Isis militant group has seized enough radioactive material from government facilities to suggest it has the capacity to build a large and devastating "dirty" bomb, according to Australian intelligence reports.
Isis declared its ambition to develop weapons of mass destruction in the most recent edition of its propaganda magazine Dabiq, and Indian defence officials have previously warned of the possibility the militants could acquire a nuclear weapon from Pakistan.
2. Egypt: Luxor
CNN report on this attack below, and Daily Mail article here
3. Immigrants should be allowed to hit their children because there is a 'different cultural context'
(And this is exactly why there is no such thing as 'multiculturalism'. There cannot be different sets of laws for different groups of people in the same territory. It simply isn't sustainable and will result at best in Balkanization)
To the outrage of children's campaigners, Mrs Justice Pauffley suggested police and social services should make allowance for foreigners because of the 'different cultural context'.

Her remarks came in a legal challenge from an Indian accused of beating his wife and seven-year-old son.
4. David Wood short video on islamic deception to unbelievers and scriptural and historical sources for it.
5. Pakistan performs 150 executions in six months, more than Saudi Arabia
(Are muslim countries organizing to get their own version of a sort of Olympics?)
The Pakistani government has carried out 150 executions in the last six months and has become one of the world's most prolific executioners, amidst concerns that many of those set to be executed gave false confessions under torture.
The figure means that the number of executions in Pakistan in the last six months has far surpassed the figure in nations like Saudi Arabia.
6. 'Calais is a Battlefield': Knife-Wielding Illegals Threaten Truckers With Death if They Don't Smuggle Them Into UK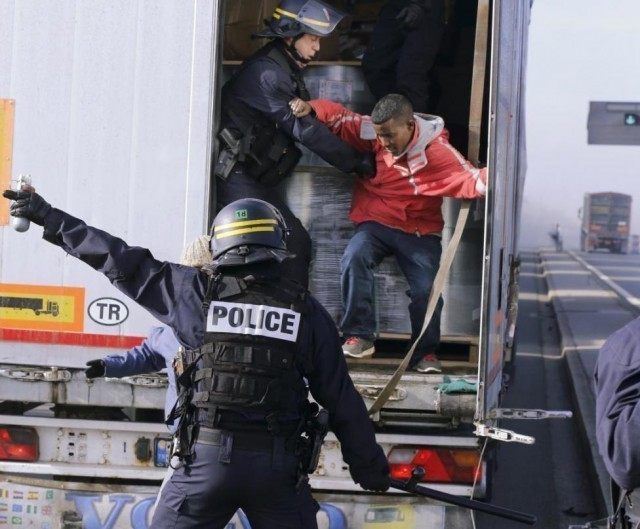 Illegal migrants desperate to get to Britain continue to swarm lorries bound for cross-channel ferries in violent packs – and have taken to threatening British truck drivers with knives to force them into becoming unwitting people smugglers.
Ordinarily tough-as-nails truckers now fear Calais, as in the words of one haulage boss: "It's just a matter of time now before someone is killed". A number of drivers have spoken to the Express to voice their concerns, as companies start to re-route traffic to other ports to avoid trouble, adding costly time to the journeys of imported food and goods. Driver John Mordue, 50, said:
…
Thank you Richard, M., Maria J., Nicolai Sennels and many more and much more to come.