1. Just Like ISIS: Iraqi Shia Militiamen Burn Sunni Man Alive
Iranian-backed Shia Islamist militiamen burned alive a Sunni man in Iraq, in a gruesome reenactment of sorts of ISIS's own torching of a Jordanian pilot earlier this year.

Members of the Imam Ali Brigade – one of a number of Shia jihadist groups which make up the al-Hashd al-Shaabi, or People's Mobilization militia – filmed the incident on a camera phone.

The original video, which is too graphic to show, shows several Shia fighters gloating at the camera, and accusing the man of being an ISIS supporter.
2. Video on what appears to be a high value asset who defected to the Islamic State
3, Serious German media confirm what Erdogan said about defeating Jerusalem and taking it for the muslims
4. Egypt court sentences TV presenter El-Beheiry to five years on charges of blasphemy


Islam El-Beheiry (Photo: Al-Ahram)
An Egyptian misdemeanors court late Saturday sentenced TV presenter Islam El-Beheiry to five years in jail on charges of "blasphemy" over a controversial show he presents about Islam.

The case was filed by lawyer Mohamed Abdel Salam.

Previously broadcast on private TV channel Al-Qahera W Al-Nas, El-Beheiry's show With Islam has tackled controversial issues such as punishment for apostasy, the debate on early marriage, and different interpretations of the Hadith, the sayings and teachings of Islam's Prophet Muhammed.
5. Islamic State video about attack on Shiia militia camp near Baghdad. The intro is in German and the basics of it has been translated by our friend, Carpe Diem:
my brothers and sisters, honestly think about it. read the Quran, especially the suras about the jihad. read carefully (2x) and pray that allah guides you on your way. nevermore will I go back to the country of kuffar, except I return to wage jihad in the hostile countries which fight the muslims, which bomb the muslims with bombs (sic). And I can tell from my experience when I  say what I saw. the Iraqi government has been killing sunnis for years under american leadership, and all other kuffar countries join in this.. this … what (sic). my brothers and sisters, this is true, come here and fight at allahs front, on allahs ways. my brothers and sisters, what I've seen, what the mujahedeen have reached. they have taken fortresses with just a few mujahedeen, plenty of fortresses despite the huge, huge (sic) and many planes and bombs. allah protects us, and …
6. Iraq lost 2,300 Humvee armoured vehicles in Mosul: PM
Iraqi security forces lost 2,300 Humvee armoured vehicles when the Islamic State jihadist group overran the northern city of Mosul, Prime Minister Haider al-Abadi said on Sunday.

"In the collapse of Mosul, we lost a lot of weapons," Abadi said in an interview with Iraqiya state TV. "We lost 2,300 Humvees in Mosul alone."

While the exact price of the vehicles varies depending on how they are armoured and equipped, it is clearly a hugely expensive loss that has boosted IS' capabilities.

Last year, the State Department approved a possible sale to Iraq of 1,000 Humvees with increased armour, machineguns, grenade launchers, other gear and support that was estimated to cost $579 million.
(When reading the above report, it might give some clue as to the orientation of the White House in current global conflicts to see this directive recently given to media by the Obama administration)
7. Report: Israeli weapons found in Saudi embassy in Yemen
(This shows that the Saudis, like that old expression, may be crazy but not stupid)
Israeli made ammunition and weapons were part of a large cache of military material found in the Saudi embassy in Yemen's capital Sana'a, according to a report on Saturday by the Iranian Fars News Agency.

According to the report, rebel Houthi forces captured the embassy Saturday, chasing away some 40 guards at the complex. The Houthi rebels are backed by Iran and have been battling Saudi-backed government forces throughout Yemen for several months.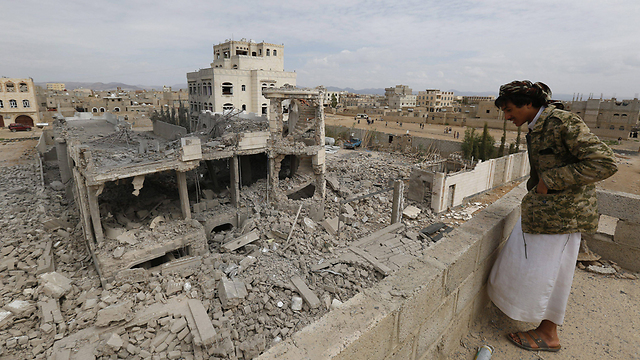 Destruction in Sana'a after a coalition airstrike. (Photo: EPA)
In addition to the Israeli-made weapons, the report said that rebels had also uncovered documents detailing an American plan to build a military base on Mayyun Island, a Saudi-controlled island strategically positioned in the narrow entrance to the Red Sea between Yemen and the African continent. Fars said that the base would protect American interests in the region, namely Israel's security.
8. Turkey: Worshippers demand Hagia Sofia be re-established as a mosque
(The term, 'Re-established' should have clarification. It was built as the original Vatican and was the center of Christendom. Fjordman shows that The Renaissance happened when muslims over ran the Hagia Sophia, forcing scholars of Greco-Roman heritage, both genetically and scholarly, fled the doomed city West to Italy, bringing the works of the great Greek thinkers with them. When the muslims conquered the city, they put up a few minarets and called it a mosque)
9. Turkey sending arms to Syria
(Interesting follow up on the story broken here two days ago from Turkish media about Erdogan's complicity in sending large amounts of weapons to the Islamic State)
After the Turkish government denied arming Syria's rebels, Cumhuriyet documented that they have uncovered evidence that the Turkish Intelligence Agency MIT is indeed sending arms to Syria. the CHP told Cumhuriyet that the truck contained weapons and ammunition that were being transferred to Syria by the Turkish government and MIT.  Efkan Ala, who is now the Turkish Interior Minister, asserted that the aid was going to help the Turkmens and threatened the journalists: "Everybody is going to know their business.  Do you know what is inside the trucks?"

Eighteen days after this incident, the report emphasized that three trucks were stopped by the Turkish Police at the gates of Adana Ceyhan Sirkeci again with an informant's notice. There were tensions between the MIT officials escorting the truck, the riot police that arrived later and 250 police officials under the command of Adana City Gendarme Commander, where even weapons were drawn.
Thank you Shabnam, M., Wrath of Khan, Oz-Rita, Carpe Diem and a host of others. More to come still today.