1. Italy terror cell that plotted to bomb Vatican smashed, prosecutors say
A terror cell that plotted to bomb the Vatican and included Osama bin Laden's bodyguards among its members has been smashed by Italian counter-terror police, prosecutors have said.

Following a six-year investigation that began with a probe into illegal immigration, police launched raids across Italy and Sardinia on Friday, targeting 18 people suspected of links with al-Qaida.

An as yet unspecified number were arrested, including a spiritual leader of the small Muslim community on Sardinia, but others are believed to have fled the country.

Among those arrested or being sought were men suspected of involvement in the October 2009 bombing of the Meena Bazaar in Peshawar, which left more than 100 dead and over 200 people injured.
2. Pamela Geller's full speech at Brooklyn College
3. German President Gauck labels Ottoman massacre of Armenians 'genocide'
German President Joachim Gauck has described the 1915 slaughter of Armenians by Ottoman Turks as "genocide." The comments, which are likely to infuriate Ankara, come as Berlin prepares to reclassify the killings.
(Magnificent and very brave of Germany given the number of non-integrated muslim Turks there)
4. German scholarship program creates (accidental) embarrassment for Israelis when they group winners by region.
5. Who was Adam Yahiye Gadahn
(As he converted in 1995 before 911, one might get the impression that Islam has always been this way and was not transformed by the actions of Bin Laden and Al-Qaeda etc.)
6. Islamic Call to Prayer London England, April 21 – 2015
(This may be a great time for patriots to play some loud Rolling Stones through a decent PA system)
7. Alberta judge grants Omar Khadr bail pending appeal
An Alberta judge ordered convicted al-Qaeda terrorist Omar Khadr released on bail Friday morning, giving him his first taste of freedom since he was 15, when the United States military captured him in Afghanistan and then incarcerated him in Guantanamo Bay, Cuba.

But Mr. Khadr will have to wait for a hearing on May 5 that will decide his conditions of release. The Crown could still appeal the release order.
The Toronto-born Khadr, 28, is currently in prison in Innisfail, Alta.
(Much info at link including a couple of videos)
8. Admiral Warns: Potential for Islamist Raids on European Islands
The security situation in the Mediterranean will continue to deteriorate to the point where we can expect Islamist raids on European islands, a recently retired Royal Navy Admiral has told Breitbart London.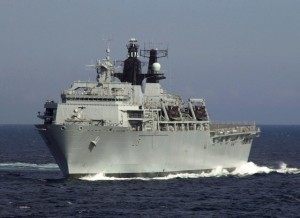 Rear Admiral Chris Parry CBE, the straight-talking former Director General of the Ministry of Defence Development, Concepts, and Doctrine Centre, the government body tasked with foreseeing future strategic threats, made the comments in an interview this week as European nations gathered to discuss the sudden migrant crisis gripping the Mediterranean.
(If I had a home on Lampedusa and didn't see the Italian Navy handy I think I would be listing it for sale about now)
Thank you Andrew Bostom, M., Don C., Carpe Diem, GoV., and all who sent in materials and links. Looks like its going to be a busy weekend. More to come shortly.