1. Devout Christian NHS worker launches appeal after being suspended for inviting a Muslim colleague to church 
A devout Christian has launched an appeal against an employment tribunal which found she had 'bullied' a Muslim colleague by praying for her and inviting her to church.
Victoria Wasteney, 38, says she was branded a 'religious nutcase' when she was suspended from her job as a senior occupational therapist, after her colleague Enya Nawaz, then aged 25, accused her of trying to convert her to Christianity. […]
When Miss Nawaz was upset about health problems, Miss Wasteney said she offered to pray for her – putting her hand on her knee and asking God for 'peace and healing'.
She also invited her to church events and gave her colleague a book, I Dared To Call Him Father, about a Muslim woman who converts to Christianity, but denied she was trying to make Miss Nawaz convert.
Miss Nawaz went onto make a formal complaint, and the East London NHS Foundation Trust suspended Ms Wasteney on full pay from her £50,000-a-year job for nine months while they investigated in June 2013
(How does she get to be a "religious nut case" while someone who wears a face cloth or a head cloth and arse lifts 5X a day and thinks God's perfect messenger is someone who rapes 6 year olds is not one?)
2. This is a touching interview with a survivor of the massacre in Kenya. It is interesting to hear first hand how they selected people for death who could not recite "the muslim words, whatever". This woman's faith kept her quiet and hidden it would appear.
3. Up to 100 Islamist teachers could be banned from schools after investigation into their links with Trojan Horse scandal found dozens claiming Lee Rigby's murder was a hoax
This includes allegations an al-Qaeda style video featuring masked gunmen was copied in a classroom and teachers punished pupils by making them kneel on tiles.

More than 50 teachers – called the Park View Brotherhood – also alleged exchanged as many as 3,000 messages in a WhatsApp group which included offensive comments about British soldiers and claimed the murder of soldier Lee Rigby was a hoax.
(The video on that page is so extraordinary in a way, that I will subtitle it and post it when its done later today. Subtitle it so the words, 'madrassa' and 'muslim' do not get lost)
4. Democrats threaten Israel for opposing deal with Iran
("May backfire on him" sounds kinda like a threat, does it not?)
5. Here is a Facebook embed of Andrew Bolt's editorial of last night in Australia for those who could not see it on the previous post original embed.
6. It seems the two women arrested in NYC for terrorism had quite the little history of parading around their views and feelings about us
7. One of the four gunmen in the terrorist massacre at a university in Kenya was the son of a government official. CNN's Soni Methu reports.
(Video at site)
8. Netanyahu: Iran nuke deal "very bad"
Times of Israel article on this
9. Cairo bomb blast kills Egypt policeman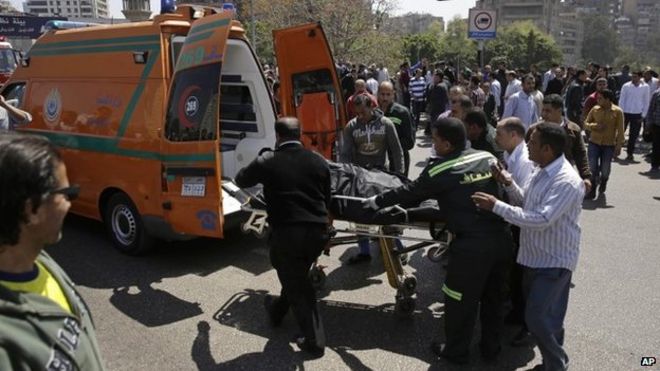 The explosion, in the upmarket Zamalek district, injured several more people on the May 15 bridge.

A militant Islamist group named Ajnad Misr (Soldiers of Egypt) said that it had carried out the attack.

Hours after Sunday's bombing, Egyptian officials said that security forces had killed the group's leader, Hamam Mohamed Attia.
10. Thousands of Palestinians flee brutal fighting from the Islamic State from a refugee camp in Syria
(One can add this to the list of things leftists will say nothing whatsoever about)
11.  DAILY MAIL – CIA and NSA analysts who spend all day watching ISIS beheadings, brutal attacks and hard core child pornography are treated by specialist psychologists
(And that is why I always stop them before I get there)
Analysts employed at US intelligence agencies like the CIA, NSA, and National Counterterrorism Center who watch graphic videos all day receive treatment from specialist psychologists to help them deal with the emotional trauma they experience.

The analysts watch clips of beheadings, violent attacks and hard core pornography which sometimes features children in an effort to gain clues about where terrorists are and what they have planned.

Intelligence agencies employ special psychiatrists and therapists to help the analysts cope with the 'extraordinary toll' the work can have.
12. UK – Attacks on Muslims will become specific hate crime, say Tories in bid to establish full extent of Islamophobia in Britain
Every police force in England and Wales will be required to record anti-Muslim hate crimes and treat them as seriously as anti-Semitic attacks if the Tories win the next General Election, Theresa May has announced.

In a move hailed by Islamic groups, Mrs May said that police will have to record Islamophobic attacks as a separate category, just as anti-Semitic crimes are recorded separately.

At present some forces, including London's Metropolitan Police, do record Islamophobic crimes as such. Other forces categorise them as hate crimes or specific offences such as assault or grievous bodily harm.
(Attn. Kuffar! Remember to wear white gloves when handling a Koran!)
Thank you M. Wrath of Khan, Georg I., GoV., and many more. Much more to come.