1. Australia: Child bride: Mother tells of Islamic 'marriage' of girl, 12
Judge Deborah Sweeney today closed proceedings for the day in the judge-alone District Court trial of the girl's father, who's charged with procuring a child aged under 14 for unlawful sexual activity and being an accessory before the fact to a serious indictable offence.

The 63-year-old father, who can't be named, was sneering in the dock as his ex-wife angrily and repeatedly denied she had confused details of a phone call, while she was under cross-examination from the defence via video-link.
2. On patrol with French forces in the Southern Maghreb
3. Saudi Arabia ends business visas for Swedes in wake of human rights criticisms 
(Couldn't have happened to nicer folks)
4. Australia: Queensland parliament to consider petition to ban mosques
Sunshine Coast Safe Communities launched the petition last year calling on the State Government to support changes to the Sustainable Planning Act to the definition of "place of worship".

They have asked for the definition to "exclude any applicant who advocates, teaches or practices an ideology philosophy or political system which contradicts the tenets of Australian Law" .

They have also requested the House make legislative changes to exclude any group or members which encourage practices like Sharia law, the subjugation of woman, honour killing and polygamous marriage.

Further they ask that the change would "defend Queensland communities and eliminate the threat of terrorism and the threat from political Islam".
5. Iran launches propaganda campaign to promote a full face cloth for women in public.
Iran recently erected a billboard, which stated, "Have you ever seen Batman or Zorro getting defeated? No! Because their hijab is proper. So you too mind your hijab sister!" So pretty much the wisdom behind this genius is that if women wear a hijab like Batman and Zorro, they will never be defeated.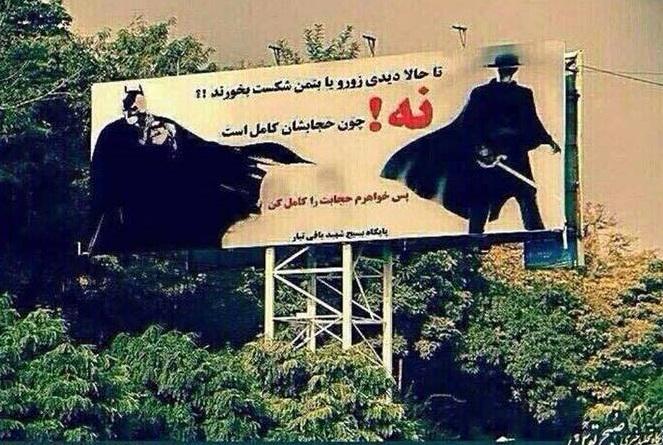 With the polls closed in Israel, international election observers now turn their attention to the Nigerian elections on March 28. The choice for the leader of Africa's most populous country pits Goodluck Jonathan from the People's Democratic Party (PDP) against Mohammadu Buhari of the All Progressives Congress (APC). The decision by the roughly 73 million registered Nigerian voters could have a profound impact on the future of Africa.

But Western foreign policy observers pre-occupied with the rise of ISIS in the Middle East should wake up to the reality unfolding in Nigeria. Opposition candidate General Buhari wants Sharia law throughout Nigeria. In fact, he wants it everywhere.

"I will continue to show openly and inside me the total commitment to the Sharia movement that is sweeping all over Nigeria," Mr. Buhari said. "God willing, we will not stop the agitation for the total implementation of the Sharia in the country."

Agitation? Is this an indication that Mr. Buhari supports violence because the end goal of the terrorist attacks throughout Nigeria and Africa is an Islamic state? It is a legitimate question that should be asked by leaders of the Obama administration.
(Anyone care to bet on which side the Obama admin is assisting in this election?)
7. Dead Argentine prosecutor was zeroing in on a terror threat to the entire Western Hemisphere
we're learning a lot more about the explosive findings of his decade-long investigation.

Testimony from journalists and government officials suggest that in addition to describing Argentine President Cristina Fernandez de Kirchner's hand in protecting the perpetrators of a 1994 Buenos Aires terrorist attack, Nisman was also working to blow the lid off the workings of Iran's terrorist organization in Latin America.

Nisman's decade of work on the subject pointed to Iran.

And according to the testimonies, it appears Nisman was working to blow the lid off the entire workings of Iran's terrorist organization in Latin America.
8. Yahoo News: Islamic State claims responsibility for Yemen mosque bombings: Twitter statement
Islamic State, an al Qaeda offshoot that has seized large areas of Iraq and Syria, has claimed responsibility for suicide bomb attacks on two mosques used mainly by Shi'ite Muslims in Yemen on Friday, a statement on Twitter showed.

At least 87 people were killed and 260 people were wounded in the blasts in the capital Sanaa. Both mosques are known to be used mainly by supporters of the Shi'ite Muslim Houthi group which has seized control of the government.
9. ENGLAND: Pupils 'banned from watching solar eclipse' for cultural and religious reasons
My daughter was sent home yesterday to make a pinhole camera for the eclipse.

This morning I heard for religious and cultural reasons the kids were going to be banned from any part in the eclipse.

I was put through to him straight away and he confirmed it, religious and cultural reasons. I said that was totally outrageous. I asked him to elaborate and he refused.

It's just going back to the dark ages really.
(There is no snark in the world that could add relief or contrast to the utter horror that is the story above)
Thank you Tundra T., Wrath of Khan, Draculea, M., Antikythera  and all who sent in links. More to come very shortly.