1. HAPPENING NOW: Police in Tel Aviv estimate about 100,000 people participating in a pro Likud rally in Rabin square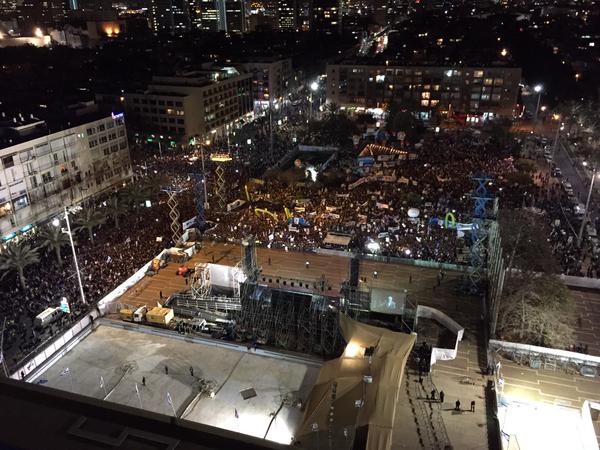 2. Ebola: US evacuates 10 aid workers from Sierra Leone
On Friday it was announced that a US aid worker back from Sierra Leone had tested positive and was being treated in hospital near Washington DC.

The evacuees may have been in contact with the Ebola patient and are being flown back on non-commercial transport.

The Centers for Disease Control and Prevention (CDC) said none were currently showing Ebola symptoms.

They will stay in voluntary isolation for a 21-day incubation period. If any start to show symptoms they will be taken to one of three hospitals which are equipped to deal with Ebola cases.
3. Russia Was Ready for Crimea Nuclear Standoff, Putin Says
"We were ready to do that," Putin said when asked in a documentary film about Russia's takeover of Crimea aired Sunday on state television if the Kremlin had been prepared to place its nuclear forces on alert. The Russian leader said he warned the U.S. and Europe not to get involved, accusing them of engineering the ouster of Russian-backed Ukrainian President Viktor Yanukovych. "That's why I think no one wanted to start a world conflict."
More here and a trailer?
(When the West is weak it feels the vulture's beak)
4. IRAQ – TIKRIT – Video – Large stash of Saudi & Yemen ammo & rockets uncovered by ISF in liberated ISIS area east of Tikrit –
(I suspect there is more significance in the above story than I grasp right off the handle. Perhaps Richard or a geopolitical observer can explain in the comments)
5. Germany: PEGIDA hold rally in Villingen-Schwenningen
6. CBC – Sunday Scrum: PM's anti-women comments
(CBC says Prime Minister Harper is exploiting a harmless minority, meaning muslims)
7. Saudi nuclear deal raises stakes for Iran talks
WASHINGTON — As U.S. and Iranian diplomats inched toward progress on Tehran's nuclear program last week, Saudi Arabia quietly signed its own nuclear-cooperation agreement with South Korea.

That agreement, along with recent comments from Saudi officials and royals, is raising concerns on Capitol Hill and among U.S. allies that a deal with Iran, rather than stanching the spread of nuclear technologies, risks fueling it.

Saudi Arabia's former intelligence chief, Prince Turki al-Faisal, a member of the royal family, has publicly warned in recent months that Riyadh will seek to match the nuclear capabilities Iran is allowed to maintain as part of any final agreement reached with world powers. This could include the ability to enrich uranium and to harvest the weapons-grade plutonium discharged in a nuclear reactor's spent fuel.

Several U.S. and Arab officials have voiced concerns about a possible nuclear-arms race erupting in the Middle East, spurred on by Saudi Arabia's regional rivalry with Iran, which has been playing out in Syria, Iraq, Lebanon and Yemen in recent months.
(Radioactive glass ashtrays could become a collectors item in that Franklin Mint sort of way in a few short years)
Thanks Wrath of Khan, M., Richard, and many more and more to come.