1. Killed for 'being gay': ISIS savages blindfolded man and threw him off tower block – then stoned him to death when he SURVIVED the fall
A man has reportedly been blindfolded and thrown off a tower block in Syria for 'being gay' before being stoned to death after surviving the fall.

New images have emerged appearing to show ISIS militants hurling the man off the seven-storey building in the town of Tal Abyad in Raqqa.

The man, who was supposedly being punished for having a 'homosexual affair', apparently survived the fall, but was stoned to death by a waiting crowd at the foot of the tower block.
(Scroll down for video at the DM)
Footage shows the man sat on a plastic chair, while blindfolded, before being thrown off the tower block
2. Bilour offers bounty for Charlie Hebdo owner
ISLAMABAD: A federal lawmaker from the Awami National Party (ANP), who had offered head money for the maker of an anti-Islam movie, has announced a $200,000 bounty for the owner of French satirical weekly Charlie Hebdo that published blasphemous caricatures.

In 2012, MNA Haji Ghulam Ahmed Bilour had announced a $100,000 reward for anyone who killed the filmmaker of 'Innocence of Muslims', a sacrilegious movie that had triggered condemnation from Muslims across the world.

Speaking on the floor of the National Assembly on Monday, Bilour also announced a $100,000 compensation for the families of those killed during the deadly attack on Charlie Hebdo offices in Paris last month. "I had already declared that I will not tolerate any attack on the sanctity of the Holy Prophet (pbuh)," said Bilour.
3. Islamic State did another 'Threaten France' video today. Waiting on a translator but if anyone wants to watch and post the relevant bits in comments I'm sure we would all appreciate it. It appears to be in spoken and written French.
4. Devastated City Left in Ruins After ISIS Defeated
(Video at link)
Block after block of homes, shops and restaurants lie in ruins in the northern Syrian city of Kobane, now quiet after four months of relentless fighting between ISIS militants and Kurdish forces on the ground, and the U.S.-led coalition jets dropping bombs from above.
5. Another 'darling-of-the-left, 'moderate muslim' to be deported from the US on terror charges.
6. This site has run a number of videos and articles about an under-reported aspect of Islamic tactics in the West, specifically the idea of rhetorical weaponization of the language. I ask readers to conduct the following experiment:
Research the Islamic definition of 'slander' as it is legally and factually defined and used by Islam and in an islamic context. I can summarize it as 'anything that makes islam look bad to outsiders irrespective of the truth of the claim' but I would prefer people search out some answers themselves on it. Then watch some of what President Obama says about Islam and jihad etc. and see if they feel there is any connection there. I very much look forward to the comments on this one.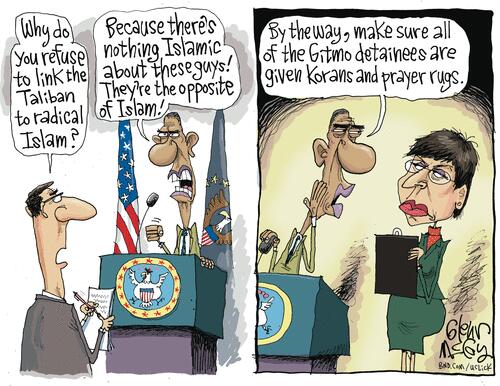 Thank you Wrath of Khan, M., ML., Draculea and many more. There are many links of interest and importance in comments on previous posts as well.