1. Hashim Hanif Ibn Abdul-Rasheed shot dead outside Ohio airport after 'attempting to stab' police officer: cops 
A 41-year-old Ohio man armed with several knives tried to buy a plane ticket with a fake ID before being gunned down by police after lunging at an officer with a blade outside the Columbus airport, police said.

Hashim Hanif Ibn Abdul-Rasheed had parked illegally outside the ticketing terminal and was acting bizarrely as he tried to buy a ticket to an undisclosed location Wednesday afternoon. He showed off a woman's ID to try and make the buy at one point before he was rebuffed, cops said.

Airport police called a tow truck to remove the illegally parked vehicle from the departures lane just before 1 p.m. Wednesday when Abdul-Rasheed returned
2. Jewish leaders call for Europe-wide legislation outlawing antisemitism
(Once again, professional Jews get it catastrophically wrong. They may as well build the camps themselves if they are going to do this. There is no such thing as collective rights and if we are going to start inventing them, muslims will have a legal basis to destroy all of us, Jews, secular liberals etc.)
Proposal would criminalise activities such as banning the burqa, forced marriage, female genital mutilation and Holocaust denial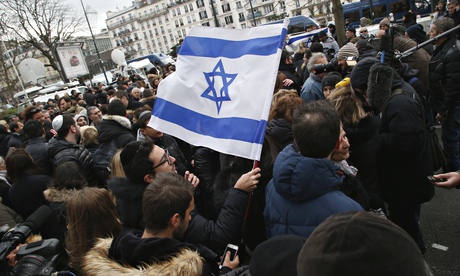 European Jewish leaders, backed by a host of former EU heads of state and government, are to call for pan-European legislation outlawing antisemitism amid a sense of siege and emergency feeding talk of a mass exodus of Europe's oldest ethnic minority.

A panel of four prestigious international experts on constitutional law backed by the European Council on Tolerance and Reconciliation (ECTR) have spent three years consulting widely and drafting a 12-page document on "tolerance". They are lobbying to have it converted into law in the 28 countries of the EU.

The proposal would outlaw antisemitism as well as criminalising a host of other activities deemed to be violating fundamental rights on specious religious, cultural, ethnic and gender grounds.
3. And now, some links on the Iranian assassination of Argentina's prosecutor:
3a. Yahoo News Jan 24: Argentine prosecutor shot point blank in forehead: official
3b. Yahoo News Jan. 25 2015: Journalist who broke news of prosecutor's death flees Argentina
BUENOS AIRES (Reuters) – The first journalist to report on the death of a Argentine state prosecutor, who was investigating the deadly 1994 bombing of a Jewish community center in Buenos Aires, said on Saturday that he had fled Argentina fearing for his life. "I'm leaving because my life is in danger. My phones are tapped,"
3c. BBC: On the reporter who had to flee Argentina
4. More than 40 Philippine police officers killed in clash with Muslim rebels
(But wait! didn't the government there sign not one but two peace deals with various muslim rampaging groups?)
At least 49 Philippine police commandos have been killed in a clash with Muslim rebels in the south, a bloodbath which tested a peace accord signed last March.

An 11-hour gun battle broke out after police entered the remote town of Mamasapano, held by the Moro Islamic Liberation Front (MILF) without coordinating with the rebels as required under their ceasefire agreement.

The bodies of 49 police have been recovered from the town on Mindanao island and moved to an army camp, regional police spokeswoman Judith Ambong told AFP.

She did not say whether any MILF members were killed.

Police had been targeting two high-profile terror suspects in the operation.

"This is going to be a big problem," the MILF's chief peace negotiator Mohagher Iqbal told AFP when asked how the fighting would affect the peace process.
5. Canadian troops again battle IS group in Iraq
Ottawa (AFP) – Canadian special forces have twice exchanged gunfire with Islamic State fighters in Iraq since the first confirmed ground battle between Western troops and IS earlier this month, a senior officer said Monday.

Recalling the first incident, Captain Paul Forget told a briefing: "Two similar events have occurred over the last week and, in both cases, Canadian special operations forces, again acting in self-defense, effectively returned fire, neutralizing the threat."

No Canadians were injured, he added
6. ISIS Spokesman Al-Adnani Pledges More Terror Attacks on West
(Video is worth the watch at site)
ISIS has called on its supporters to carry out terror attacks in Western countries, according to an audio recording released Monday that celebrates recent atrocities including the Charlie Hebdo massacre in Paris.

The Islamist extremist group's spokesman, Abu Muhammad Al-Adnani, urged jihadis to carry out lone wolf atrocities in the message, which was produced its media arm and distributed on Twitter and jihadi forums.

Al-Adnani praised recent attacks in Canada, France, Australia, and Belgium and warned the West that ISIS would continue to inflict terror on its soil and that worse attacks were to come.
7. 'I'm going to go Jew bashing': What teenage thug texted friend before Muslim thugs beat up Orthodox Jewish man 'in protest against conflict in Palestine'
(I wonder how this staggeringly stupid and counter-productive idea from Europe's professional Jews would have stopped this?)
An Orthodox Jew was beaten up by a gang of teenagers who said the attack was a protest 'about the Palestinians and the Jewish community', a court has heard.

Balawal Sultan, 18, Kesa Malik, 19, Hassnain Aliamin, 18, all from Newcastle-upon-Tyne, and a 17-year-old boy have all admitted attacked the 41-year-old victim in nearby Gateshead.

Sultan, who had hours earlier sent a text message saying he was 'going Jew bashing', lay in wait with the other three behind a van before pouncing on the victim as he walked home to his family.
The victim screamed in fear as the pack chased him down the street, throwing wood at him, before tripping as he fled and being surrounded by the teenagers while stricken on the ground.
8. Denmark PEGIDA demo!
9. LA Times: Under Islamic State, life in Mosul, Iraq, turns grim
Those who disobey Islamic State's fundamentalist edicts — including banning smoking or doing business during daily prayer times, and requiring women to cover their heads and faces — are whipped. Or worse. Late last month, two doctors were executed, according to ousted officials who continue to communicate by phone with Mosul residents, for having failed to save the life of an Islamic State leader wounded in an airstrike.
Thank you M., Maria J., ML., Draculea, Richard, Wrath of Khan and many more and much more to come.