1. Thrown from a roof, stoned to death and crucified: While the world reacts with horror to terror in Europe, new ISIS executions show the medieval brutality jihadists would bring to the West
(May I take this opportunity to give thanks to the Daily Mail. The only paper to even come close to telling the truth about events outside our windows and come very close they do indeed)
Two men were hurled from the top of a tower block, two more were crucified in front of a baying crowd and a woman was stoned to death in the latest series of horrific executions by ISIS.

The men were thrown from the roof down to the crowd below in the brutal punishment for being gay.

Charges found against the accused were announced by a masked Islamic State fighter, using a small handheld radio. Reading from a list, he declares the men are guilty of engaging in homosexual activities and should be punished by death, in accordance with Islamic State's radical interpretation of Sharia law.
2. French President: Muslims are 'Main Victims'
(On an entirely unrelated issue, I was wondering if anyone knew what this is, or what it might have been used for and why)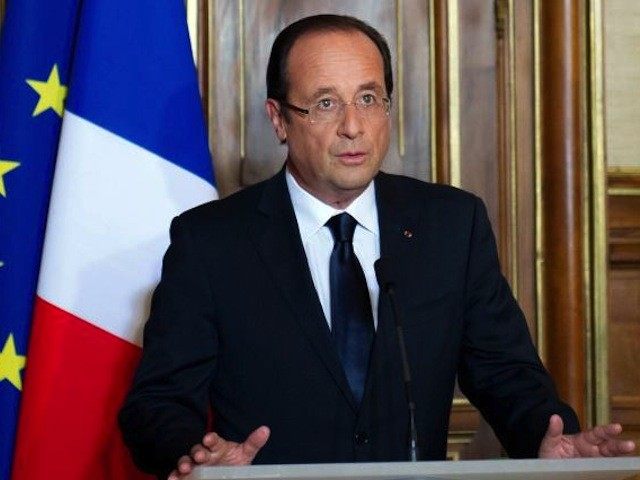 AP Photo
Even as the bodies of two dead cartoonists from satirical magazine Charlie Hebdo were committed to the ground after a terrorist attack last week which killed twelve, French President Francois Hollande has insisted Muslims remain the "main victims".

Speaking at the Arab Institute in Paris, the president reminded listeners that Muslims have "the same rights and the same duties as all citizens" and deserved "protection".

Visiting the conference, which was focussing on the 'Renewal of the Arab World', president Hollande said: "It is the Muslims who are the first victims of fanaticism, fundamentalism, and intolerance. We should also remind people, and I do it every time wherever I find myself in the Arab world, that Islam is compatible with democracy".

Despite his comments, which follow the murder of four Jewish shoppers in a Kosher delicatessen in Paris last week in an attack linked to the Charlie Hebdo massacre, France has now deployed thousands of police and troops to defend Jewish property.

Synagogues, shops, and schools across France and other European countries have experienced reduced opening times over the past week, as fears of copycat attacks permeate.
(If Hollande is executing a clever plan to unite the Muslims, Jews and Christians and agnostics, Chinese, Hindus  and people of all backgrounds in France together in loathing of him, then it may be working)
3. RT does piece on the US bus ads comparing Islam to Nazism. (They don't seem to like them)
4. Charlie Hebdo: Niger protesters set churches on fire
(I am going to do a full post on this later today)
5. Attack on UN camp in Mali kills peacekeeper
Gunmen have launched an attack on a UN camp in Mali, killing a UN peacekeeper, residents and eyewitnesses say.
The attack took place at about 06:00 in the northern town of Kidal. Residents said at least two suicide bombers were involved and a car bomb was detonated. A soldier from Chad was killed and at least one other was injured.
6. Bill Whittle on multiculturalism:
Thank you Chris C. M., Wrath of Khan, Richard, Yucki, and many more.
I may start a petition asking news media to never translate Allah as God. It may be the one thing everyone can agree on.