1. FOX news publishes the Charlie Hebdo cartoons as well as the ones from 2006
(So far, FOX is the only MSM station ready to defend the Enlightenment)
2.Islamic State: Kurdish Forces Fighting For Sinjar City Street By Street
3. Muslims segregated from French society in growing Islamist mini-states
A backdrop to the massacre in Paris on Wednesday by self-professed al Qaeda terrorists is that city officials have increasingly ceded control of heavily Muslim neighborhoods to Islamists, block by block.

France has Europe's largest population of Muslims, some of whom talk openly of ruling the country one day and casting aside Western legal systems for harsh, Islam-based Shariah law.

"The situation is out of control, and it is not reversible," said Soeren Kern, an analyst at the Gatestone Institute and author of annual reports on the "Islamization of France."

"Islam is a permanent part of France now. It is not going away," Mr. Kern said. "I think the future looks very bleak. The problem is a lot of these younger-generation Muslims are not integrating into French society. Although they are French citizens, they don't really have a future in French society. They feel very alienated from France. This is why radical Islam is so attractive because it gives them a sense of meaning in their life."
4. Brigitte Gabrielle tweets this picture of the Hebdo killers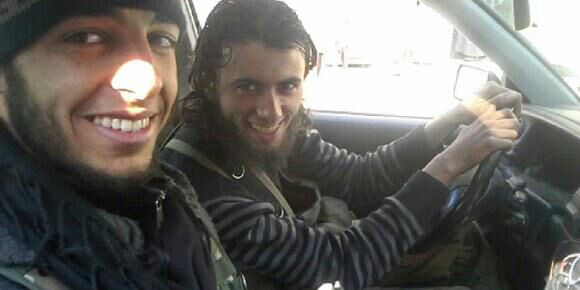 5. Charlie Hebdo cartoonist reveals terrorists threatened to murder her toddler unless she let them in – and how she cowered with child under desk as massacre took place
A young mother and cartoonist who survived the Charlie Hebdo massacre in Paris today said she had let the suspected Al Qaeda killers into the magazine office.

Corrine Rey said she had returned from picking up her young daughter from a kindergarten when she was confronted by two heavily armed men wearing balaclavas.

'I had gone to pick up my daughter at day care, arriving in front of the magazine building, where two masked and armed men brutally threatened us,' said Ms Rey, who draws under the name 'Coco'.
Scroll down (at the DM) for video
Desperate: Corrine Rey, who's a cartoonist for Charlie Hebdo, hid underneath a desk with her daughter to escape the terrorists who killed her colleagues
Thank you all very much. Its been a long and exhausting day. And I want you all to know how great it is that there are many of you ready to stand up to what amounts to the largest extortion racket of all history, Islam. We have a chance to force governments and the MSM to start defending civilization and our interests. You know what to do. Educate yourselves. Speak freely and openly about Islam. Don't be afraid to talk about how mosques are beachheads and therefore, not under the protection of freedom of religion. Call radio shows like this one tonight. Wear T shirts. Tweet the cartoons and above all, take back your freedom to discriminate for what is in your own interests. Watch how you vote and support those who speak out against Islam. Avoid halal even if its your favorite Indian restaurant. Look at the people in Paris tonight. That was a beautiful thing. Now we have to make it into policy.
Please tweet to the hashtag: #PublishTheMotoons demands to publish the unblurred Hebdo cartoons to ALL mass media TV and papers.
And mostly, my deepest condolences to the friends and families of the brave brave men and women who worked at Charlie Hebdo. Finer people I cannot imagine. They knew what they were risking as they have been firebombed before and they did it anyway and I'm pretty sure it wasn't for the money.
They did it for us. Now lets see if we can keep what they tried to give us.
The Enlightenment. And may we witness a Sea change tomorrow.
Eeyore for Vlad.