1. The Sikhs have brought in a couple of bus loads of additional protestors for their now daily, 2 week old protest at the Indian consul along with a PA system etc. Thanks to Victor Laszlo who went down and took some footage for us and sent it up for editing we can have a look. This was in front of the Metro on Beechwood Ave. a minor commercial street in Ottawa where the Indian Embassy is located.
2. Women drivers are being threatened in Yemen now by vigelantes
The number of women driving cars in Yemen has increased dramatically over the last two years, according to the Arabic news site Al-Arabi al-Jadeed.  Acceptance of this "phenomena" has also increased significantly and even spread to the more rural areas, where fiercely patriarchal attitudes are deeply entrenched.

However, in Sanaa, the capital and the site of violence and unrest in the sectarian struggle between the Houthis (Shiite rebels) and Sunni tribesmen (backed by Al Qaeda), the presence of armed male vigilante groups has scared many families into forbidding women to drive alone for fear of their safety.
3. More clips are being found of police training in India where the perps, for reasons that are a mystery to everyone world-wide, are dressed as religious muslims.
4. Palestinian party posts, pulls image of skulls with Jewish stars
(I think the only reason CNN covered this is because no Western news service seems to be able to resist alliteration)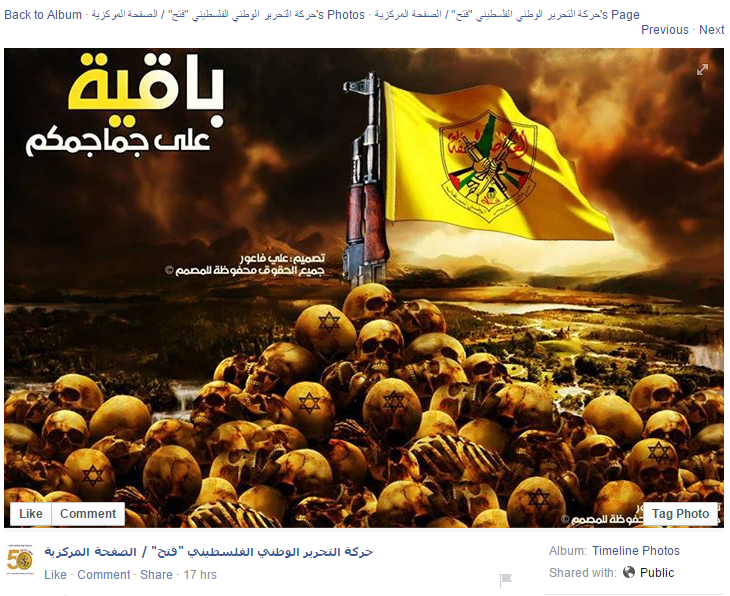 Abbas' "moderate" Fatah celebrates the anniv of its 1st attack against Israel w/ a mound of Israeli skulls.Despicable
(CNN) — The political party of Palestinian Authority President Mahmoud Abbas posted a drawn image online showing a large pile of skulls and skeletons with Jewish stars on them.

An Israeli government spokesman called it "despicable."
5. 4 soldiers, 6 militants die in Al-Shabaab attack, Somali police official says
Col. Mahad Abdirahman, the police chief of Bay province, told CNN that heavily armed Al-Shabaab militants in fighting vehicles attacked Isku-Darka military checkpoint Friday morning, sparking an hourlong, close-quarters gun battle in which six militants were killed, along with the four government soldiers.

"Somali government troops managed to resist and push back the militants from the area," Abdirahman said.

Friday afternoon, a roadside bomb targeted a bus carrying Kenyan teachers in Galkayo, killing a bodyguard and wounding 10 other people, six of them Kenyans, according to Ahmed Muse, a deputy governor who spoke to CNN by telephone.
6. Boko Haram attack on bus in Cameroon kills at least 11
Kano, Nigeria (CNN) — At least 11 people were killed and six others were injured in Cameroon when Boko Haram militants opened fire on a bus late Thursday, local time, residents said.

The attack took place in Waza, a region bordering northeast Nigeria.

The Islamist group, which dominates swaths of Nigeria's largely ungoverned north, has increasingly conducted attacks outside of Nigeria, targeting Cameroonian military forces and civilians.
Thank you Wrath of Khan, M., Victor Laszlo for the footage and all who sent in materials. I think given the opportunity for victimhood and false claims of 'islamophobia' the recent Indian anti-terror maneuvers will create, that same Indian Consulate may see another protest soon. If this is the case, it will make for an interesting comparison with the 2 weeks of peaceful and quite police Sikh protests that street has seen.