1. Malaysia Airlines MH370 live: China calls Malaysian confirmation of foul play 'painfully belated'
Police raid house of the MH370 pilot of the plane, who failed to activate emergency signal after key communication systems were manually shut down
A Royal Malaysian Air Force Navigator captain, Izam Fareq Hassan (C) looks at a map onboard a Malaysian Air Force CN235 aircraft during a search and rescue (SAR) operation to find the missing Malaysia Airlines flight MH370  Photo: AFP
2.  Moscow the centre for pro and anti rallies on eve of Crimea vote. Est. 50K people march on eve of referendum
3. Russian army launches operation outside Crimea
The Ukrainian foreign ministry has said it "reserves the right to use all necessary measures to stop the military invasion by Russia" after 80 Russian soldiers, four helicopter gunships, and three armoured vehicles seized the village of Strilkove, in the Kherson region, next to Crimea, on Saturday.
4. Ukraine's acting president blames 'Kremlin agents' for sparking deadly clashes   
5. Behind the Headlines: Who Are the Crimean Tatars?
"The Ottomans wanted slaves, and the Crimean Tatars provided them from the steppes of Ukraine and southern Russia—with the help of raiding Nogai Tatars and, until the 15th century, with the collaboration of Genoese merchants who shipped them off from the Crimean port town of Feodosia. One translation of a Ukrainian folk song reads:
The ?res are burning behind the river—
The Tatars are dividing their captives.
Our village is burnt
And our property plundered."
6. Masked gunmen with silenced AK47s have stormed hotels in Ukraine beyond Crimea.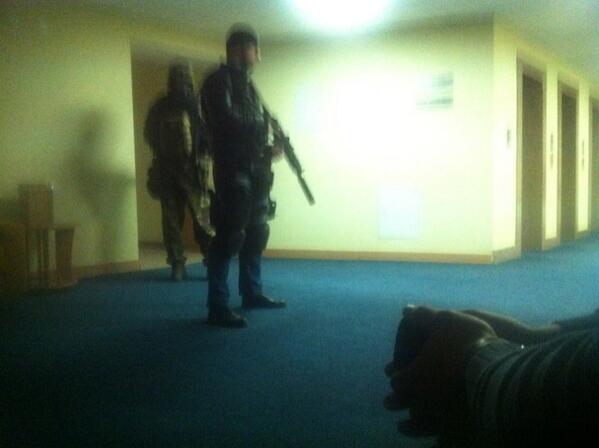 I will post links to twitter feeds from within the hotels as I find them but this link from 9 minutes ago at Huff Post seems to cover some of it. The link I was reading from is a Guardian live link.
7. France considers sanctions and other measures on Russia.
Thank you M, Fjordman, UK Pete and all. More to come soon.