It should be noted that they use the islamic meaning for the term, 'innocent' meaning muslim. No non-muslim is ever innocent as they do not believe in the holy napkin or whatever it is, and no muslim can be anything but innocent as his belief in islam makes him an innocent by tardish reasoning.
Prime minister calls emergency meeting with security agencies to discuss violence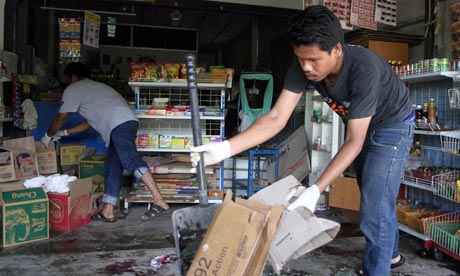 Workers clean the debris following the shooting at a grocery store in Pattani province, southern Thailand. Photograph: Sumeth Parnpetch/AP
Suspected Muslim insurgents shot dead six people, including a three-year-old boy, in a convenience store in southern Thailand, police said, two days after peace talks in Malaysia ended in deadlock.
Four gunmen on motorcycles pulled up at the store in Pattani province, 500 metres from a military checkpoint, on Wednesday. "The attackers sprayed the shop with bullets before going in to finish off their victims. They left a note saying 'revenge for the innocent' before fleeing the scene," said a police officer in Pattani.