Funny. You nearly never hear that about Tea Party protests and gatherings.
Self-declared leader of hacking collective Anonymous UK allegedly raped woman in a tent outside St Paul's cathedral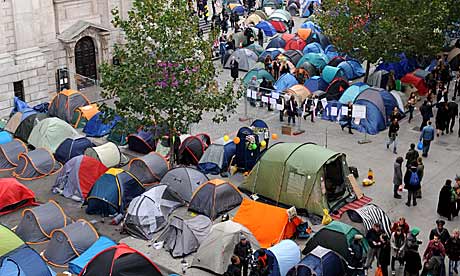 Occupy London demonstrators outside St Pauls Cathedral in London. Photograph: Stefan Rousseau/PA
A self-declared leader of the hacking collective Anonymous UK twice raped a woman at the Occupy London camp outside St Paul's cathedral in central in London, a court has heard.
Malcolm Blackman, 45, allegedly raped the woman once when she was asleep in a tent at the camp, and again a week later. On a separate occasion he forcibly put cable ties round her wrists to restrain her, the Old Bailey was told.