Posted GMT 2-18-2013 23:6:45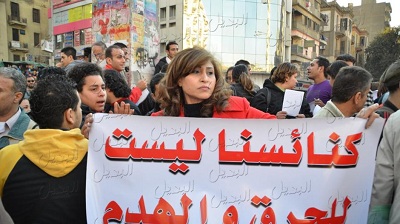 (AINA) — Hundreds of Copts rallied on Sunday evening against the torching of St. Georges church in Sarsena on Friday (AINA 2-16-2013), as well as the escalation of destruction of churches by Muslims. Several Coptic rights groups organized a march from Shubra, a densely populated area in Cairo, to the High Court building in downtown Cairo, to "demand justice" as the organizers said.
Demonstrators demanded the Sarsena church be rebuilt and the perpetrators be prosecuted, in addition to the assailants of previous attacks on the churches during the last two years since the ousting of Mubarak. They also demanded an end to the customary "reconciliation" meetings forced on Copts by the authorities, in which Copts lose all their rights.
"We are going down to the streets for the church torched in Fayoum," said Yvonne Mosad, PR of Maspero Coptic Youth Union, "and against the customary reconciliation meetings held every time something takes place against the Copts. We want the application of the law."
The Coptic demonstrators included a large number of children accompanying their parents. A large number of liberal Muslims joined the demonstration.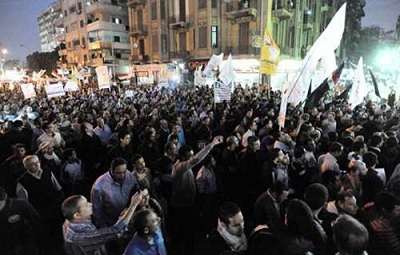 The marchers chanted "Maspero, Maspero," calling for the completion of their march to the State radio and TV building in Maspero, the site of the massacre that killed 24 Copts and injured over 300 (AINA 10-10-2011).
According to officials, the attack on St. George's Church was triggered by a Muslim family living next to the church, who complained about the sound coming from the church during mass on Fridays and Sundays. The Muslim family has been living next to the church for 15 years and had not complained previously. During the attack on Friday, Muslims voiced the real issue, which was the church is "an unlawful neighbor to the Muslims who live adjacent to it and must therefore be moved."
The Tamiya security chief said in an interview on Al-Hayat independent Egyptian channel that the torching was not of a church but a small room annexed to the Coptic community center and the church wanted to build it without a license. He also said that what was torched was a single wooden chair. But the church said it is not a community center but a proper church.