From People of Shambhala.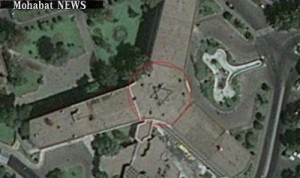 "There are some freemasonry and Christian symbols installed on personal buildings around the city," says Tehran's mayor, "We should control these symbols and ban their display."
The term "Freemasonry" is rarely used to designate the historical fraternity, founded in the 18th century by Islamic radicals. Usually it is used to refer to the West, America, liberal values, women's rights. It is also applied to Christianity, although much less commonly.
Fundamentalists and extremists, including in Christianity, tend to be frightened by symbols, and, moreover, they tend to see symbols everywhere, in all kinds of shapes.
The architectural design of Tehran's Enghelab Square was recently attacked by Islamic fundamentalists. "Some regime dependent figures claimed that the architecture of this square reminds people of freemasonry symbols and the Star of David," reports Mohabat News, the Iranian Christian News Agency, this week. "After these comments were made, a group of Basij members wearing cerecloths (ceremonial burial cloth in Islam) attacked this square after they… read more.